doteditorial: Our Digital Future Shaped by the Digital Infrastructure Choices Made Today
December 2018 -

Digital Infrastructure
doteditorial: Our Digital Future Shaped by the Digital Infrastructure Choices Made Today
Dr. Béla Waldhauser, CEO of Telehouse Germany and Leader of the eco Competence Group Datacenter Infrastructure, looks at finding the right infrastructure for your needs, the impact of the 5G rollout, and why digital infrastructure is as important to a country as physical infrastructure.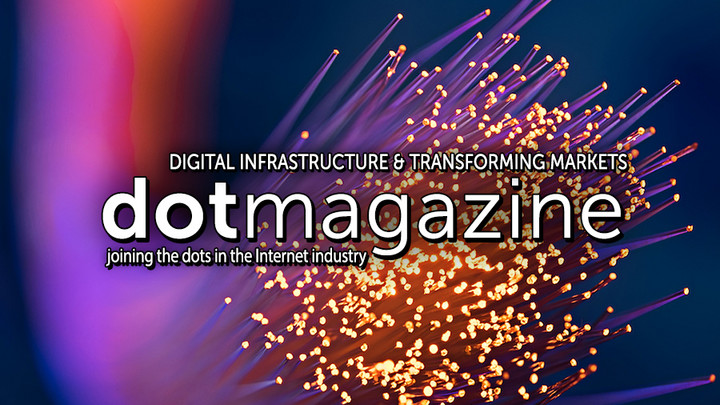 I read a press release the other day which proclaimed that, as of 2020, all of the products from one of the global electronics manufacturers would offer the possibility to connect to the Internet. For some, this might be viewed as the pinnacle of digitalization. But I think you will find that this is just the beginning. With the rapid ascent of the Internet of Things, the next couple of years are likely to see a deluge of news items along similar lines, and all developments reported on will be data and computer-driven – and in need of some kind of data center capacity. 
So let's take a look at what impact this massive increase in Internet-capable devices will have on digital infrastructure requirements, and how the manufacturers and associated service providers will source the connectivity and computing power that they need.
Digital infrastructure as bedrock of digital ecosystems
The boom in interconnected objects entails the sending, receiving, and analysis of unbelievable amounts of data. And for this, all manufacturers will need to find themselves reliable partners from the digital ecosystem. These will include not only the producers of the sensors built into their devices, but also the operators through whose platforms the data will be channeled, analyzed, stored and shared as required with service providers, and from which responses will be sent to the gadget, records made available to the end customer – and so the list goes on. 
To achieve all of this, the end customer, the manufacturer, the service providers, and the platform operator need digital infrastructure in the form of network operators, ISPs, IXs, and data centers. These form the often forgotten foundation of everything we do online.
Which type of connectivity technology suits my service?
But all is not equal in the Internet of Things. Depending on their purpose, different objects interact differently with the world around them, and have different connectivity technology requirements. Let's take an Internet-capable toothbrush as one example, and compare it with, for instance, the connected car. The connected car, to say nothing of autonomous vehicles, requires millisecond response times, to alert the driver to hazards or changing road conditions, and to respond itself to hazards. The toothbrush, on the other hand, might still be providing data which is of importance to the user, but the delay of a second or so will not disrupt service provision or result in damage to life and limb. The difference here is one of latency, and latency is a combined result of distance, bandwidth, and technology (e.g. 5G compared to 4G) – the shorter the distance data needs to travel, and for larger data volumes the greater the bandwidth its route allows, the faster the response time.
This means that, for different types of services, different connectivity technologies and different data center models can be brought into play. Data centers come in all shapes and sizes, with different services models, a topic dealt with in more depth in my interview "Data Center Models and Their Customers". For example, services demanding low-latency might look towards edge data centers: small, localized data centers, close to the data collection point, which can ensure speedy delivery of time-critical information.
The majority of services don't require such low latency, and for these, there are several options: You can run your own enterprise data center, rent space in a colocation facility, or go through a cloud provider. The cloud is a topic that can be found in other dotmagazine issues, so here I will take colocation as my focus - as does Marc Fröse from Etix Everywhere in his current article, "Frankfurt Data Center Market". Colocation data centers – which are an ecosystem in their own right – are an excellent choice for many companies, offering very simple interconnection between the multiple tenants within the facility, and having very strong interconnection also to other data centers, for example, through an Internet exchange, like DE-CIX or AMS-IX.
The large-scale colocation facilities in the Tier I cities (take Frankfurt, Paris, Amsterdam, or London as examples) are well suited for global players, larger enterprises, and large-scale public administration, plus small and medium-sized Managed Service Providers which favor the connectivity-rich environment.  In contrast, SMEs in regional areas, would be well put to take advantage of small to medium-sized regionally-located colocation data centers, many of which are not only very well-connected, but also offer additional services like managed IT, and their expertise can support companies in the process of digital transformation. For SMEs in general, embracing the potential of digital transformation through partnering with data centers and availing of such innovations is crucial, a topic expanded upon by eco's Roland Broch in his article "Facing and Mastering Digital Transformation".

Wired and mobile networks – and their rollout
Zooming our perspective out from the data center itself, the next level of digital infrastructure is the connectivity – the data lines that connect both your enterprise and your customers' devices to your IoT platform. Connectivity is a huge topic at both the local and international level, and is one that transcends individual company decisions, calling instead for industry-wide and political action. Across the globe, industry and governments are having to rapidly respond to the upsurge in demand for wired and mobile networks. In southern Europe, to take one example, the growing need for interconnection is creating a strong argument for Madrid's development as a digital hub – that is, a reference hub of infrastructure and digital business, akin to those already existing further north in Frankfurt, London, Amsterdam, and Paris. Meanwhile, looking further north, the tempo is also picking up in the Scandinavian region because of lower temperatures and very low power cost - and, as Ari-Jussi Knaapila from Cinia explains, the far northern regions of the globe are beginning to become more accessible, opening up new business potential and requiring in turn major investments and viable communication links.
But things are not only happening on the global scale: the opportunities for enterprise connectivity and peering in regional areas are in the meantime also being expanded in Germany (you can read more here about DE-CIX and GasLINE's new initiative, "Project Reach").

In considering connectivity, of course, we need to differentiate between wired and mobile networks, and understand their interdependencies. A big talking point at the moment is the implementation of 5G. At a recent broadband conference in Cologne, it was revealing to hear a specialist from one of the big mobile operators stating that there will be a coexistence of 4G and 5G. From their perspective, this is the case not only because 4G provides enough capacity for most of their applications and user needs, but also because of the reality that it will take some time to really implement 5G across the board. This will not happen overnight, and this rollout will pose a challenge, not just for individual operators, but for every country. 
Broadband coverage in Germany – needs & challenges
For a country like Germany, which is well behind in broadband coverage and especially Fiber to the Home/Building (FTTH/B), 5G sounds attractive as a way of getting high-speed networks rolled out nationwide. I have heard it said that we don't need fiber to the home – or fiber to the building – if we have 5G, because then 5G can provide the capacity. On the other hand, in order to deploy 5G you do need fiber to every antenna. The more fiber you have, the more possibility you have to connect the 5G antennas. And we need many more antennas.
But Germany is very much behind in terms of buildings connected to fiber. At the moment, only a small percentage of buildings (2.3 percent) in Germany are connected to fiber, whereas the average in the European Union (EU28) is around 14 percent. You can place the antennas on buildings, but if these buildings are not fiber-connected it doesn't get us anywhere. It's a Catch 22 situation. 
This means that ultimately, there is no way around fiber, and in future we will see much greater convergence of fixed and mobile networks. So, the question concerns the scope to push fiber to the home, fiber to the building. 
In our Alliance to Strengthen Digital Infrastructures in Germany, the clear consensus is that we expect more support from the government to develop digital infrastructure. If we are talking about streets, highways, or railways, or any other kind of infrastructure, all of these are heavily or fully supported by the government. In our growing digital economy, digital infrastructure is just as important. Where it can be self-funded through private enterprise, like data centers, there's no problem. But nationwide fiber to the home is not something that the private sector can do alone. In my opinion, this should be treated in the same way as streets, highways, and railways, because it is part of the fundamental infrastructure in a highly-developed country. 
But what is very interesting, whether we are talking about mobile coverage, 5G, or other forms of connectivity, is that we simply have the problem that the capacity of the construction companies doing the rollouts seems to be really stretched at the moment. Because there is a huge demand for construction companies from very different industries, including IT/telco.  Besides the huge amount of money needed to deploy 5G across the country, capacity bottlenecks in construction thus pose a significant challenge. Here there is clearly a place for innovative installation methods, such as above-ground cabling on masks, or trenching techniques, with such methods elaborated upon in an article from Corning Optimal Communications, "Why Fixed and Mobile Networks are Merging".  
Socially responsible digital infrastructure
Decisions made today on the rollout of digital infrastructure will establish the architecture and choices we will have to work with later. That is why, for Germany, it is crucial that the figurative tracks are laid now to secure the country's status as an industry location of the future. As the Association of the Internet Industry, however, campaigning for digital rollout in Germany is just one part of a much larger picture. Ultimately, successful digitalization will always demand our ethical reflection. Michael Rotert, eco's Honorary President and a keen activist in the area of ethics in digitalization points out that connectivity is a significant challenge in some parts of the world, and therefore "improving access to the backbone of the Internet is vital for addressing the digital divide worldwide."
As Michael Rotert also observes, the underlying message of the recent legal discussions at the International Governance Forum (IGF) 2018 was that "technology moves much faster than the law". This is a topic also explored by Dr. Daisy Walzel of DWF Germany in her article on the impact of competition law on digital platforms.
Finally, no discussion of digital infrastructure would be complete without turning our attention to environmental concerns – indeed, these are the very issues that are driving the new wave of development in the globe's far northern region. While a major consumer of energy, the data center industry is also a frontrunner in adopting energy-efficient measures. Going beyond this, there is the possibility that data centers themselves can become an integral part of smart energy grids, and may even evolve to become energy hubs in the future.  An example of this is that data centers can provide heating to nearby households or business parks, as is done very successfully in Sweden. A further good example of an environmental measure spearheaded by the industry is the European CATALYST project, which offers a toolkit to help data centers to perform a self-assessment of their environmental impact – and which also helps data centers to understand the role they could play in the future energy transition.
In the digital economy, there are few predictions that we can really make over a period as long as 10, or even only 5 years into the future. But of this I am sure: The requirements for data collection, data transport, and data storage will only continue to grow, and will do so in volumes that for us today seem inconceivable. For the construction and provision of digital infrastructure for the future needs of nations, this growth needs to be taken into account and needs to be strongly supported by government initiatives alongside the private sector. At the same time, it is hugely important for enterprises, especially the small to medium-sized ones with limited resources, not to be left behind in this disruptive process of digital transformation, and it is becoming more urgent that they find reliable partners with the experience to guide them through this change process. Decisions made today regarding the digital economy will have ripple-on effects that will continue to resound well beyond the next decade. 
Theoretical physicist Dr. Béla Waldhauser is Chief Executive Officer of Telehouse Deutschland GmbH and KDDI Deutschland GmbH. Previously he was responsible for the German operations of Global Switch, and prior to that TeleCity. Before this, he was Managing Director for Germany and Austria for Teleglobe. For several years, he has been Leader of the eco Competence Group "Data Center Infrastructure" and, since 2011, Member of the Jury for the "German Data Center Prize" in conjunction with the annual "Future Thinking" congress. In 2014, he was invited by the German Federal Ministry of Education and Research, as an expert and as a member of the eco Association, to actively participate in establishing the new strategy platform for "ITC in Horizon 2020". Dr. Waldhauser is also Spokesperson of the Alliance to Strengthen Digital Infrastructures in Germany, set up in early 2018 under the umbrella of eco to support Germany's development as a digital location.