IG BCE Bonus Agency and x-ion Interconnect an Entire Industry
March 2021 -

Multi Cloud

|

Digital Infrastructure
IG BCE Bonus Agency and x-ion Interconnect an Entire Industry
Christopher Bittles from x-ion shows how collective industry solutions can be implemented in the care insurance industry to meet changing customer expectations.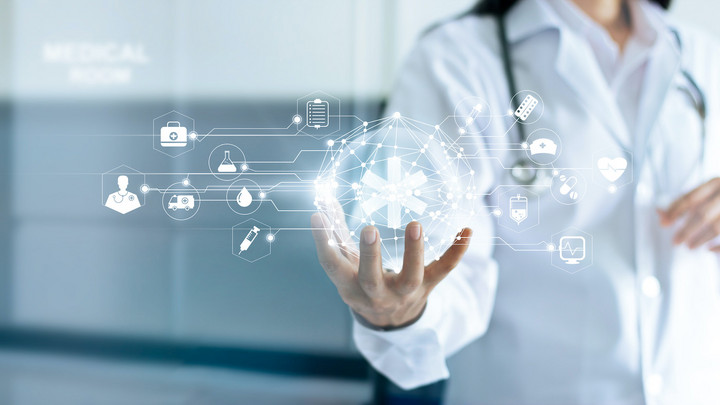 When it comes to new technologies and innovations, insurance companies are generally seen as old-fashioned, more traditional, often work with outdated technologies and customer focus plays a subordinate role. This applies not only to the classic insurance companies, but also to industrial unions that offer their employees insurance benefits through collective agreements. If these companies want to remain competitive, they too have to deal with new digital business models and changed customer behavior which digitalization brings with it. The latter will determine exactly whether a company can be successful in the long term.
In the last collective bargaining round in 2019, the third-largest industrial union in Germany, the IG BCE (the industrial union for mining, chemistry, energy) and the BAVC (Federal Employers' Association of the Chemical Industry) created the first-ever supplementary care insurance in Germany, "CareFlex Chemie". This means that the approx. 435,000 employees and their dependents, who work in over 1,900 chemical companies, are insured in case they need care. CareFlex was introduced by Andrea Pichottka, managing director of the IG BCE Bonus Agency. Together with strong insurance partners and the well-known Henkel company, she developed this special form of risk protection, also in response to demographic change.
The decision to be the first industrial union to introduce supplementary long-term care insurance is a complex undertaking. This project aims to transform and scale the digital insurance model developed for one company to an entire industry, to enable companies to exchange data with insurers in a simple and secure way, and to combine standard consultancy for employees with efficient cross-selling for sales. Many processes have to be evaluated and restructured in an efficient manner. This creates a large amount of sensitive data that has to be managed, processed, and stored securely and safely. The declared goal of this project is to connect all 1,900 companies to the group insurance contract via a central interface and to bring together the end customers, sales, and insurers using just one system.
The starting signal for the development of the platform was given in November 2019. The IG BCE and its partners created an extensive catalog of requirements and agreed on the framework conditions. It quickly became clear that this is an ambitious endeavor, because CareFlex is an absolute novelty in the industry. Much pioneering work has been done to implement all aspects of the project in the given time. The official start of insurance is contractually agreed for 1 July, 2021. From this point onwards, every employee receives mandatory basic coverage for care through their employer. More than 1,000 certified consultants are available to advise employees and their family members. These consultants are able to, for example, create individual needs analysis and calculate offers and then send the insurance application to the insurer on behalf of the customer – all in one (digital) place!
The foundation of this platform is a solid and reliable software-defined cloud infrastructure that is embedded in data centers in Germany and is fully controlled and operated there. All of its high-quality hardware and software components have been extensively tested in advance and individually put together so that they guarantee the customer an optimal and flexible use.
In order to be able to map the complex, especially technical mechanisms of this project, the advanced technology Kubernetes is being used. This open-source system has become the de facto standard in managing virtually encapsulated and containerized (combined) applications. The use of this software enables a high degree of automation and scaling. Developers can focus on their pure development activity – the (technical) implementation of the required subject matter. The functionality of the platform can then be made available to the user more quickly.
The CareFlex platform contains various components. For example, there are different portals that are tailored to the needs of the different target groups. There is a separate portal for the insurer consortium, one for the companies involved, one for the employees, and another one for the consultants. A sophisticated and comprehensive role and rights management was integrated in order to meet the high requirements of data protection and IT security.
The underlying infrastructure, the Kubernetes services and the application software that makes the productive use of the platform possible, all come from a single source.
Since 2009, x-ion have been offering their customers tailor-made, high-quality, manufacturer-independent and legally compliant cloud infrastructures. "We concentrate on the conception, development and operation of technologically challenging and customer-specific solutions, which we implement with established and reliable open-source software. The productive use and further development of innovative technologies and frameworks is part of our self-image. As a cloud service provider headquartered in Hamburg and with several productive data centers in Germany, data protection according to the requirements of the GDPR is of the utmost importance to us. Over the years we have expanded our infrastructure portfolio to include platform and software services. This enables us to offer our customers services across the entire cloud stack." explains Managing Director of x-ion GmbH, Martin Bosner.
The CareFlex platform is the first of its kind in the industry and thus sets standards for new business models with a focus on collective industry solutions. It brings different organizations together in one digital place and enables a smooth, unbureaucratic, and secure exchange of information. The flexible and cloud-based solution is developed with agile methods and has a modular structure. It can be quickly adapted to changing requirements, be it individual or legal. With the developed software, complex processes can be outlined in a simple and understandable manner. The user interface with all the integrated functions is simple, transparent and clear for every user. Such a platform can help drive digitalization forward and make it tangible in many different areas and industries.
Since 2019, Christopher Bittles has been responsible as an Account Executive for the acquisition of customers for the Hamburg-based cloud service provider x-ion GmbH and advising them throughout their entire journey. In selected projects, he also fulfills the role of project or delivery manager. This variety of tasks enables him to embrace different perspectives and find suitable solutions in collaboration with the client and the excellent team at x-ion GmbH.
Please note: The opinions expressed in Industry Insights published by dotmagazine are the author's own and do not reflect the view of the publisher, eco – Association of the Internet Industry.