Turning Customer Concerns into Supplier Interests: Using AI to Create a Service Ecosystem
March 2021 -

Artificial Intelligence

|

Multi Cloud

|

Service-Meister
Turning Customer Concerns into Supplier Interests: Using AI to Create a Service Ecosystem
SMEs can use AI to create their own service ecosystem by analyzing their customers' concerns and offering them AI-powered solutions, explains Nils Klute from EuroCloud.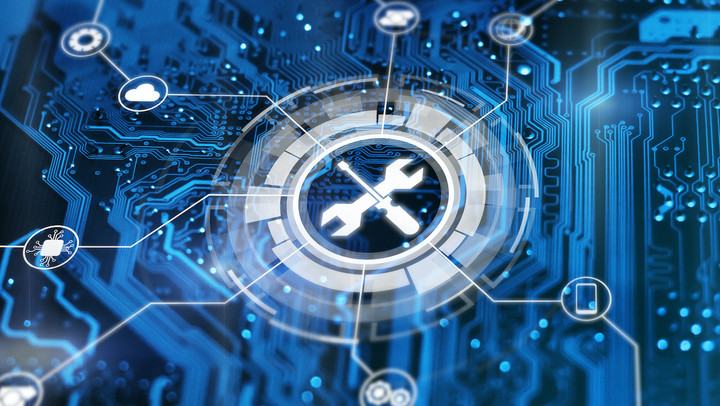 Whether it's connecting to customers to monitor wear and tear on machinery; connecting to suppliers to automate the ordering of spare parts for maintenance purposes; providing remote access to industrial manufacturing plants and moving from a sales-oriented business model to a service-oriented one; or supporting less-trained employees in customer companies to carry out complex mechanical tasks: Interconnecting manufacturing ecosystems and powering this relationship with artificial intelligence (AI) is proving its worth for supporting small and medium-sized companies.
Cutting sheet metal automatically and having machines run remotely – Trumpf takes industrial service to the next level for its customers. Users of the systems from Ditzingen, near Stuttgart, only have to define the quality in which they require finished workpieces. Trumpf accordingly operates and controls the equipment remotely. To make this work, the supplier has added sensors to its cutting machines: Data can now be processed and analyzed across the board. "We look at the service process and the quality of the products," says Maximilian Veith of Trumpf. What makes this possible? Not only can faults be predicted, but manufacturing itself can also be optimized. "By relating all the data to each other, we can see correlations and maximize quality," Veith explains.
Service-Meister brings AI to SMEs
Use cases like these illustrate how Service-Meister wants to give SMEs a taste for AI. In the Service-Meister research project, companies such as KEB, Atlas Copco, Würth, Krohne, and Trumpf are working in tandem with implementation partners USU, Inovex, Open Grid Europe, and Grandcentrix. The tandems are developing digital solutions for individual use cases in industrial service. And whether smart advisors, chatbots, augmented reality applications, or apps – this is how an AI ecosystem for technical service in the age of Industry 4.0 is being created. "We are on the cutting edge with Service-Meister," says Hauke Timmermann, the Project Manager with the Service-Meister consortium leader, the eco Association: "AI is becoming more prevalent in SMEs."
Breaking down silos, harmonizing interfaces, and merging databases
And predicting service requirements using intelligent algorithms – in their speedboat project, Atlas Copco and USU solve a problem that often slows down AI in the industry. "In order to use data at all, we have to break down silos, harmonize interfaces, and merge heterogeneous information assets," Dr. Fred Jopp of USU clarifies. The joint use case with KEB is different: "Our components and control systems produce enormous amounts of data that need to be made usable in service," says Wilfried Schumacher-Wirges of KEB. For example, the automation expert would like to analyze vibrations to detect possible anomalies. "Technicians could then be alerted automatically," Schumacher-Wirges states.
Planning and preparing maintenance smartly – Inovex and Krohne are also working on this. "We visualize sensor data with AI, predict defects, and send mechanics in as needed," says Florian Wilhelm of Inovex. "In addition, we are able to automatically document deployments to more easily meet regulatory requirements."
Detecting faults remotely and generating service tickets automatically
Monitoring plant conditions remotely – Open Grid Europe monitors its network of gas pipelines with active corrosion protection. Electrical current can be used to monitor whether the transport network is intact. However: "Up until now, employees have processed error messages purely manually," says Jopp. Together with speedboat partner USU, the infrastructure operator wants to change that. AI is deployed to detect faults remotely, generate service tickets automatically, and alert technicians.
Automatic, intelligent, and smart – the use cases of Service-Meister are intended to create a service platform that spans plants, departments, and companies. On the one hand, this will provide AI tools designed to enable lesser-trained professionals to perform complex tasks. And secondly, it will provide AI blueprints for all service processes that SMEs can adapt and use. "Right now, we're completing an interdisciplinary requirements analysis," Timmermann explains. "Our aspiration is to develop the ecosystem, including all AI tools, in a maximally user-centric way." What could possibly stand in the way of success? "AI adoption is complex. Systems integrators will play a key role," says Timmermann.
Service-Meister: From customer concerns to supplier interests
Collaborate, keep going, and don't let anyone stop you – in Trumpf's speedboat project, the manufacturer has already gone so far as to carry some of the risk for its customers. "Instead of buying machines and operating them themselves, users only need to book a defined manufacturing quality with us," says Veith. "Keeping assets available should no longer be the concern of our customers, but the primary interest for us as a provider."
Nils Klute is IT Editor and Project Manager Communication Cloud Services at EuroCloud Germany. He is responsible for content marketing activities on topics such as GAIA-X and AI, supports initiatives such as Service-Meister, EuroCloud Native or systems integrators on their cloud journey. Prior to his start at eco in 2018, Nils worked as a corporate journalist for IT corporations (like SAP, T-Systems, and QSC at Cologne-based communication agency Palmer Hargreaves) and previously held public relations positions at market and economic research institutions.
Please note: The opinions expressed in Industry Insights published by dotmagazine are the author's own and do not reflect the view of the publisher, eco – Association of the Internet Industry.