Humans and Machines: Harnessing the Benefits of AI - doteditorial
February 2020 -

Artificial Intelligence in Business

|

Artificial Intelligence

|

Service-Meister
Humans and Machines: Harnessing the Benefits of AI - doteditorial
Andreas Weiss, Head of Digital Business Models at the eco Association, explains what AI is currently capable of, and what impact it will have on the world of work in the future.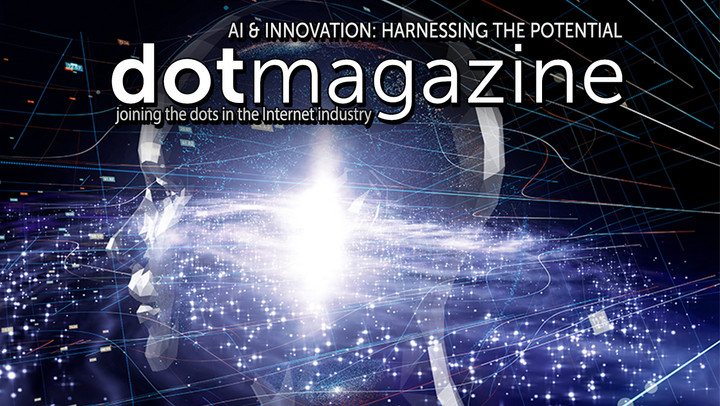 Artificial intelligence must benefit people and society
AI is a key technology for tomorrow's digital markets, and at the same time an important interdisciplinary issue. As the largest association of the Internet industry in Europe, eco aims to promote the acceptance of AI by examining, discussing, and communicating organizational, technical, legal, and ethical issues. In its Guidelines for the Handling of Artificial Intelligence, eco calls for, among other things, AI to become a core competence of German industry. Under the title Service-Meister, a consortium led by the eco Association is developing a platform that supports service processes with AI. The issue of security must be considered throughout, and there is a great need to use data collectively and establish fair mechanisms for this. The value creation network around AI-based processes is becoming increasingly extensive and digital infrastructures are an essential part of this development. eco brings together the competences required for this and is a decisive support for industry in the use of digital services with and from the Internet.
The field of AI has changed significantly in recent years and has developed rapidly. Dynamic learning systems in particular are currently being used more and more frequently, opening up new areas of application that were previously unknown in this form.
AI-based applications and digital assistants are already part of everyday life for many people and have also found their way into the private sphere.
These systems are being used in homes and offices with the aim of creating smart homes or smart buildings, but are also coming more into play in the automotive sector, where they are enabling autonomous driving.
From the laboratory to the market
For Europeans, though, it remains the case that many of the AI applications currently available on the market are not necessarily developed or hosted within Europe, but in the leading AI regions of the USA and Asia. Europe is lagging behind in capitalizing on the development of AI solutions and participating in the economic potential inherent in this; potential which is vividly illustrated in eco's new study, "Artificial Intelligence: Its Potential and the Lasting Transformation of the German Economy," published in cooperation with Arthur D. Little with the friendly support of the Vodafone Foundation.
As Rafael Laguna, CEO of Open-Xchange, comments in his video interview "The Second Wave of Innovation for the Internet," Europe is undertaking high-quality research into AI, but "there seems to be missing a piece that translates that into economic success" – a sentiment shared also by eco Chair of the Board Oliver Süme. Süme, in his video interview, "Connecting Research with the Market to Develop AI in Europe," calls for the transfer of this knowledge, in particular, for the benefit of small and medium-sized enterprises, which do not have the capacity to engage in their own development, but are reliant on what the market can provide in the way of usable solutions. On this point, ImagineOn provides an overview of how machine learning can be undertaken on a budget in their article "Machine Learning for Small Businesses."
AI in the new world of work
The use of AI in the new world of work, however, is causing uncertainty and doubt in many places and raises many questions: Will a machine do my work in the future? Will decisions that are crucial for me, such as those concerning the allocation of work, soon be made by algorithms? And is human work becoming increasingly worthless? Although such worries can be understood to a certain extent, fear and ignorance are the worst conceivable advisors, when more than ever the will to create and the striving for continuous development of one's own abilities are in demand.
One thing is certain at present: The world of work will undergo massive changes in the course of digitalization. Work will not disappear, but change and lifelong learning will become a basic prerequisite for future professional success. It can be assumed that almost every job will be affected by digitalization, and speculation varies about how many and which jobs may be lost in the future.
In fact, the world of work has not only been undergoing change since the Industrial Revolution, but has always been characterized by progress and constant change. Never before, however, has the potential to shape things been as great as in the digital world of work, and rarely before has it been possible – at least in the industrialized nations – to afford to discuss the value of work from an ethical point of view and against the background of economic prosperity. For example, a basic income is currently being considered as a starting point for societal participation, the courage to implement innovative entrepreneurial ideas, and a self-determined life.
As Oliver Süme makes clear, there needs to be a shift in the attitudes towards AI, certainly within Europe: "I think we need a much more positive debate. In particular, the Germans are very skeptical about technology, about technical inventions, and also in terms of AI. We need much more motivation and much more innovation-friendly environments. That's really what we're missing. And that's the general condition for developing AI as a successful technology in Germany and in Europe."
To counteract this skepticism, Harald A. Summa, CEO of the eco Association and DE-CIX, recommends a change in mind-set when it comes to AI: "Let's talk about the objective rather than the tool. Let us simply replace the term 'artificial intelligence' with terms with which we are all much more familiar, because they have been drivers of innovation and competition since the beginning of industrialization. Instead of talking about AI, let's talk about improving efficiency, minimizing downtime, and managing supply and value chains more precisely."
Fortunately, a recognition of the importance of AI is gaining traction in Europe, where the Commission's White Paper on AI is due to be published today (20.02.2020), side-by-side with the Commission's Data Strategy (for more on this, see eco's The View from Brussels). Extensive consultations on the Commission's proposals lie ahead: consultations in which the eco Association will also be involved. Here, Oliver Süme presents a set of six policy recommendations in his article "Artificial Intelligence: Recommendations for action for future-oriented politics".
AI is a prompter, assistant, and automaton
AI is programmed today for specific abilities. AI applications therefore have "island skills," but still no general intelligence comparable to the broad capabilities of humans. In the new eco study on AI, we have analyzed over 150 use cases of AI and categorized the impact of AI along three steps: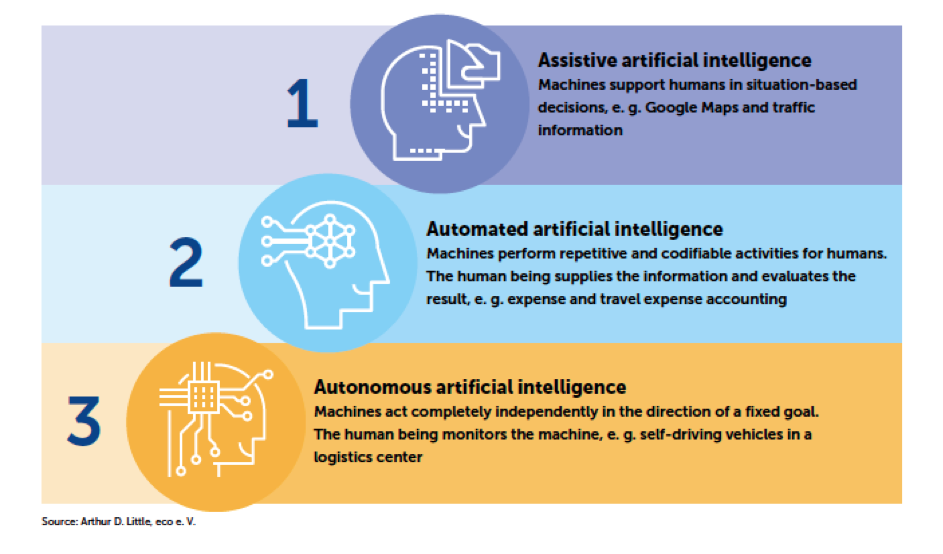 1. Assistive or augmentative AI:
This area includes AI applications that support human tasks. In doing so, they act as "prompters" of people. They carry out repetitive tasks or use their ability to compare huge amounts of information in a structured way in almost real time. For an employee in maintenance the results can be, for example, instructions for action and supplementary information provided by augmented reality glasses. The decisions and responsibility remain with the human being, who uses the processing power of computers and the logic of algorithms as support.
In this area, AI applications carry out an entire process without human intervention – they are "helpers" for everyday human work. This also applies to recurring tasks that can be processed according to a predefined structure. Very time-critical applications can also be automated with AI, e.g. hazard detection in modern passenger cars.
When AI applications are needed to execute an entire process based on a defined goal, autonomous AI is what is used. It acts as an independent "automaton" and the human being or a third system defines only the goal. These are, for example, autonomous vehicles in a logistics center that are dispatched by a goods management system and then navigate, load, and unload independently. These systems are monitored by people.
Most AI capabilities can't keep up with people
While there are already successful implementations of AI applications for all skills today, the performance of these skills is not at the same level as a human being, with just a few exceptions. With regard to the latter: due to technological advances in recent years, AI capabilities for speech and object recognition are at least on par with those of humans. Translation between strong language pairs such as German and English is also approaching the same level as that of a human being.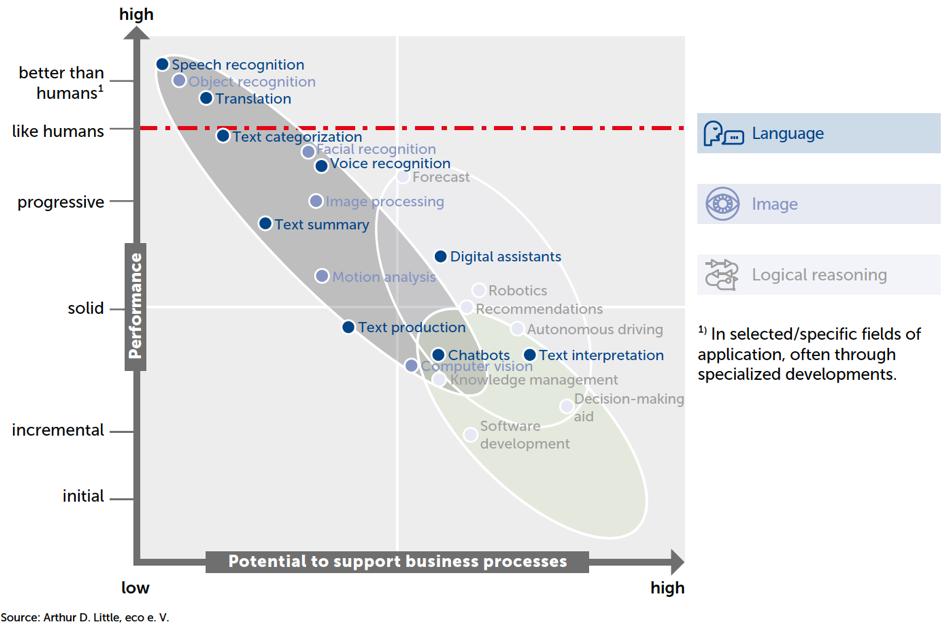 The fact that decision-making sovereignty will remain with mankind in the future is – in addition to the demand for maximum transparency – one of the core requirements of a working world determined by ethical standards and a sense of responsibility, in which AI is increasingly becoming the norm. In his article, "AI – A Perspective on Human Rights and Society", Prof. Michael Rotert, eco Honorary President, looks at how industry and policy makers can shape and steer the impact AI has on human dignity and human rights. Rotert, quoting the Council of Europe guidelines on data protection and artificial intelligence, points out that "it is crucial that human dignity is protected and human rights and fundamental freedoms are safeguarded when developing and adopting AI applications that may have consequences on individuals and society." Joseph Carson, in his video interview "AI and the Need for Transparency and Oversight" echoes this in stating his belief that AI technologies and decision-making algorithms require oversight, and that governments should have a separate strategy for this.
Shared responsibility in the digital working world
The topic of "corporate responsibility" is also becoming increasingly important in this context. In the future, it will encompass much more than the question of the psychological and physical integrity of employees and a cosmetic facet of employer attractiveness. The race for the most talented specialists will be won by those companies that are already looking closely into the question of what strategy and goals the use of AI should serve, what qualification requirements it entails, and how to give their own employees the greatest possible opportunity to participate. AI can be used to make it easier for people with disabilities to participate in the workforce; something that is currently being explored in the KI.ASSIST project introduced by Hauke Timmermann in his case study, "Using AI to Support People with Disabilities in the Workplace."
Social partners and especially trade unions are called upon to take up this challenge together, to move beyond outdated ideological trench warfare, and to together create the conditions for Germany and Europe to sensibly implement opportunities for innovation and to shape the digitalization of the world of work for the benefit of all concerned.
Andreas Weiss is Head of Digital Business Models at eco - Association of the Internet Industry. He started with eco in 1998 with the Competence Group E-Commerce and Logistics, moving afterwards to E-Business. Since 2010, he has been leading the eco Cloud Initiative as Director of EuroCloud Deutschland_eco and is engaged in several projects and initiatives for the use of artificial intelligence, data privacy, GDPR conformity, and overall security and compliance of digital services.