Women in STEM – Two Worlds Colliding?
April 2021 -

Diversity

|

Digital Education
Women in STEM – Two Worlds Colliding?
Margit Stumpp from the German Green Party, on dismantling outdated gender roles and creating framework conditions for equality for women and minorities.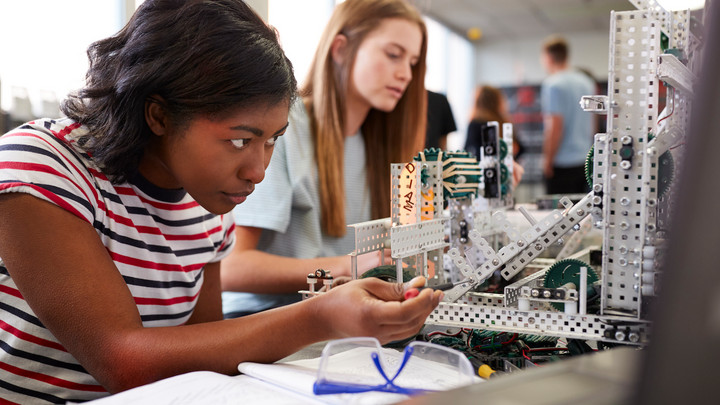 There are any number of good reasons as to why the Internet industry needs female reinforcement. Numerous fields in the branch are up against a shortage of skilled workers. What's more, homogeneous teams and uniform ways of thinking represent a clear obstacle to innovation. The digital industry is booming, new digital business models are being created each and every day, and lucrative jobs are being created – but all too often, women are still missing out. The eco Association wants to change that. As part of its "Women in Tech" topic field, eco invites inspiring female specialists and executives from the Internet industry to take the floor in a series of interviews. Here we deal with the really important topics: from development perspectives, through career tips and hopes for the future, to the challenges in a male-dominated working environment – and ultimately, to highlighting why working in the Internet industry is fun. In this issue of dotmagazine, you'll find an interview with Margit Stumpp, Member of the German Parliament, Spokesperson for Media and Education Policy, Alliance 90/ The Greens Parliamentary Group, which was first published in German as part of the interview series on eco.de on 7 April 2021.
Hanna von der Au: Could you tell us why the topics of "Women in Tech" and "Women in Leadership" are important to you personally?
Margit Stumpp (MP): Women have a different perspective when it comes to development and applications in practice. This has implications: A simple example is that of mechanical components whose dimensions are sometimes merely too large for women, or user interfaces for which the usability is very far removed from everyday life. There are still many individualization possibilities that algorithms offer which have not yet been tapped into, for example in medicine or marketing.
In terms of leadership, numerous studies have shown us that diverse teams work more successfully and also tend to be the front runners. Unfortunately, structures still too often exclude women and minorities, with this encumbering the principle of merit. I am also moved by these two topics because of my own biography. In my engineering studies, I was seen as an "exotic" and had to put up with more than one ill-judged comment – more from professors than from fellow students. That was unsettling, but fortunately I knew how to stand up for myself.
However, that didn't help me much in my professional career. When you hear something along the lines of, "Oh, I have nothing against competent and self-confident women," this should set off a red alert. In other words: You might be able to achieve something, but for me you are too critical/make me uncomfortable etc. Meanwhile, male colleagues with the same qualities are seen as creative or ambitious. So while the employer is happy to make use of the female set of skills, the male colleague is the one who gets the promotion.
The representation of women in STEM degree programs or in dual apprenticeships and companies doesn't really give me the feeling that I'm living in 2021. Unfortunately, little has changed in the last 30 years. It is high time to finally dismantle outdated role models and allow young people to experience diversity in its entirety – from childminders and educators to physicists, from house-husbands to CEOs. Men and women – and thus our entire society – reap the rewards when no one's private and professional opportunities are restricted.
Von der Au: What career tip would you like to offer to other women to help them along their way?
Stumpp (MP): Don't be daunted! From my end, perhaps I was lucky enough to be the eldest of four daughters on my parents' farm and to be involved in all activities as a matter of course. So I was relatively late in encountering alleged categories for girls and boys; these then never became an orientation for me.
We should encourage all young people to get to know the most diverse areas of life – knowledge which is often lacking – and to pursue their interests and abilities in an open-minded way. To this end, as policy-makers we must also create the appropriate framework conditions; for example, in terms of payment, recognition, or work-life balance.
Von der Au: According to a survey undertaken by eco in cooperation with the opinion research institute Civey, more than 70 per cent of respondents in Germany are dissatisfied with the current offers in the field of digital education. Federal elections are also coming up this year. What are your party's plans for the coming legislative term in the sphere of digital education?
Stumpp (MP): The pandemic times have made us become painfully aware of what has been neglected in prior years and decades: namely, to equip and enable schools for learning and teaching in the future. A school that is still entirely analogue can naturally not convert to digital distance learning overnight. This naturally gives rise to dissatisfaction and excessive demands on all sides, especially in a crisis.
Even before the pandemic, I came up with the concept of a Federal Centre for Digital and Media Education, which would provide teachers and interested parties with a convenient contact point where they could find material which is quality-checked, and therefore trustworthy, also for use in the classroom.
With our consent to the amendment of the German constitution, we helped make the Digital Pact for Schools possible, but then had to recognize that it was poorly handled: too little funding, lack of sustainability, and the inexplicable failure to provide IT personnel. We want to follow up on this with a Digital Pact Plus and to make substantial strides forward. This would also include a long-term contribution from the German federal government so that the municipalities in particular would not be unduly burdened with the associated costs.
In addition to a didactic orientation of digitalization, in order to be able to participate in even ground-level digital learning, all schools need a digital foundation consisting of broadband, Wi-Fi, end devices, further training, email addresses, or learning platforms.
Von der Au: If you were to imagine the scenario where you were the German Federal Minister of Education – what would be your first official act for the digital education of children, and especially of girls?
Stumpp (MP): During my school years I was already taking part in programming, while decades ago I taught the subject "Basics of Information Technology". In the meantime, there is a compulsory computer science subject in various education curricula, but I think a holistic approach to teaching "digital" skills is more purposeful. IT education covers much more than programming. We need a conviction to digital and media education that extends from kindergarten to lifelong learning. Whether this requires a subject in computer science or a cross-sectional approach is of secondary importance. The important thing is to impart future competencies so that boys and girls can live their lives competently and in a discerning manner and help shape the world of tomorrow.
A federal education minister in Germany has no say over education plans in the individual federal states. But she or he must cultivate cooperation with the education ministers of the 16 federal states and create incentives. It is important that we see education policy as a task for society as a whole, meaning that the federal government, the states, and the municipalities should pull together for the best education and fair opportunities for the future.
Von der Au: Girls and women are currently underrepresented in STEM education and professions. You studied engineering at Ulm University of Applied Sciences, worked as an application developer, and were a teacher at the HEID TECH vocational school in Heidenheim. Where does your enthusiasm for tech come from and how can we succeed in getting more girls and women interested in STEM?
Stumpp (MP): I have always seen technology as a means to accomplish a task more easily and quickly: Technology as a means to an end. That is still the case today. Technology has taken over the hard work on the farm; technology makes contact with people easier, whether through better mobility or diverse communication. Moreover, science and technology help us to live better and also more resource-efficiently. We will only be able to get the climate crisis under control and deal with the consequences if we develop the appropriate technologies. For example, we installed the first grid-connected photovoltaic system on the roof of our terraced house in 1991.
Von der Au: As part of eco's #LiT Ladies in Tech interview series, we recently interviewed Claudia Pohlink, Head of AI and Machine Learning, T-Labs. Now we'd like to put a question to you that Ms. Pohlink offered for our next interview partner: Why do we in Germany have such a low proportion of women in top management in the industry compared to other countries? We have had a female chancellor for 16 years, Ursula von der Leyen is President of the European Commission. We have a high number of female business administration students. Why is this not reflected in the top management of German corporations? And what are other countries doing better than we are?
Hardly anywhere is the cliché of "woman and technology, two worlds colliding" as widespread as in Germany. Women "stood their ground" during and after the war. But only as long as men were absent. When they returned, women were dismissed to the kitchen. Because during the post-war economic boom, it was part of the image of prosperity that women did not "have" to work and were supposed to take care of the house and children. This is an image that still has an effect today.
That is why we are still lagging behind on the issue of the reconciliation between family and career. If we look at the Scandinavian countries, for example, we see that care work is divided more equally between the sexes. And this leads in turn to the fact that part-time leadership, for example, is much more prevalent and that the fetish for office attendance is less potent.
On top of that, we also need more female role models. I would venture to say that girls and young women observing Angela Merkel, Kamala Harris, or Luisa Neubauer will aspire to similar positions much more naturally, or at least not shy away from them.
Until we achieve real equality, we need the quota. As a young woman, I was firmly against it, but my experiences since have changed my attitude in this regard. In our parliamentary group, more than half of the MPs are women, which I see as a gain both in terms of equality policy and for the quality of parliamentary work. This is the result of our women's statute. We also make sure that everyone gets a chance to speak, not just those who are loud and brash.
Von der Au: In the context of diversity and gender, what question might you yourself put to an interview partner?
Stumpp (MP): Equality is often associated with "levelling" and "homogeneity", not with "equivalence". This robs us of diverse perspectives. This is particularly evident when it comes to the topic of "women and tech".
How does one gain esteem, irrespective of origin and gender? Here education, role models, and visibility help of course; but what other ideas are there to break through the incredibly rigid preconceptions of roles? What framework conditions are needed for equality to take a big step forward, especially in the world of work?
Margit Stumpp is Member of the German Bundestag for the Green Party (Bündnis 90/Die Grünen) since 2017. For her faction she is spokesperson for education and media politics as well as for digital infrastructure.
She studied precision engineering at the university of applied science in Ulm and worked as application developer in the area of electronic engineering at Mannesmann Tally after her studies. Until 2017 she worked as a teacher at HEID TECH vocational training school in Heidenheim. Her field of work was information and media engineering, technical physics and system administration.
Hanna von der AU is PR Manager at eco – Association of the Internet Industry. She is responsible for the development of communication strategies and concepts, content marketing activities, social media channels, and press releases. The topics closest to Hanna's heart are diversity and Women in Tech. She leads the activities around eco's German #LiT – Ladies in Tech initiative and loves getting in touch with more women in the industry. Her aim is to make the Internet industry more colorful and diverse. Before joining eco in 2019, Hanna worked as a digital campaign consultant with a focus on content generation at a digital consultation agency (for customers like NRW.INVEST, GS1 Germany, Peek & Cloppenburg, Coop, Lufthansa).
Further information on the topic of diversity can be found on eco's Diversity focus page and in the eco Association 2020 study on Women in Tech Across the Globe: A Good Practice Guide for Companies.
Please note: The opinions expressed in Industry Insights published by dotmagazine are the author's own and do not reflect the view of the publisher, eco – Association of the Internet Industry.