Clearing the Path for Women in Tech
January 2021 -

Internet Industry

|

Diversity
Clearing the Path for Women in Tech
In interview, Agnes Heftberger, Vice-President of Sales with IBM DACH, emphasizes how far we still need to go to achieve gender equality – and offers tips on how to lay the groundwork for this journey.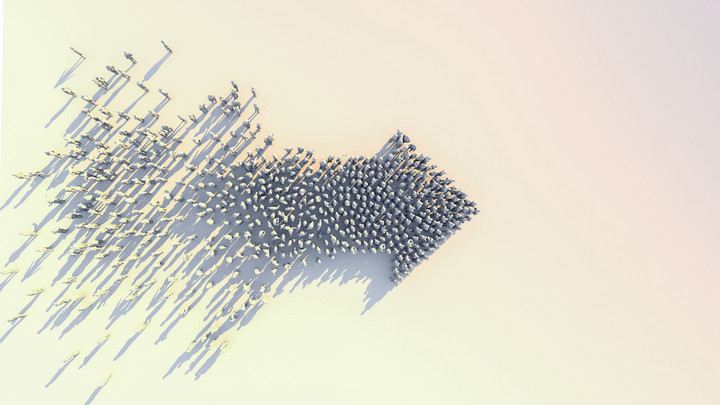 There are any number of good reasons as to why the Internet industry needs female reinforcement. Numerous fields in the branch are up against a shortage of skilled workers. What's more, homogeneous teams and uniform ways of thinking represent a clear obstacle to innovation. The digital industry is booming, new digital business models are being created each and every day, and lucrative jobs are being created – but all too often, women are still missing out. The eco Association wants to change that. As part of its topic field "Women in Tech", eco invites inspiring female specialists and executives from the Internet industry to take the floor in a series of interviews. Here we deal with the really important topics: from development perspectives, through career tips and hopes for the future, to the challenges in a male-dominated working environment – and ultimately, to highlighting why working in the Internet industry is fun. This article with Agnes Heftberger, Member of the Board of IBM Germany and Vice President of Sales at IBM Germany, Austria, and Switzerland – and the 2020 winner of the eco://award in the Ladies in Tech category – was first published as part of this series on eco.de in the German language on 2 November 2020.
Hanna von der Au: You're a Member of the Board of IBM Germany as well as Vice President of Sales at IBM Germany, Austria, and Switzerland. You've been with IBM for 19 years and have had an impressive career within the company. What is your working day like?
Agnes Heftberger: My working day is actually extremely varied. There are very different tasks and topics, from interactions with clients to strategy projects or career development discussions to interviews or speaking engagements at events. My position encompasses many different facets and that's what makes the job so exciting from my point of view.
Von der Au: So what is the most exciting thing about your job?
Heftberger: It's definitely the complexity. I'm someone who gets bored quickly. Routine is therefore absolutely not for me. I find the plethora of requirements that my job entails very exciting. I'm always working with people and I also work with technology. Together with my team and our clients, we think about how we can use technology to make a company, our entire industry, a part of our society a bit better. I can't think of a better mix.
Von der Au: To gain a position such as yours, what soft skills or professional competencies would I need?
Heftberger: There are three elements that are important in my opinion. One is the joy of learning. We operate in a very fast-moving market, so you need the joy of wanting to learn something new every day. The second aspect is enthusiasm for leadership and, with that, an enthusiasm for people. The ability to inspire others is essential: on the one hand, those in a person's own team or own organization; on the other hand, people outside of the company. Thirdly, of course, it doesn't hurt to have accumulated experience and to have actually experienced a wide variety of projects and, in so doing, to have built up a certain resilience. Transformation projects or leadership roles don't always go one hundred percent smoothly. There are always unforeseen things and you then need the ability to not be discouraged, but to learn from them and take the lessons learned with you for the next time round.
Von der Au: You not only bring an incredible enthusiasm and openness for people and things that are new to the table, but also for diversity and female empowerment. In November of last year, you became the winner of the eco://award in the #LiT - Ladies in Tech category. Why is the topic of diversity important to you personally?
Heftberger: It's important to me personally because I believe it's extremely important for society in general. We still have many classic levers of change in our society that aren't occupied on an equal footing, for example in business, politics, or research.
As long as these positions are filled in a very one-sided manner, I believe that we're not doing the best service to our society, and that is why diversity is a topic I really care about. The second reason is simple: we talk so much about the topic. But the bottom line is that we are making very slow progress. We still have a long way to go, and I don't want to end up simply tagging along, or creating an arduous hiking trail; instead I'd like to be involved in paving the way and turning it into a highway.
Von der Au: In Germany, just under 17% of those in IT are women. The gender gap is becoming even wider when it comes to management positions. Do you have any suggestions as to how we can bring more diversity into management?
Heftberger: What's needed is simply more courage! Far too often, I see a template-like pattern of behavior, where what we've already been doing for the last decades is simply being repeated over and over again. If I always do the same thing, then what I always get is an average bad result, in the sense that teams remain the same in their composition. I think we need women and men who have the courage to do things differently. I am one hundred percent convinced that, when women are given the chance, they show their worth. The outcomes that these women reap from their roles speak for themselves.
Von der Au: The Corona crisis is being assessed very differently in terms of the impact it's having on gender equality. The sociologist Jutta Allmendinger recently warned that the pandemic is reinforcing old stereotypes and that the progress achieved in terms of gender equality could be set back by three decades. On the other hand, studies (e.g. Cambridge University's "Working Paper No. 26947") assume that women can profit in the long run from the Corona-related changes in our working world. As a managing director, wife, and mother, how do you personally see the challenge of the pandemic and its impact on gender equality?
Heftberger: The COVID-19 pandemic is of course a huge challenge for each of us – also for me as a managing director, as a wife, as a mother, as an individual. For example, my son was supposed to have started kindergarten at the beginning of the crisis, and for months we were faced with bridging needs. That was anything but easy, but my husband and I managed it well together. On the other hand, I was out and about less and could see my son much more often. In general, I tried to take advantage of the opportunity and, as a leader, to show that the integration between work and private life can work well.
It was without doubt an advantage that mobile working has been standard at IBM for a very long time, and that we were therefore already well equipped. But there are many companies I deal with on a daily basis where this was not the case. In those companies, I have the feeling that the acceptance of technological tools and more flexible working models has definitely increased. I think that many men in the home office have noticed what their wives actually do in terms of care work, and I therefore hope that women can benefit in the long run from the Corona-induced change in our working world.
Von der Au: I would also like to turn to the topic that you care so much about: mentorship. In your LinkedIn article you write: Learning always happens in two directions. What did you learn from one of your last mentees?
Heftberger: I always have several mentees and always learn from the interaction. What really impressed me recently was an extremely high degree of tenacity, a quality which I had perhaps already lost to some extent. I have a mentee who thinks very much like an entrepreneur and who's driving a project in the corporation that was a bit outside the box of our standard projects. I often talked to her about the project, and there came a point when I was no longer sure whether it could somehow be pushed through. But she was very tenacious and, in our last conversation, she told me that it had worked. I am very resilient myself, but that was impressive.
Von der Au: If I were now looking for a mentor, how should I go about it?
Heftberger: What works best in my experience is to simply approach and ask. You should choose a person who has overcome hurdles, who has a slightly different approach than you, and who is following a path that seems interesting. And I recommend that everyone feel free to have several mentors – every mentor broadens your horizons. Of course, I only have a certain capacity as a mentor, but I'm always happy when someone approaches me. Even if I have to say that, "I'm sorry, but I've reached the limits of my capacity". In such cases, however, I then always give a tip on who to contact.
Von der Au: You wrote a very interesting article on LinkedIn about mentorship. In it, you also give tips for mentors. What are the defining qualities of a good mentor in your view?
Heftberger: An interest in and understanding of the mentee are essential. A mentor must want to understand the person through-and-through: all their ambitions, their overall set-up, their personal preferences, their past and upbringing. This means a willingness to listen, to dive in, and to ask good questions.
I also found an additional tip from the LinkedIn community to be very valuable: As a mentor, I should open up my own network because it is the best multiplier. For example, a former mentor of mine was unable to take on a speaking engagement and asked me: "Would you like to?". That was very helpful and opened a few more doors for me. Opening up networks is especially important when it comes to mentoring women. We keep noticing, over and over again, that networks have been built up over decades and that women have a hard time getting into them.
Von der Au: You also had role models and mentors yourself. If you had the chance to meet some female personality, either living or dead (ideally from the tech industry): Who would it be and why?
Heftberger: There are so many inspiring people internationally and in the DACH region. I am basically driven by great curiosity. If I had the chance, I would meet someone I find inspiring for lunch 365 days a year. For me, it is particularly important that something of the inspiration I gain stays with me and that the insights are reflected in my own actions and thinking.
My encounter with Shirley Ann Jackson, Ph.D., whom I met in the USA earlier this year, immediately springs to mind. Jackson is one of the most renowned physicists in the USA and president of the Rensselaer Polytechnic Institute. She was the first African-American woman to be awarded a doctorate at the Massachusetts Institute of Technology, has received numerous awards, served on Obama's science and technology advisory council, and now sits on the board of IBM. I find how she has pursued her path extremely exciting - how she got the idea to get involved in science when she was still at school, what role her teacher and her parents played in it, how she fought her way through and made a name for herself in science.
Von der Au: You are a managing director at IBM. You have extensive experience in leadership. What kind of understanding of leadership does the digital age need?
Heftberger: We introduced an initiative called "Positive Leadership" at IBM a while ago, trained all our managers accordingly, and rolled out the concept on a broad scale. For me, Servant Leadership is the basis for Positive Leadership. According to this philosophy, the leader is not someone who stands above others and gives work instructions and then judges their implementation, but someone who adds value to the team, who provides service to the team. That is the mantra for me personally. A leader has to enable both the individual and the team to really bring out the best in each individual. I am extremely excited that, at IBM, we have now deeply embedded the cultural transformation that comes with Positive Leadership.
Von der Au: The pandemic calls for a different understanding of leadership. In particular, leaders who tend to micromanage need to now let that go. What does digital leadership need in pandemic times?
Heftberger: I believe that, in pandemic times, when teams are interacting exclusively on a virtual basis, an aspect that is already important becomes even more so: and that is, for leaders to engage intensively with the people in the team. Where do they stand? Where do they have their difficulties? Where do their greatest potentials lie – which until this point perhaps couldn't be tapped into? How can I help them and at the same time make sure that the person feels comfortable in the team? Creating room for the staff to breathe is equally important, as is displaying empathy at a time when things are not so easy – maybe because you're living alone and feel that the walls are closing in, or if you have a family to take care of. As a leader, I have to be attuned to such situations. I really think that's essential, and I think there's no longer any room for this traditional, controlling, hierarchical authoritarianism.
Von der Au: As part of eco's #LiT Ladies in Tech interview series, we recently interviewed Nina Gohlke from Salesforce. Now we'd like to put a question to you that Nina Gohlke offered for our next interview partner: How do we win more men as "allies" to achieve gender equality?
Heftberger: A very interesting question and I think Ms Gohlke is right. In order to reach our goal faster on the way to more diversity, we need male allies. Experience shows that this works best if you reach out to the men by triggering something that appeals to them personally. Many are fathers of daughters or have a female leader or talent on their team. I think it is pragmatic and promising to win over male allies via this trigger. Simply to say: you are doing so much for your talented female employee – how can we extend this to other female talents and inspire others to do the same?
Von der Au: In the context of diversity, what question might you yourself put to an interview partner?
Heftberger: What can we as companies in the economy do to create equal framework conditions at the early stage where the challenge starts – namely in education? People always point to politics and structures, but what is our contribution as an industry?
Agnes Heftberger is Member of the Board of IBM Germany and Vice President, Sales, of IBM Germany, Austria and Switzerland. In this role she is responsible for IBM's overall sales activities in these three markets.
Prior to that she led IBM's business with Consumer Industries in Germany. Throughout her career she held various executive positions at IBM across Central & Eastern Europe and worked in Middle East & Africa and Austria.
Agnes Heftberger holds a Master of International Business Administration from Vienna University of Economics and Business Administration.
She lives in Stuttgart with her family.
Hanna von der AU is PR Manager at eco – Association of the Internet Industry. She is responsible for the development of communication strategies and concepts, content marketing activities, social media channels, and press releases. The topics closest to Hanna's heart are diversity and Women in Tech. She leads the activities around eco's German #LiT – Ladies in Tech initiative and loves getting in touch with more women in the industry. Her aim is to make the Internet industry more colorful and diverse. Before joining eco in 2019, Hanna worked as a digital campaign consultant with a focus on content generation at a digital consultation agency (for customers like NRW.INVEST, GS1 Germany, Peek & Cloppenburg, Coop, Lufthansa).
Further information on the topic of diversity can be found on eco's Diversity focus page and in the eco Association 2020 study on Women in Tech Across the Globe: A Good Practice Guide for Companies.
Please note: The opinions expressed in Industry Insights published by dotmagazine are the interviewee's own and do not reflect the view of the publisher, eco – Association of the Internet Industry.