Women in Tech: Be Authentic and Try Something New
July 2019 -

Women in Tech

|

New Work
Women in Tech: Be Authentic and Try Something New
Do women have a place in the tech industry? Yes! says Sabrina Waltz from 1&1 IONOS. She offers advice & encouragement to women wanting to enter the sector.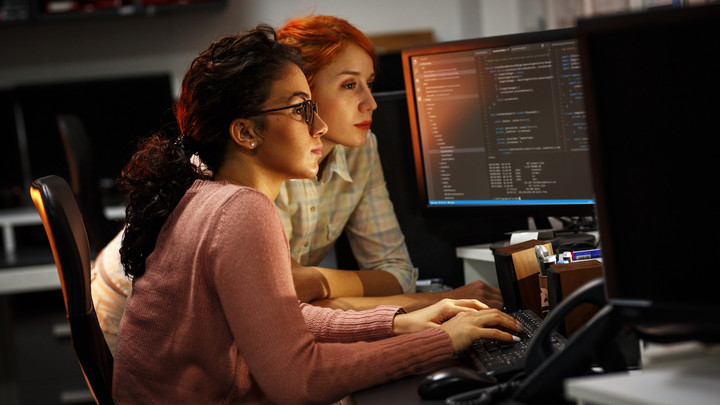 dotmagazine: What advantages do you think being in the tech industry can offer women?
SABRINA WALTZ: The tech industry is very diverse and offers a dynamic environment in which there are many opportunities for women to help shape the future. Digitalization and demographic change will lead to even more diverse jobs and an increased demand for highly qualified specialists in the coming years. Well-trained women are needed to fill these jobs.
I think women can make a difference in this industry through their social skills and creativity. They can contribute to an improved team atmosphere and introduce completely new perspectives with a cooperative style, and thus support digital transformation within companies. Every day offers new challenges and women can accept these by standing out from a male-dominated culture and, for example, being successful in management positions with more sensitivity and intuition. I think the tech industry benefits from the social impact they have on the business environment. Tech companies are innovative and characterized by an unconventional work environment and flat hierarchies. In my opinion, women can move a lot here if they are motivated and curious.
dot: What tips would you give to a woman seeking to enter (or re-enter) the tech industry? What should she know about the current industry?
WALTZ: I would tell her to be herself, be authentic and try something new. In an environment in which you are one of only a few women, the best thing to do is not to try to behave like your male colleagues, but to stand out with your female attributes. Because that's what is needed to make a difference.
Nevertheless, there is one aspect where women could follow the example of men – and that is to be more confident, and to believe in yourself – that you are able to do whatever you aim to do. In a nutshell, to be brave and to dare to try something new. Don't overthink it. If you think it's exciting and you are motivated to do something, just start and everything will fall into place. The more women who behave in this way, the more other women will follow this pattern. This leads to women and men becoming more similar in their behavior, which in turn leads to a balanced relationship, e.g. in strategically important or management positions. This empowers every woman to shape her own path, career, and life. It doesn't matter what you studied – it matters what you make out of it and whether you take your chances.
dot: Let's talk a bit about your own background. What encouraged you to get into the tech sector? And were there some key turning points (or what you might see as "ah-ha!" moments!) in your career path?
WALTZ: It really was by accident. I got my first position at 1&1 through someone who knew someone in the company who was hiring. I started as a freelancer for Marketing in the Cloud program, and also took care of the Controlling part of the program at the same time.
After a while, my then boss offered me a permanent job as a Controller in the Hosting tech division. I had previously studied communication sciences with a focus on PR, economics, and politics, and as a student I had different jobs in the PR and communication industry – but I had never done anything related to Controlling. I also applied internally at 1&1 for a PR position, and got an offer there too, but I decided to take the challenge and took the Controller job. I never looked back. I really learnt a lot about the planning of resources, capacities, and budgets, and it gave me an understanding of how the company as a whole works.
After around 4 years there was a reorganization, and I moved to a different division of the tech unit. The new division head asked me if I was interested in building up something completely new. The offer was to take over the responsibility for the creation and management of a community platform for tech-savvy people. I agreed – and this was one of the best things that could have happened to me. The 1&1 IONOS Community became a platform for Cloud & Hosting interested users available in 7 countries. It was so exciting to dive into the new topics and I learned a lot about managing agencies and the different streams. I enjoyed working together with people from different locations and divisions all over the world, with everyone focused on the same goal. And it also brought me into the "tech scene".
On my initiation, in 2016 I organized the first Hackathon in the context of the WorldHostingDays (now CloudFest) conference and fair, together with Soeren von Varchmin, while in the following year I was responsible for the whole organization of the Hackathon myself. Since then, the Hackathon is an integral part of the CloudFest every year. After moderating the presentation of the Hackathon results at the WorldHostingDays opening on the mainstage, I got in contact with Women in Tech initiatives for the first time.
Elisabeth Kurek, then leader of the Gender Diversity & Equity Initiative in the i2Coalition, approached me – after she saw me as one of the few women talking on stage – and integrated me into their activities and networking events. From then on, Elisabeth and the Women in Tech initiatives have helped every year to spread the word and encourage female coders to join the CloudFest Hackathon.
I am now also working as a Partner Manager, and in this role I take care of our partners from the tech communities who I got to know in the last few years.
I really can say that great opportunities have always arisen for me – always new topics, and male colleagues in the company who supported me to get the best out of me.
dot: You've been working with 1&1 IONOS SE as Community & Partner Manager for over 4 years. Could you tell us what you find most exciting about your work?
WALTZ: My work is very diverse – both what I do and the different people I work with. As a Community & Partner Manager, I'm responsible for a wide range of activities. These include everything from communication in person and online, to the creation of events, working with development teams, and user experience, and on to the coordination of content creation. My role is to connect our brand with the community we want to create a relationship with. In this case, these are developers, freelancers and web agencies within the tech industry that we want to reach and create a loyal partner community with.
I interact with potential partners, build relationships, and maintain the existing ones. One of the goals is to get the community to interact with each other. That's what makes communities so vibrant – to hear what they have to say and what you can pick up from them, and bring that into the development of products. For me, it's crucial to be able to empathize with the community. This job has a very emotional character, since it's always about the people you interact with – and they are as diverse as the tech industry itself.
Relationship building is a big part of my daily work. This is very exciting, since it is anything but boring. 1&1 IONOS is a company that is acting internationally, so it's even more interesting to network with colleagues and partners from different parts of the world.
Sabrina studied Communication Science at University of Hohenheim, Stuttgart, and spent time abroad in New York, USA, undertaking an internship in a PR agency & studying international business. She has been responsible for the initial creation and the management of the 1&1 IONOS Community for the last 4 years - a platform for Cloud & Hosting interested users available in 7 countries - and is a member of the CloudFest Hackathon organizer team. She is now Community & Partner Manager in the 1&1 IONOS Partner Program, where she maintains the relationship with partners, cares for their needs, and helps to define the benefits of the partner program. Privately she is an engaged member of the board of Ladies´ Circle Karlsruhe i.G., an international women's service club.
Please note: The opinions expressed in Industry Insights published by dotmagazine are the author's own and do not reflect the view of the publisher, eco – Association of the Internet Industry.