Business Continuity in Lockdown
August 2020 -

Networks

|

Security

|

Unified Communications

|

Artificial Intelligence

|

New Work
Business Continuity in Lockdown
Shifting workloads, managing security breaches, and serving customers remotely – Sylvia List from NTT Germany explains companies' evolving reactions to lockdown.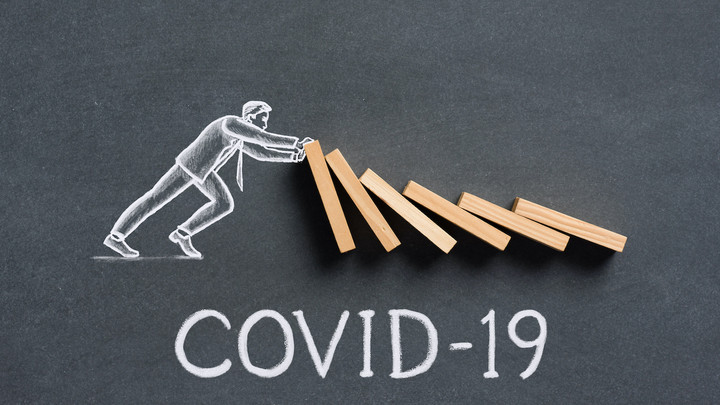 How Covid-19 acts as a catalyst for digital solutions
dotmagazine: There's been a lot of press about the impact of the Corona crisis on the education sector and the general need for employees to work from home. But apart from these factors, have you seen any special impact on behavior within particular sectors or in different areas?
Sylvia List: I think different sectors have been impacted in different ways.
Starting with manufacturing, there were a range of challenges. Where manufacturers had a heavy reliance on suppliers, for example importing from China in the early phase of the crisis, many supply chains broke. This had a strong impact because those companies immediately had to close down certain campus areas or production plants. On the other hand, if their supply chain was safe, those producers involved in assembling components were often able go on working during lockdown.
Some manufacturers had the possibility to shift workloads from one location to another to work around regional lockdowns – for example, in the automotive area, where they were able to shift the production of certain models or certain components to different plants. However, this had a huge impact on the IT side, because they did not necessarily have the right and sufficient resources in those locations – and in other locations, they had more than needed. As a result, they had to transfer massive amounts of data, requiring substantial bandwidth, in order to migrate operations.
In the banking sector, it became clear that the maturity of a bank in terms of digitalization was key for continuing business functions – for both the business customer and the private sector. As a result, the coronavirus functioned as a catalyst.
In the first stage, banks were all affected in immediately transferring their staff to remote working. The challenge was that of immediately shifting operations and employees to the home environment. In this context, the business sector was less challenging, because remote solutions had already been found for a lot of work with business clients. But for the private customers, being unable to still use the branches made a significant difference, e.g for credits and financing, even though simple online banking has been quite common already.
As a result, there was a strong push for additional services in online banking. To support the customers appropriately, this led to the challenge for some banks that they did not have the right capacities in terms of their contact centers. Especially elder customers were still unfamiliar with online banking and required extra support, which the banks were not geared towards providing. At that stage of the Corona crisis, we experienced a major surge in demand for customer experience and contact center solutions. Those banks that had not already been on the path to digitalization in their contact centers faced significant challenges not only in this area, but also on their online platforms, some of which were not sufficiently dimensioned for the traffic they were facing.
As a first step, banks worked on fixing the capabilities for private customers, as this is relevant for the economic and commercial sector as a whole. In Germany, at least, there were still a lot of consumers who were not using their bank or credit cards to pay, for example, in smaller retailers, restaurants or other daily demand areas. This meant that there was also some backlog in this respect, as banks were not prepared for the strength of demand for cards at such short notice, and neither were the manufacturers for card readers.
In the meantime, these challenges for the banking sector have been successfully resolved in Germany. The banks have increased capacity in the contact centers, they have issued a lot of bank cards, and they have increased capacity on their online platforms – where it was easier for them to ramp up, as - especially for the edge applications - many of them were already relying on cloud solutions.
dot: What was NTT's role in enabling the different sectors to overcome the challenges with the coronavirus. How were you involved?
List: I'd like to divide this into two different customer segments. The first is where NTT was already known as a very innovative company in terms of networking capacity, networking conceptions, and security. In these areas, we already had very good relationships with customers. We had clients coming to us with topics regarding increasing bandwidth, or getting the right network segmentation, shifting network segmentations from one location to the other, shifting the workloads, and accelerating SD WAN projects to better manage capacities, for example. In the security area, because a lot of immediate online capacities had been ramped up in the companies, companies came to us about security breaches. Until that point, they had been able to manage the security incidents, but with lockdown they were expecting these to increase and they wanted to secure their critical data.
The other segment of clients were those who reacted to our quickly ramped-up campaigns during the early stages of the pandemic. In particular, we had a business continuity and business resilience campaign, where we offered immediate, mid-term, and long-term support. We saw a lot of reaction to our campaign – starting, of course, in the early stage of the pandemic with collaboration and work from home offerings. Then, with a delay of two to three weeks, security became a focus, because by then companies had swiftly ramped up and had a lot of people working from home, but not secured, or at least, not in a way the company could control.
Following this, we saw another change in priorities. A lot of retail clients started to ramp up their e-commerce platforms, so they also had to ramp up their customer interaction. They did not have the right capacity, and they had a huge backlog of emails because they only had an email contact address. As a result, they started to implement phone contact, and then realized they were understaffed. This meant that they immediately started to look for any type of intelligence in bots or in contact center solutions that could filter and direct the calls to the right person instead of having callers waiting in a long queue.
The next phase was that companies began to realize that the crisis was going to continue for longer than anyone had expected. They had to start looking at costs and how to scale down or to be more flexible in the future. There has always been a lot of effort to easily ramp up IT capacities when business is growing, but businesses have rarely thought about how to easily reduce capacities in order to save money. In lockdown, they became aware that they were, for example, producing in three locations instead of six, but they were having to pay for the capacities in six.
dot: Do you see the crisis as acting as a catalyst for AI-powered solutions?
List: Absolutely. I think that a lot of clients understood that, as soon as they ramped up their online business or launched new business models, then they had to comprehensively rethink customer interaction. They had to find measures to track what the customers were doing in their online shop, in order to better understand customer behavior, how it was changing, and which paths they were taking.
But many retailers like small consumer electronics companies did not have very elaborate online shops. As a result, they completely lost contact with their customers and understood that they needed to find methods to measure, track, and analyze their customer behavior.
This triggered a lot of demand because companies realized that they did not know when they would be able to open up their shops again. So, they wanted to shift the consumption from physical shops into online shops, in the hope that a lot of clients would stay there.
dot: It sounds like security has become a more tangible issue for companies as a result of the pandemic. Is that what you saw?
List: Here again, we need to break it down into two types. The first one is those companies and governmental organizations that found that they were absolutely unprepared security-wise to work from anywhere outside the normal offices. They did not have any IT security components for working outside the building and outside of their local area network. They had to build up networking and also security solutions completely from scratch, for any type of mobile device using a public Internet access from home to dial into their networks. Initially they focused on enabling their staff to work at all. And then in the second step, when they realized first security breaches, they understood that they had to take care of security in a completely different way and train their employees.
On the other hand, there were a lot of clients who had basic security measures – VPN solutions, for example – for their employees, but they did not have mobile device management solutions. As a result, they did not even know who, from which device, was dialing into the network. They could identify which IP address a certain issue came from, but not the device. And if you don't know the device, and if you have to allow each and every device who uses your VPN credentials to dial into your network, then your data is not secured properly.
As a result, they began to understand that they needed two or three-factor authentication. When asking for those solutions, they soon realized that it is not done in a week – they needed a proper conception which might last longer than just three weeks of crisis. Then they started to really pay attention to access, and implement zero-trust solutions, for example.
dot: And how has it been for your teams to actually face the challenge of supporting a large number of clients suddenly needing new solutions, upgrades, expanded networks, etc.?
List: The crisis certainly kept us busy. But for many clients – especially larger clients – we could not help with an immediate solution, because each of them has a different industry context and set-up of their IT environment. Firstly, we needed to understand their initial situation, to understand the dependencies, and then to support them with the right conception and the right infrastructure components and services.
It was also quite helpful that we have a huge network of partners who support us. Many of them are the leading vendors in their area: Cisco for networking, Microsoft for collaboration and also AI; we have Google Cloud; we have AWS. Our huge partner network also immediately stepped in, supporting us internally, but also supporting us in driving solutions and supporting the clients, including training and coaching in some areas, and then proposing us as a fulfillment and service partner.
They also had interesting programs which we could take to the market: 90 days free trials for WebEx, for example, or a six-month free trial for Microsoft teams, to name just two – but there were a lot more. And they also supported us in so far as they had interesting commercial programs, so that the clients could now use us to provide and implement the right conception, and pay at a later stage. Because the assumption was that, if we did not help these clients now, they would not be able to buy later.
dot: Are you expecting any kind of return to a pre-Covid normality, or do you think the changes we've experienced in the last few months will have a long-term impact on the way we do business?
I think it definitely will have a long-term impact on the way we do business. I think we will not go back to normality as we have experienced it in the past. One reason is that everybody saw that working from home is something which is feasible – companies can actually trust their employees to do their work from home. And because of this, we will face new models of working after the crisis.
The second reason is that we see that we can also do business with our clients remotely. This will also have a huge impact on the travel costs and travel behavior of companies. It will not completely substitute personal contact, but I think you do not have to have every single meeting with a client taking place physically.
Working from home will also have an impact on office designs. In turn, this will have an impact on the real estate sector, because the demand on business parks' capacities of the size we have had to date will decrease. A lot of clients are reducing their office space to a minimum, and moving to shared desk models.
I think another aspect is in the way we view mobility. All of the factors mentioned about will have an impact on public transport, and the mobility conceptions in cities will change. This will also affect the way cities are organized. The smart cities of the future will take on a different shape if the way we work changes. And we at NTT also work in this environment – thinking about the smart cities of the future: How could they work? How could we manage traffic streams, and streams of people walking and driving, and steer that in a sustainable way?
dot: Have there been any lessons learned from the Covid-19 crisis for the design of digital infrastructure in the future?
List: The huge learning – which I have already touched on – is that flexibility in each and every IT service is key for the future. I think most of us have understood that this might not be the last crisis we will face. And this requires more flexibility in IT services so that employees can work from wherever they are. This changes the way IT costs are looked at from a scaling perspective. Companies need to understand how they can scale IT capacities not only up but also down. And companies have needed to understand that security is something which cannot be postponed. We saw that security incidents rose by 70 percent in the first four weeks of the crisis – mainly phishing attacks and ransomware. And this is mainly caused by ramping up certain IT services and not looking at security in the first stage. Postponing security to a later stage and just mentioning it in the risk radar is simply not enough.
Sylvia List is responsible for the Go-To-Market & Innovations division at NTT Germany, including topics such as Network, Datacenter & Cloud, Cybersecurity, Modern Workplace, Customer Experience and digital transformation business to support and manage clients' legacy bust as well as software-defined & Smart X future solutions. She has been working in the IT industry on the service provider and customer side for over 25 years. After working for Siemens, Computacenter and Knorr-Bremse, among others, she was responsible for overall solutions in large outsourcing deals at Deutsche Telekom and made a significant contribution to the (further) development of the cloud strategy for major customers.
Please note: The opinions expressed in Industry Insights published by dotmagazine are the author's own and do not reflect the view of the publisher, eco – Association of the Internet Industry.