A Quantum Leap in Communicating with Technology
November 2017 -

Artificial Intelligence

|

IoT
A Quantum Leap in Communicating with Technology
Voice assistants powered by Artificial Intelligence are appearing in households across the globe, simplifying lives and enabling smart home environments. Michael Wilmes, Senior Manager Public Relations at Amazon Germany for the division Devices, explains in interview the vision and the development of Amazon's Alexa and Echo as an Artificial Intelligence and as a platform.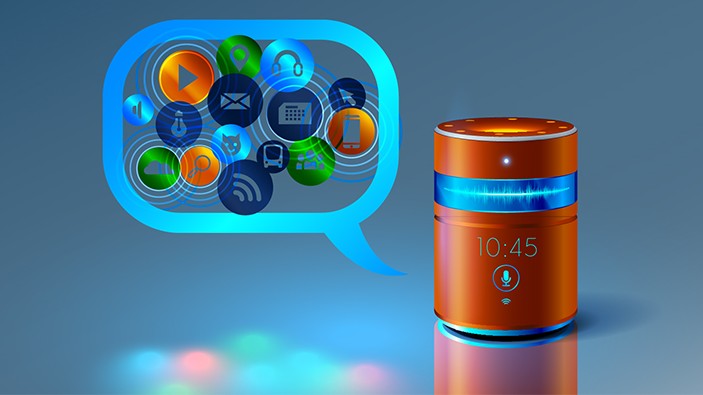 eco: Mr.Wilmes, how important is the area Artificial Intelligence for your company?
MICHAEL WILMES: Artificial Intelligence already means a lot. We work with Artificial Intelligence at multiple levels and in different divisions in our company, such as in logistics and, of course, in new devices like Amazon Echo. Devices and services that work with or are founded on Artificial Intelligence (like Echo and Alexa, to give a couple of popular examples) are currently developing. In my field, what is particularly exciting is the fact that Artificial Intelligence can be controlled through language. 
I believe we are at day one, which implies that the further development is only limited by our fantasy. However, one thing that can be said is that language is a superb interface between humans and technology. When you have seen other interfaces, such as a computer mouse or a touch display, that let us interact with technology – now it is actually the language that puts us in a position to make us understandable and to control things with Amazon Echo. 

This is a quantum leap that is based on natural language understanding, but also text-to-speech algorithms, which enable us to communicate with technology in a very natural, human, simple, and self-explanatory way. When I see my children standing in front of Amazon Echo, this is a very intuitive interaction. What I think remains is that the Artificial Intelligence can be steered excellently by speech and I think Amazon Echo is certainly a significant step in this direction.

eco: What drives the development of such systems?
WILMES: Well, the vision is of Starship Enterprise. Jeff Bezos is a Trekkie, a fan of Star Trek. The idea or the vision is in fact to be able to interact – no matter where you are – with an Artificial Intelligence that offers you knowledge or makes certain daily activities easier. The first applications are certainly easiest to see in the smart home area. For example, if you control the lighting or regulate the heating  with your voice. In my opinion, these are the first examples that are beginning to penetrate everyday life. But I think the vision is, fundamentally, that using language in combination with Artificial Intelligence, many things can be done without needing to move much or use your hands.
And here, I think the development is not foreseeable. It will undoubtedly develop in an insane number of directions. In the case of Amazon Alexa, there are currently hundreds of thousands of developers worldwide, both internal and external, who are developing skills and capabilities for Alexa. This leads to results where we ourselves are surprised, and that we ourselves find simply fantastic. It is difficult to predict which direction the development will take. But I believe that we live in an unbelievably exciting time, in which the foundations are being created for exciting developments in the future. 

eco: Alexa and Alexa's possibilities are a development process. How open are you to the ideas of others? 

WILMES: We have our APIs, our development interfaces for Alexa. Everyone is called upon and invited to develop for Alexa. Not much knowledge of Artificial Intelligence or about coding in the broader sense is needed. That means that we see private individuals who develop skills for Alexa, and of course also large-scale collaborations and corporations that want to be on this exciting platform from the very beginning. It is certainly clear that Smart Home, Connected Home, and Knowledge Management will play a big role. Currently it is primarily interesting in the private consumer area, but in principle, nothing stands in the way of business applications as well. I think a crazy number of creative minds are currently preoccupied with this, and we're seeing interesting applications.  

eco: Amazon Echo is then only one part of something bigger? 
WILMES: Echo is an access point to Alexa, the cloud-based Alexa Voice Service. Echo is one possibility for communication with Alexa – an access that we've built. I think it makes clear the possibilities of Artificial Intelligence, and of Artificial Intelligence in combination with voice control. This starts with music or radio stations, and continues on from there. But in effect, there will be millions of different types of accesses to Alexa. For that, we are making the far-field microphone array available for everyone – the component in Amazon Echo that allows you to communicate with Alexa from seven or eight meters away, and also makes sure that those microphones that are not in use suppress ambient noise, simply to improve interaction with Alexa. This means that new devices can be created with the same technology. At the same time, we will make our Alexa Voice Service APIs public enabling every manufacturer of awnings, sunblinds or cars to create access points to Alexa. And Alexa is gaining more intelligence and knowledge on a daily basis by an incredible number of skills, which are being made available by us, or by external developers. 

eco: In the USA, Echo took off massively. What is it looking like in Germany? Especially given the discussion about the protection and use of data? 
WILMES: WILMES: Well, the topics data protection and data security have a high status in Germany. We are very transparent when it comes to data protection and data security with Amazon Echo and Alexa. It is always clearly displayed when we are streaming audio into the cloud. That means that audio streaming to the cloud only begins when the wake word is spoken. This is then also highlighted visually by a ring of blue light which is highly visible and makes clear to the customer that everything he says now will end up in the Amazon cloud, and is needed for Alexa's answer. We have installed a button on Echo that switches off the power to all microphones directly. That means that they are no longer able to record anything, and this is displayed as a ring of red light, which permanently signals that Echo is currently not operating. 

Then there is the Alexa App. Every customer who uses an Echo device can see every single one of their voice recordings that we have, in real time, in the app – and can listen to the recordings and decide whether they should stay on our servers or not. Customers have the possibility to delete every voice recording, or the complete history, forever – within ten seconds. We don't recommend this (here also, we are very open and transparent), because of course we need the data in order to further develop Alexa. A quite banal example: when we notice that a relatively large number of questions on the topic of football comes in on a Saturday afternoon in Germany. Then we have the chance to improve our services and the answer possibilities, the natural-language-understanding models, but also the text-to-speech models – that ensure that Alexa is helpful. We had a great start in the USA with Alexa and Amazon Echo. We are very happy with the start in Germany – at the moment we have a customer rating of around 4.3 stars for Echo. And I think that the whole topic is actually a magical experience the first time you use Alexa or Echo. I know that from my own personal experience. Everyone finds it interesting, because it is simply a completely new form of interaction with technology, and at the same time the level of interaction is relatively high. There's actually little anti-tech reservation in Germany. But what you notice without doubt is the need to explain the technology. You also need to explain the applications, but we're trying to do that. 


Please note: The opinions expressed in Industry Insights published by dotmagazine are the author's own and do not reflect the view of the publisher, eco – Association of the Internet Industry.