Enabling Smarter Offices With Fiber to the Edge
October 2022 -

Smart City

|

Digital Transformation

|

IoT
Enabling Smarter Offices With Fiber to the Edge
FTTE is future-flexible, delivering connectivity, bandwidth & safe power in an office building, discloses Piers Benjamin from Corning Optical Communications.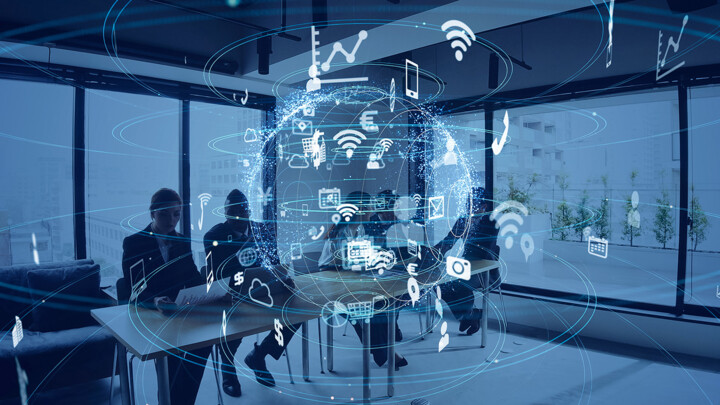 Digitalization and the trend towards an ever more deeply networked world has been building for more than 20 years, yet we're still only at the tip of the iceberg. Smart buildings, Industry 4.0, and M2M communications are just a few of the drivers, as well as the growing influence of the Internet of Things (IoT).
While the hybrid working models that so many businesses adopted throughout the pandemic are likely to persist, we're also experiencing an impetus to make sure that offices are fit-for-purpose to enable a more collaborative and productive workforce – not only now, but for years to come. The latest forecasts from the Cisco VNI Report predict that the number of IP-capable end devices will double by 2030 – a good proportion of these end devices will be integrated into the infrastructure via radio protocols such as Wi-Fi.
This means enabling employees to always have a reliable connection to the network, regardless of device, and for office environments to have infrastructure that will still be stable enough to accommodate the proliferation of IoT devices in our buildings. With the advent, as well, of real-time applications that require data to be processed at the edge of the network – such as security, telecoms, life-safety, and building automation systems – companies are being forced to move data workloads deeper into the network.
In particular, IP cameras and security devices are now widely used indoors and outdoors, but may not be located near existing telecom rooms or a PoE-based switch. This can overwhelm an exclusively twisted-pair infrastructure with copper cables in terms of the distance, bandwidth, space requirements and flexibility needed. Traditional structured cabling requires a large number of cables in the horizontal path, leading to increased complexity, also taking into account the convergence of networks and integration of building services, which is difficult to manage over time.
Fiber to the Edge (FTTE) is ideal for businesses that require high capacity and flexibility in their office network. Fiber offers scalable bandwidth, low latency, and the reach and flexibility needed to meet the demands of applications such as next-generation Wi-Fi, high-availability A/V and 5G within a single building or on a large campus. While most office environments won't need Wi-Fi 7 – which should be on the market in the next 1-2 years – for quite some time, Wi-Fi 6E is starting to become more widely adopted and offers an extension of this standard to the 6 GHz band, significantly reducing network congestion.
Key elements of FTTE
Like any corporate IT network, an FTTE-based LAN consists of active (routers, switches, etc.) and passive (cables, connectors, etc.) components. Important requirements are:
Long-reach, flexible power and data
Intelligent remote-power solutions
Ending "rip-and-replace" network planning
An FTTE architecture is all-optical, so all data transmission is via fiber. This means that the network can be operated from a central equipment room, the main distribution frame (MDF), in the form of a collapsed backbone, making intermediate distributors (area distributors/floor distributors) superfluous and allowing the space to be used as floor space. The reach of fiber enables multiple devices to be connected via a single cable that extends to a common central collection point from which individual areas up to multiple floors can be served.
Power for an FTTE-based LAN is best supplied using composite cabling which contains both fiber and copper. This combines the scalability and bandwidth capacity of single-mode fiber with the power-conducting properties of copper to deliver both data and power to devices at the edge of the network. Composite cables take up much less space than comparable copper data cables and are much more capable in terms of current density, voltage drop and transmittable power, and the maximum cable length they can achieve. This simplifies future upgrades to, for example, new Wi-Fi access points, while at the same time offering the prospect of lower maintenance costs.
This also has important applications when it comes to next-gen Wi-Fi. Most of us will currently be using the sixth generation of Wi-Fi, which is a well-established standard. The next iteration, Wi-Fi 6E, is starting to become more prevalent and offers an extension of this standard to the 6 HGz band, greatly reducing network congestion. Wi-Fi 7, the next generation, should be with us within the next few years.
What this all means is a need for building owners to pull additional category cable, with Wi-Fi 6E needing up to 10G of data and Wi-Fi 7 requiring up to 40G. This can be achieved with four CAT6A cables, with a distance limitation of 90m, or with one composite cable that will also offer greater distances on the power and data.
Another integral part of a fiber-based design, especially with composite cables, is the remote powering solution. A central DC power supply offers a simple solution that can be scaled up depending on the number of devices required. The central units can also be split according to PoE requirements, overall budget, and distance to the endpoint. There are many long-range solutions that can support devices at the edge of the network – in some cases even over distances of more than 600 meters.
Low voltage of 57V is delivered directly to end devices such as interactive AV displays and in other cases to smaller PoE switches. This allows nearby access points, smart lighting, and IoT devices to be seamlessly connected and powered.
If a device doesn't feature a fiber input/output – a security camera for example – conversion equipment such as a media converter can change the signal from optical to electrical and connect to the device with a short copper patch cord. This is another integral part of a FTTE network design and there's a number of cost-effective options here that can support 10G speeds and offer backward compatibility to support 1G or 2.5G speeds.
A future-ready network
At Corning, we're putting this into practice ourselves with a FTTE network up and running at our global headquarters in Charlotte, North Carolina, with more than 460 fiber runs leaving the Main Distribution Frame in a single room and spanning the six floors.
FTTE gives us a future-flexible infrastructure ready to deliver connectivity, virtually unlimited bandwidth, and thousands of watts of safe power throughout an office building. By reducing the space needed for network equipment and converging multiple networks into a single, streamlined one, impact on resources is reduced. From HVAC costs for cooling extra equipment to less cable installed, it can all help make a difference.
Piers Benjamin joined Corning Optical Communications in 2018, as the EMEA Marketing Manager for In-Building Networks. He has over 14 years' experience in the industry, with past marketing roles including working for a leading UK distributor. At Corning, Piers is responsible for the marketing activities of the traditional LAN and fiber to the edge technologies.
Please note: The opinions expressed in Industry Insights published by dotmagazine are the author's own and do not reflect the view of the publisher, eco – Association of the Internet Industry.