Girls in Tech: Play, Fail & Learn
October 2022 -

Women in Tech
Girls in Tech: Play, Fail & Learn
Reg Levy from Tucows provides inspiring insights into how to best attract and support young women in tech.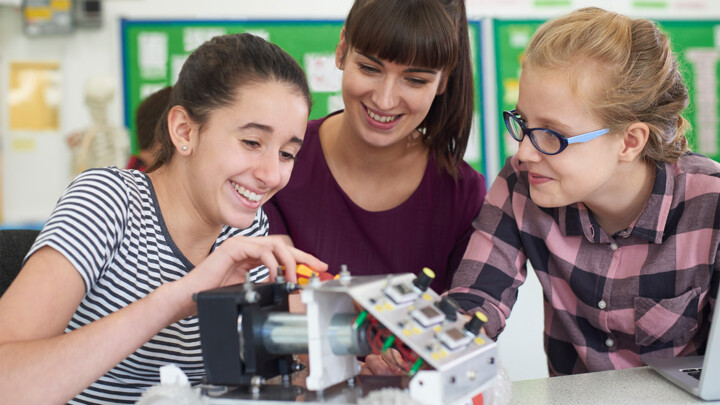 dotmagazine: Reg, you've been in the domain industry for more than a decade. As Head of Compliance at Tucows, and as the Working Group Chair of the i2Coalition's "Diversity & Inclusion Initiative," you're not just a female tech leader, but also a diversity advocate. Let's start by looking back at your teenage years: Were there particular initiatives that inspired you at that time to consider becoming involved in the tech industry?
Reg Levy: Going back to that time, it really was a matter of the things that I played with that interested me. I played video games, I played with computers. I had access to computers, not just as a requirement from schooling, but as things to have fun on. And because they were an integral part of my play, they became something that I was interested in, because obviously adults were using them as well. So having the opportunity to have unstructured time with computers was very formative for me.
dot: If you were currently a teenage girl, are there one or two initiatives out there in the U.S. that you imagine would really spark your interest for a tech career?
Levy: One of the things that stands out in my mind as a memory was going to Space Camp, which was sponsored by a local aerospace company. I lived in Seattle, where my father happened to work for Boeing, and they had a Space Summer Camp there. This camp was very technical and science based. There are similar initiatives now: that is, summer camps that are geared to both boys and girls. These allow children and young adults to play with technology, to learn how things work, but also, to fail in an environment that encourages failure. Because that's part of how you learn, and it doesn't attach a stigma to that failure.
One of the initiatives that my company Tucows became involved in was a "Maker Space" near one of our "Ting Towns" in Charlottesville. We've since turned it over to the local library, who are now fully in charge of it. But when we started it, it was a place for anyone in the town to come and check out different machines – as if it was from a library. In this respect, we had 3D printers and laser engravers, and those types of things that adults could use to create things. While it was primarily geared for adults to play with, we also sponsored regular summer camps where we encouraged kids to come in and learn how to use 3D printers, and to learn how to make things with these machines. I find these types of approaches to also be very important; just giving people the opportunity to have unstructured time with technology: once again – to play, to fail, and to learn.
dot: What aspects of your own job do you think might be particularly inspiring for girls in considering a tech career down the line?
Levy: Due to the fact that, as a little girl, and then as a teenager, I was allowed to play with technology, to see the potential behind it, what I am now doing is a type of natural progression. A lot of what I'm doing is allowing people a safe place to play with technology. I deal with compliance on the Internet, and much of that includes telling people that they're "doing the Internet wrong," and that they need to stop. When something drifts into illegal, into dangerous, life-threatening, or child sexual abuse areas, then we absolutely shut it down. But if this isn't the case, and it's just something that somebody out there happens to not like, part of my job is to say: "No, it's alright for them to continue doing that. It is legal, or it is free speech. You just don't like it." This is all about contributing to people playing (and potentially failing) with the Internet, and giving various people the leeway to do that. If you come at me with a court order, if you show me that this is illegal, then that's excellent, we'll take it offline. But if it's not illegal and it's not dangerous, then part of my job is to allow people to continue to play with the Internet.
dot: For any young woman who might have just started an apprenticeship or a job in tech: what do you think are the best actions that companies can undertake to support her career – and help her to potentially rise up the ranks?
Levy: People talk a lot about mentorship, and I am also of the opinion that it is extremely important. Having role models that are visible and accessible are key. This can involve having a structured mentorship programme, but it can also involve just saying, "Hey, our VP of cyber is a woman, here are the women on the board, and these are positions that you can hold in the future." Simply seeing and hearing such facts is important. Emphasizing and having that diversity already at the company is sort of a passive way of showing young girls that they can have a place at similar companies in the future.
But what's also important is to allow failure to take place – in other words, to allow people to make mistakes, to correct them, and to allow them to learn from it. In this regard, let's go back to the idea of play. When you play with LEGO pieces, you put them together, create something. And sometimes it's not what you intended to create, so you have to take it apart and try again. And that's part of playing with LEGO – it's not a failure; it's just play.
I personally feel like a lot of young women are socialized, especially in Western societies, to not be allowed to fail; they're socialized with the idea that they must be perfect, because if they aren't, then they're not good enough to be the CEO, to be the vice president, to be on the board. What this effectively means: Allowing young women who are in an apprenticeship, an internship, or a company to make mistakes in a supportive environment is also good. Being upfront about your own mistakes in a public and vulnerable and honest way is also going to help young women understand that they don't have to be perfect at all times. When they have a problem, they can go to an expert, they can go to their colleagues, they can admit that they don't know what they're doing, or they thought they knew what they were doing and made a mistake, or just failed – and then reach out for help. And then we can move from there. We can help them learn.
dot: You've already referred to girls' issues with confidence. What else do you think needs to change in society to ensure that a greater proportion of girls choose tech professions in the future?
Levy: This is really looking at the pipeline concept. I think that dividing "play opportunities" into ones for boys and ones for girls is unhelpful. I mentioned earlier that I went to Space Camp, where there was a mix of boys and girls. Looking back, it was important to know that my interest in space was not "weird," because it was allowed. In other words: there should be representation at every level.
I was possibly one of the only girls in the computer classroom, but that also didn't come across as strange. I was given no sense of: "Oh, what am I doing here as a girl?" It was just like I was the only girl who happened to be interested, and that was fine. At every step of the way, showing that it's acceptable for girls to be interested in something goes a long way towards allowing girls the space to play in that field, to make mistakes, and to learn and become experts in that field. Because that's how we become experts.
dot: In order to boost girls' interest in tech, do you believe it's important for collaboration to occur between the Internet industry, educators, and policymakers? And can you offer any examples of such collaboration that you're aware of?
Levy: Each of us has our own expertise and is available to provide that expertise across the board. So, for example, if an educator comes to me and says that they have a girl who is interested in the domain industry, then it's incumbent upon me to make myself accessible to that educator and to that girl. It obviously also works the other way around – in other words, to reach out to educators proactively and say: "Hey, we have internship opportunities, we have these maker spaces. We want to be a resource for people to see if they have the interest and if they do have the interest, to cultivate that."
When I interact with my nieces, I try to interact in the same way that I will with my nephews. Not, "Oh, what a pretty dress!" But: "What are you reading? What are you playing with? What are you interested in right now?" And allowing her to express her interests and then encourage them, whatever they are.
dot: Is there any final tip that you would like to offer girls, parents – and society in general?
Levy: I really do think it comes back to play, to joyful interaction with technology – whether that's video games, learning to code, or having fun with those new quasi robotic LEGO pieces. For example, with those LEGO pieces, you can put together robots with little servos and see what they do, and see if you can create something that will go and pick something up across the table from you. Having such opportunities available to girls from an early age is extremely important. This is something that I've impressed on my sisters for their children: From an early age, I made sure that they had computers in their home so that they could teach their children. This is a thing you're going to need when you grow up, but it's not just used for adult things. This is something that can be fun. This is something that can be played with.
Reg Levy is Head of Compliance at TCX, a Canadian domain name registrar and registry services provider (Tucows), fiber Internet provider (Ting), and wireless mobile service enabler (Wavelo). She manages compliance across the group's various businesses, from ICANN compliance to compliance with various relevant rules and regulations that impact the business. Reg has been in the domain industry since 2011, when she started at a new generic top-level domain registry applicant and became active in the ICANN policy space. Reg is also the Working Group Chair of the i2Coalition Diversity & Inclusion Initiative. In addition, Reg serves on the Names & Numbers Steering Committee for eco – Association of the Internet Industry and is active in her local bar associations.
This interview with Reg Levy has also been published as a core part of the eco Association white paper "Girls in Tech: A Call to Action," which was launched on the occasion of Girls' Day, 28 April 2022. The white paper is founded not just on top-notch research studies, but also on insights from 15 role models from IT & tech companies and associations in Europe, the US and Africa. The far-reaching paper not only sets out lessons and recommendations for companies, but also key guidelines for policymakers & educators.
Please note: The opinions expressed in Industry Insights published by dotmagazine are the author's own and do not reflect the view of the publisher, eco – Association of the Internet Industry.