Making the Dream of Gender Parity Reality in the Tech World
October 2020 -

Diversity
Making the Dream of Gender Parity Reality in the Tech World
Agustina Callegari from the Internet Society explains the need for women in leadership, both in volunteer communities and in the workforce, and how this goal can be reached.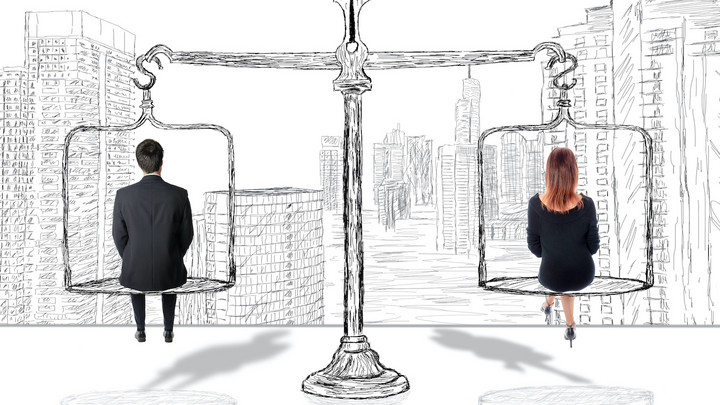 DOTMAGAZINE: For close on a year now, you've been employed by the Internet Society as Senior Manager, Community & External Engagement. If I were applying for your job, what would I expect to find in my day-to-day working life? And what would I need to bring with me in terms of skills and qualities for the job?
Agustina Callegari: In my daily job, I work with the Society part of the Internet Society. I work with our community and staff members to find ways of working together to grow and build a stronger Internet for all. In this context, as we currently have eight projects and more than 131 Chapters and Special Interest Groups, +70,000 members and 96 organization members, I can say that every day is different from the previous one.
Working in a global, multicultural and multilingual environment is never boring, but it requires good people skills. Having the ability to relate with others, communicate across cultures, and listen are crucial for thriving in this position. Being flexible and open to change is also very important to find solutions to challenges that may arise. And finally, having a clear understanding of what the Internet is, of the ecosystem, and of the stakeholders involved in it is key.
DOT: A core part of the Internet Society's mission is to support and promote the development of the Internet as a force for good in society. In this regard, how important do you think it is for women to gain ground when it comes to reaping the benefits of digitalization?
Callegari: At the Internet Society, we believe that the Internet is for everyone. And, of course, everyone includes women. However, women are trailing behind men in Internet access, its use, and also in building it. This means that the Internet needs more women – not only to benefit from the opportunities it offers, but also to have a voice in its evolution, to create and innovate.
Having more diverse perspectives and voices at the table when building the Internet, and tech solutions more broadly, is critical. It shapes the types of solutions that are designed and who those technologies serve. It is critical that women from diverse backgrounds (race, religion, sexuality, ability, etc.) are part of the process to ensure that the Internet is a space where we feel safe, and that tech solutions cater to the unique needs that women have.
DOT: While women in the tech workforce often start their careers with equal or even higher levels of ambition than men, they are often still confronted with a "glass ceiling" when it comes to rising up the ranks. What do you see as being the main obstacles for women in leadership in the tech ecosystem?
Callegari: A few weeks ago, one of the Internet Society Chapters, the Benin Chapter, organized a webinar to specifically discuss the challenges that women face to achieve leadership positions both in a volunteer environment as well as in the workspace. Among many obstacles mentioned during the conversation, the difficulty for women to find work-life balance deserves particular attention, especially in the context of the Covid-19 pandemic.
Decades of research has shown that women do significantly more housework and childcare than men, and the current global context has made it even more challenging. As a result, specifically for a tech volunteer environment, women face challenges finding time to commit to volunteer work and, as a result, to apply for leadership positions. Even when they are appointed to leadership roles in volunteer positions or at the workplace, they face challenges in staying at the top.
At the executive level, the Internet Society has more women than men. But in volunteer positions we still need to attract more women in order to really have diversity in community leadership positions. Currently, we are exploring ways of encouraging more women to apply for these opportunities. The creation of a dedicated Women Special Interest Group, also run by volunteers, has been crucial as it has helped raise awareness about these challenges.
DOT: At a recent webinar jointly hosted by the Internet Society, the eco Association, and the i2Coalition, you emphasized the importance of solidarity and alliances for women in tech. To take just one example – the Internet Society is a member of the EQUALS. Could you give us some samples of the work that this partnership undertakes?
Callegari: The EQUALS Global Partnership for Gender Equality in the Digital Age, created in 2016, is a global movement that currently brings together 90+ partners from across sectors with a common goal: to bridge the gender digital divide. This network ensures that women and girls are given access to technology, equipped with skills, and offered tools to develop leadership potential to work and succeed in the ICT sector.
One example of EQUALS' work is a course on "Business and Leadership for Women in the Technology Sector," led by the Leadership Coalition of partnerships. The course develops the leadership, knowledge, and skills of women entrepreneurs and women working in the tech sector, so that they can increase their companies' competitiveness. To date, over 500 women from 78 countries have taken the course, including many women from our community. Perhaps even more importantly, 99% of attendees report they have changed their business practices because of increased access to financial resources.
This impact was thanks to the work of six partners: International Trade Centre, UC Berkeley, She Loves Tech, Women In Cloud, Ernst and Young (EY), and International Telecommunications Union (ITU). This illustrates how we can all work jointly on large and small projects to make a positive change.
DOT: And on the topic of solidarity: what are the various contributions that male allies can make to helping promote women in leadership?
Callegari: Allies come in many forms and while there are many actions men can take, I would like to mention two:
Mentor and coach: Men in senior positions can be mentors for women. They can help advance women's careers by recognizing their strengths and helping them identify ways to accelerate their professional growth. I wouldn't be where I am today without the support of men (and women) who supported me in moving up the career ladder by encouraging me to apply for positions, writing recommendation letters, or suggesting training for me.
Call out inequality: Men can support women by speaking up when women are not being treated equally. Reg Levy from i2Coalition mentioned an example of this during eco's webinar: When organizing events, men can show support by making sure women are included in the panels. I have seen male allies refuse to participate in all-male panels as a way of highlighting gender inequality in the sector. Small acts like these make a difference.
DOT: What is your Nr. 1 career tip for a woman who wants to get moving in the tech industry?
Callegari: Get to know the sector and identify where you fit: When I was at university, I had the wrong idea of tech. I thought that because I have a background in social sciences and I don't know how to code, I couldn't be in the tech field. However, as we all know, technology is part of everything we do – and that applies to businesses and organizations too. That means that the tech industry not only needs programmers and engineers, but also designers, communicators, business analysts, project and program managers, and more. At the Internet Society staff level, we have 59% women working in different positions: technology, policy, communications and finance, just to name some areas where we have amazing women in tech. There are many options, but there is no one-size-fits-all approach. Each of us – sometimes with the support of mentors and allies – must identify and build our career path. And for that, as an extra tip, I would say that you need to identify what you like doing and know your strengths.
DOT: We'll now give you another interesting job and make you editor-in-chief of a leading media publication – this could be any newspaper, from the German BILD to the international Guardian: Which headline would you like to see in an article concerning "Diversity/Women in Leadership in the Tech Industry"? And what should the article say?
Callegari: "Women Now Represent 50% of Top Management Positions in Tech" would be my dream headline. We are used to seeing headlines like "Why There Are Still Few Women Leaders in Tech" or focusing on a single success case like, "A woman is announced CEO of <Company>". These headlines stand out because the norm is to have men in these positions, which shows that we are still far from gender equality in the sector. The article would describe how the tech sector achieved gender balance across management, years ahead of the UN's gender equality target (2030). This won't happen overnight, so the article would explain how we achieved the milestone: building alliances, creating diversity and inclusion plans, and eliminating stereotypes. It would also describe the positive impact that this has on business, like how women bring strong financial returns for companies they lead. The article would also highlight that the work doesn't stop at reaching parity. We will all need to continue working towards equal opportunities for women who are not there yet.
Agustina Callegari is the Senior Manager, Community & Engagement at the Internet Society, where she designs and implements engagement and outreach strategies to mobilize community members and partners around common Internet development goals. Since 2018, she has also coordinated the Internet Society's engagement with the EQUALS Global Partnership for Gender Equality in the Digital Age and the EQUALS in Tech Awards. Agustina has a strong background in Internet Governance: She was responsible for the Internet policy area at the Ministry of Modernization of the Argentine government and she had worked as a communications and policy analyst at the Data Protection Authority of Buenos Aires.
She is an active member of the Internet Governance community in Latin America: she helped to kick-start the IGF in Argentina and she was a co-founder of the Women's Special Interest Group (SIG). In addition, she was part of ISOC's Next Generation Leaders Programme in 2014, and an IGF Ambassador in 2015.
Please note: The opinions expressed in Industry Insights published by dotmagazine are the author's own and do not reflect the view of the publisher, eco – Association of the Internet Industry.