The Future of Production – Intelligent Networking & Digital Orientation
October 2020 -

Industrial IoT

|

IoT

|

Cloud Computing
The Future of Production – Intelligent Networking & Digital Orientation
Edge computing, cloud, 5G, and artificial intelligence are the driving forces in the Industrial Internet of Things (IIoT) to optimize production processes, writes Tatjana Hein from the eco Association.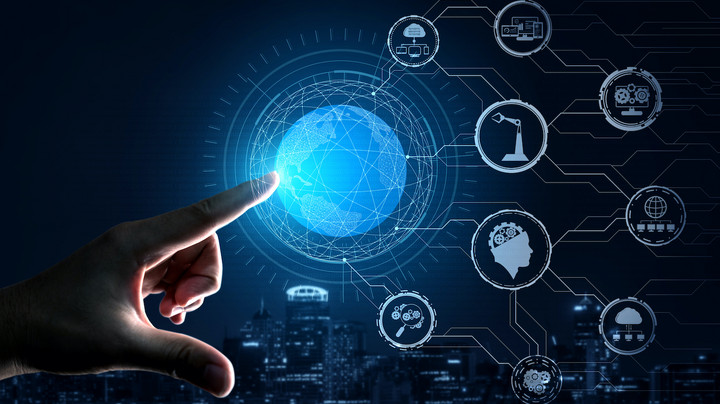 Basic technologies such as edge computing, cloud, 5G, and artificial intelligence are the driving forces in the Industrial Internet of Things (IIoT) to automate supply chains and control plants across the board, and to optimize production processes. These components – involving different players along the digital infrastructure value chain – need to interact with one another intelligently, in order to build the factories of the future. The eco Association Competence Group IoT facilitates the process of bringing together the different technological strands to aide in the conceptualization and realization of the future of manufacturing.
Focus on intelligent production processes
With its OpenLabs, Huawei has created a test environment in which new technologies can not only be tested, but also further developed. The focus here is on the transition to intelligent production. The objective is to drive innovations and solutions in order to support digitalization in the manufacturing sector.
The OpenLab near Munich, for example, also offers an optimal test environment with a corresponding network, with the entire technology stack from Huawei available on site. This comprises three core equipment components: the data center, the production line, and the connectivity (5G and WiFi 6). This enables new use cases, such as AGVs (automated guided vehicles), to be extensively tested and optimized there.
According to Dr. Cesim Demir, CTO, Manufacturing & Automotive Industry, Enterprise Business Group Western Europe, Huawei Technologies, "The core of the OpenLabs is the mapping of the complete production process chain, broken down into seven steps". This includes order generation, assembly, and delivery, so as to demonstrate how the various technologies can be integrated and how they interact – to test and run simulations in specific areas of application.
One of the current use cases are mobile AGVs that are connected via 5G and thus communicate with the network. Even though 5G will significantly drive IoT technologies in the industrial environment forward, "companies will still need to work with a combination of 5G and Wifi 6 in the coming years," says Dr. Demir, because so far not all technologies are designed for 5G. With Wifi 6 equipment, it is possible to increase flexibility and guarantee a stable network, which is indispensable in production.
The interplay of 5G and fixed network as a driver for Industry 4.0
Ensuring that connectivity is as low-latency as possible for such applications, fiber optics are the foundation of digitalization. Rollout of the new 5G technology will not replace the need for fiber-optic rollout. Looking at traditional mobile communications and the 5G rollout, it becomes clear that "fixed network fiber is the prerequisite for 5G," says Lorenz Grehlich, Head of the eco Competence Group Networks, and Head of Network Engineering at M-net Telekommunikations GmbH.
To ensure adequate 5G network coverage, two antenna systems come into play. The first of these is the MacroCell, which can be used over long ranges and provide large areas of mobile coverage, but with which ultra-high speeds are not possible. The second of these is the SmallCell, with a small range. It is likely, according to Grehlich, that the latter will be used predominantly for the 5G rollout. However, in densely populated areas, these small antennas must be located in close proximity to each other. Through a high density of antennas across a metro or industrial region, a very high level of low-latency connectivity can be achieved, since the distance between the antenna and the device or appliance will be reduced.
This results in the challenge that all of the SmallCells will also need to be connected rapidly. Here, it would make sense to use the already existing fiber for the antenna connection, Grehlich recommends. Therefore, cities will need to equip themselves with fiber optics to ensure that 5G will work smoothly and that ultra-low latencies are possible.

How intelligent and networked will companies be by 2025?
According to the study "Artificial Intelligence – Its Potential and the Lasting Transformation of the German Economy" published by the eco Association in cooperation with Arthur D. Little, artificial intelligence will find its way into all industries in the coming years and transform them for the long-term. But what potential does AI offer for German industry and how can this potential be better exploited? "Leading up to the year 2025, AI will fortify human activity, not replace it," says Hauke Timmermann from the eco Association.
The largest share (69%) of this will be Assistive AI - meaning that machines will support people in situation-based decisions with the help of AI. This is followed by Automated AI, which is forecast to account for 30% of all AI applications by 2025. Here, machines will take over repetitive and codifiable machine activities. Possible applications for this can be increasingly found in administration, where recurring tasks mount up – thus, simple tasks can be taken over by the AI. In contrast to these two, Autonomous AI will probably only account for a very small proportion (1%) by 2025 – here, machines independently carry out an entire process, which is then merely monitored by humans. The person sets the target and takes over the monitoring, but the AI carries out the process independently.
However, in order to be able to leverage the enormous potential of AI in business in general and in industry in particular, initial and ongoing investments as well as structural adjustments in the technical and organizational areas of companies are necessary.
Bringing together IIoT and AI in intelligent solutions for Industry 4.0
Through the use of IIoT, it is possible to achieve around a 70% reduction in machine downtime, resulting in a 30% reduction in operating costs.
Currently, all kind of technologies are in use in the industrial sector: From CPU with multiprocessor parallel architecture, edge and central AI, to highly sophisticated sensor technology, powerful memory solutions, and interconnection networks.
"In the field of Automated AI, the industry has already come a long way in creating well-functioning algorithms," says Dr. Fred Jopp, Head of Industrial Project Management, USU Software AG. The objective is to create a completely autonomous AI, which should then run in a goal-oriented, machine-based, and actually completely autonomous manner. Even though the implementation is by no means simple – just think about the complexity of the field of autonomous driving – intensive work is being undertaken in this area on corresponding solutions and related projects.
"Predictive maintenance as a smart service has brought a considerable boost as one of the drivers for IIoT," says Dr. Jopp. Foresighted maintenance replaces rigid maintenance protocols with proactive processes. Plant and machinery should undergo maintenance if and when, according to the forecast, an incident of any kind is likely to occur within a certain period of time.
In addition to this, there are other sub-areas that drive AI solutions in the IIoT environment. This includes general smart services, i.e. data-driven services that can be set up and scaled individually. But also the combination of Big Data and Smart Data, often generated by sensors, is an important driving force. Similarly, approaches ranging from Machine-as-a-Service to extremely targeted Product-as-a-Service, or even the use of digital twins, are important building blocks for the goal in Industry 4.0: The Smart Factory.
Despite many advantages – digitalization has yet to reach SMEs
With the many advantages that digitalization of production brings, the question arises as to why it has not yet really found its way into small and medium-sized enterprises (SMEs). This hesitant development towards intelligent production processes is due to the lack of resources, lack of prioritization, and the correspondingly important need for high-performance broadband network connections.
"It is important that companies understand digitalization as the first step towards digital transformation," Dr. Cesim Demir concludes. At present, companies do not yet have wireless technology that covers their complete set of requirements in terms of bandwidth, availability, reliability, latencies, etc. – in a good 90% of SMEs in Germany, at least, everything is still wired. However, 5G and Wifi 6 can cover these requirements together in the future.
In the automotive industry, for example, the use of these technologies could significantly reduce the lead times in the preparation of a new vehicle model. In this way, complete production lines could be optimized and made more efficient, within and outside of the automotive sector. In addition, there is great benefit to the potential for making the hitherto extremely rigid production processes more flexible and modular.
AI solutions in industrial IoT offer many advantages to make production more intelligent and effective in the future. However, a number of prerequisites still need to be created and companies need to rethink their approach so that digital transformation with suitable use cases is given the necessary priority.
Tatjana Hein is Project Manager IoT and AI at eco – Association of the Internet Industry. She is responsible for topics related to Internet of things like smart factory, smart city, and smart home, as well as mobility issues. Before joining eco in 2020, she was content manager and creator at a European analytics provider and was also a guest author for several magazines (such as Big Data Insider, Website Boosting, UPLOAD magazine, marconomy, Contentbird). Before that she worked in an agency as public relations manager for several start-ups.