Logistics and IoT: How the Internet of Things makes logistics manageable
October 2020 -

IoT
Logistics and IoT: How the Internet of Things makes logistics manageable
IoT makes logistics smart, sustainable, and socially responsible – digital solutions synchronize the flow of goods and information over the Internet & automate processes, explains Nils Klute from EuroCloud.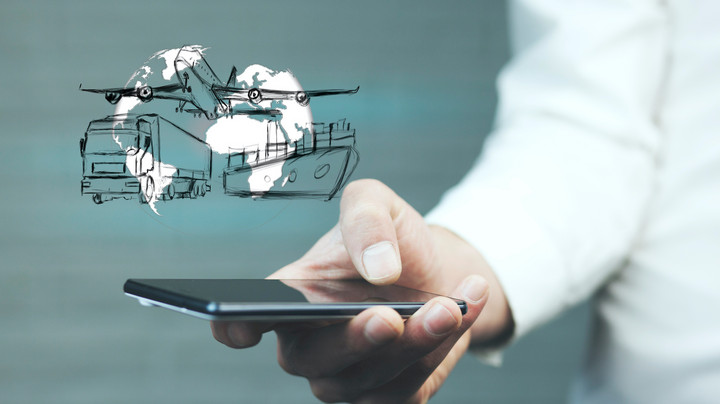 Mapping freight movements in real time, saving on delivery costs, monitoring the transport of goods, and tracing them back from the customer to the producer – the Internet of Things (IoT) makes logistics smart, sustainable, and socially responsible. The industry relies on digital solutions to synchronize the flow of goods and information over the Internet, to automate processes, to interconnect supply chains, and to secure and control transport.
1. E-commerce and globalization drive logistics
2. Increasing customer expectations challenge logistics
3. Global transport chains can only be controlled digitally
As more and more and smaller packages travel around the world, supply chain management becomes more complicated. Decentralized, multimodal, and global transport chains can only be controlled using digital technologies. IoT solutions can be used to track the movements of goods and intelligently automate processes – around the world, around the clock.
4. Demand bypasses providers without digital technologies
Suppliers must make full use of digital tools to ensure that global demand does not pass them by. One thing is certain: The worldwide transport volume is expected to grow to around 92 billion tonnes by 2024 (2015: 55 billion tonnes). This will bring supply chains with analog processes to their limits.
5. Smart logistics need IoT connectivity and data exchange
The logistics sector has not linked its systems and applications with each other. As well as this, companies hardly share any data with partners in the supply chain. Where trust is lacking, the potential remains unexploited. Only if the flow of goods and information in multi-layered supply chains moves synchronously via the Internet is it possible to compensate for bullwhip effects (i.e., the build-up of order fluctuations in the upstream direction of the supply chain), to accelerate loading and unloading processes, and to shorten waiting times at ramps and transhipment points. Monitoring trailers, semi-trailers, and containers via IoT also prevents theft: Assets can be tracked in real time and employees can be alerted immediately in the event of an incident.
6. Artificial intelligence makes logistics agile and adaptable
Artificial intelligence (AI) is changing logistics. For example, autonomous vehicles support the work in the transhipment hubs. They navigate, and they load and unload freight fully automatically. Furthermore, AI applications manage supply chains: Intelligent algorithms optimize flows of goods, reduce inventory costs, and accelerate deliveries by forecasting supply and demand. AI makes the industry more agile, allowing vendors to adapt more quickly to changing markets. One thing is certain: If the logistics sector makes widespread use of AI by 2025, it will increase its productivity by 14 percent.
7. No intelligent manufacturing without smart logistics
Whether Just-in-Time or Just-in-Sequence, intelligent factories no longer hold cost-intensive components in stock, but can deliver them as and when required. Digital IoT solutions for supply chain management are therefore also gaining importance in B2B and intra-logistics. To ensure that raw materials, goods, and products can be exchanged globally and on schedule, adaptive transport services are necessary. In addition, vibrations and temperatures can be monitored via the Internet to detect potential quality deficits remotely. If damaged components do not even make it into the ongoing manufacturing process, production can continue undisturbed.
8. Logistics links means of transport and traffic across the board
Tomorrow's smart cities will combine means of transport and traffic across the board. Concepts like this are based on the increased use of digital IoT technologies. This not only makes future mobility healthier, safer, and more environmentally friendly, but also more individual. Open platforms collect data from all modes of transport and deliver appropriate mobility services for people and freight. In this way, the future of urban mobility will achieve more using fewer and better-utilized vehicles. AI optimizes routes and ensures that passengers and parcels reach their destination safely, efficiently, and with minimum impact on resources.
9. IoT makes logistics more sustainable and socially responsible
Sustainability aspects are becoming more important in supply chain management. Initiatives like Fridays for Future are calling for a rethink of the global economy. Although 67 percent of logistics decision-makers in Germany assume that sustainability is of great importance for their own company, only very few suppliers worldwide already take a record of their own CO2 emissions. IoT solutions will change that - not only to conserve resources, but also to organize processes more sustainably. In agriculture, for example, digitally traceable supply chains make production and cultivation conditions transparent, highlight abuses, and ensure compliance with international standards for human rights, ecology, and fair wages.
10. IoT ensures fairness and security in the transport market
Observing driving and rest times and ensuring minimum wages – IoT makes Europe's roads safer and improves drivers' working conditions. To this end, the intelligent tachograph, which will be mandatory in the EU from 2025 onwards, will monitor driving times, breaks, and locations, for example, as required by the European Commission's EU mobility package adopted on 9 June 2020. For example, drivers may not spend their weekly rest period in the truck cab. Cabotage is limited to three transport journeys – after which the vehicle must leave a country for at least four days. In addition, drivers are entitled to the national minimum wage for inland transport. IoT thus makes the transport market fairer and roads safer.
11. Resilient supply chains need interconnection and IT security
Every second logistics company in Germany expects that risks for its own procurement management will increase significantly. In particular, hacker attacks, computer viruses, and malware are on the rise: Three out of four decision-makers at companies with more than 250 employees see this as a growing threat to the supply chain. Although the industry assumes that the risk environment will worsen overall, the majority do not operate holistic risk management in the supply chain. One thing is certain: Not only in the face of once-in-a-lifetime crises such as the Covid-19 pandemic, vendors are well advised to manage risks agilely and efficiently, but also to fend off IT threats. When goods and information flow synchronously, the supply chain becomes resilient. Anyone who uses IoT to transparently monitor delivery networks will identify threats, initiate countermeasures, and thus secure supplies – and business operations.
Nils Klute is Project and Communication Manager at EuroCloud Germany. He is responsible for content marketing activities on topics such as GAIA-X and AI, supports initiatives such as Service-Meister, EuroCloud Native or systems integrators on their cloud journey. Prior to his start at eco in 2018, Nils worked as a corporate journalist for IT corporations (like SAP, T-Systems, and QSC at Cologne-based communication agency Palmer Hargreaves) and previously held public relations positions at market and economic research institutions.
Please note: The opinions expressed in Industry Insights published by dotmagazine are the author's own and do not reflect the view of the publisher, eco – Association of the Internet Industry.