Branding meets Domain – The Strategy around Desktop.com
November 2020 -

Branding

|

Domains
Branding meets Domain – The Strategy around Desktop.com
Christian Voss from Sedo discusses with client Rolf Larsen from Desktop.com how to find and obtain the perfect keyword domain for creating an inspiring brand name.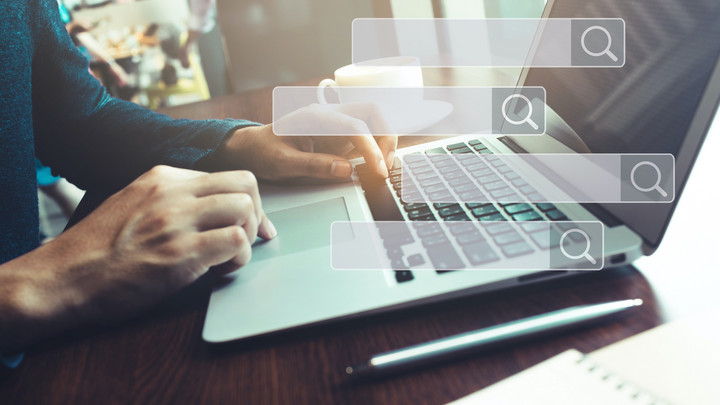 Successful entrepreneur Rolf Larsen awoke in the middle of the night in September last year with his latest business idea for a virtual desktop service. With the help of Sedo, he was able to secure its best-matching domain for the ultimate online success – Desktop.com. Today, Desktop.com has released its early access version which is already providing the key functionality of the service and comes fully packed with, for example, an integrated app store, app and link management, sharing and collaboration functionality, as well as multiple security-enhancing features. With development being in full swing for the major launch scheduled for early 2021, Rolf Larsen – in an interview with Sedo's CMO, Christian Voss – shares the importance of considering branding early on in the process and the strategic benefits of choosing a single keyword domain name as your brand.
Christian Voss: Why did you decide to purchase Desktop.com?
Rolf Larsen: In September 2019, I woke in the middle of the night with a business idea to create a virtual desktop service that can allow individuals and businesses to better organize, access, and manage online resources such as apps, links, and bookmarks. The service helps businesses in the distribution, organization, and security related to the many apps that are used by employees today. The idea came from my own pain points relating to these areas, and the fact that in my opinion there are no good solutions available. I would never seek to launch a service with such great potential with anything but a strong brand. Desktop.com defines exactly the service we want to provide and is at the same time good to use as a brand name. It was my top choice of all of the domain alternatives I came up with.
Voss: Why was it so important for you to acquire this domain name? What kind of benefit do you expect by using this short keyword domain name?
Larsen: The biggest benefits of branding your business with a single word domain name are that potential customers and partners:
Get an instant indication of what kind of products/services you are offering, as opposed to a fictional name, and
Instantly realize where to go in order to learn more (i.e. the brand = the URL, so no need to weed through a google search).
Another very important advantage is the performance in search engines. Having a short keyword domain is an inexpensive way to get relevant traffic from search engines. Using your domain name as your brand can provide some relief within the early stages of SEO functionality, which may require some time and effort and will develop alongside of your business being developed. As a startup, especially in the very early days, it will ensure that your marketing efforts doesn't get watered down due to:
Customers getting lost in a google search if they don't know the domain name. This can be the case if company registration and trademarking is done before the domain name is secured, and you later end up realizing that the brand name alone is not available to register under your desired domain name extension. In those cases, it is not uncommon for companies to add words before or after the brand, in order to secure a .com domain name. This can look like be[brand].com, try[brand].com or get[brand].com.
Customers getting lost in a google search if they don't know the domain name extension. With 1,000+ new domain name extensions available on the market today, clearly displaying how to find your website is more and more important.
Customers not being able to easily remember your domain name after having been exposed to it
Customers misspelling the domain name when they type it into their browser and subsequently ending up in the wrong place.
Using Desktop.com allows us to avoid all of the above-mentioned branding pitfalls.
Voss: What was your domain strategy behind building your domain portfolio around Desktop.com?
Larsen: I purchased Desktop.app first because it was a faster process to acquire it directly from the domain investor that had listed it for sale. I was also able to purchase Desktop.cloud directly from the registry. All visitors to those additional domain names are forwarded to our Desktop.com site.
We've also registered the most common misspellings of our brand, to ensure that we not only decrease the risk of losing type-in traffic, but also are proactive in avoiding typosquatters trying to take advantage of the brand. For the same reasons and within our domain strategy, we've also registered the main brand term "Desktop" under other domain extensions that are relevant to our service, e.g. the premium names desktop.cloud, and desktop.app, as well as the "domain hack" desk.top. Desktop.com, desktop.app, desktop.cloud, and desk.top is the strongest combination that I could have wished for.
Aside from ensuring that we set up a well-rounded domain name strategy early on, both proactive and protective, we've also registered both the brand name and the logo as trademarks.
Voss: Since almost all strong keyword domains aren't available for registration anymore, acquiring it from its owner is one option that you chose instead of opting for an alternative name. What should business owners and entrepreneurs consider when trying to purchase the domain they are looking for?
Larsen: When it comes to negotiating the domain acquisition and pricing, ask a domain broker for help. For anyone outside the domain industry this can be time-consuming and costly. As a serial entrepreneur, I have occasionally tried to acquire industry matching .com keyword domains. But this is the first time I have been successful in doing so. For desktop.com, Sedo did all the negotiations on my behalf, figured out the payment and installment plan with the seller, and executed a secure domain transfer. The purchase agreement for desktop.com was reached with the previous owner, Idealab, and a two-year payment plan was agreed upon, with a significant upfront down-payment.
My advice here: Even if the price is too high for you, consider paying in installments. This is not an uncommon structure in the industry when valuable domain names are sold. One-keyword .com domains are hard to acquire, but they can be of huge value if the domain is an exact or close match to the business vertical. Consider working with a broker negotiating this for you with the seller.
Voss: What is important to know about keyword domains in relation to trademark rights?
Larsen: The trademark protection has also taken a positive turn: As a side note for anyone considering a domain name-based brand, we should also mention the recent Supreme Court ruling in the Booking.com case, which provided some long-awaited good news from a trademark perspective for anyone owning [generic word] + [.com] domain names. The ruling means that a generic word combined with ".com" can in fact create a federally protectable trademark.
Finally, another aspect to consider when it comes to domain names, branding, and trademarks is that trademark law strongly relies on the classification of your product/service. For instance, [brandA] can be held by someone as a trademark for fruits and by someone else for legal services. This makes your brand very much a subject to its context. Having a strong domain name as your brand (e.g. nameA.com), even though you are still subject to classification from a pure trademark perspective, will – regardless of context – direct potential customers to the correct website as there can only be one [nameA.com] domain name.
Voss: What is your advice to entrepreneurs and startups?
Larsen: My advice to other entrepreneurs would be to prioritize your online branding from day one, even if you can't have your top choice due to either unavailability or price. But as you can see from my own experience, even for these issues, there is a solution.
Many thanks to Rolf for sharing his branding and domain insights with us.
Christian Voss is Chief Marketing Officer with Sedo GmbH. Before starting to work for Sedo in 2013, Christian Voss was initially a Sedo customer. In January 2016, he became Sedo's Chief Marketing Officer (CMO) and in 2017, he also took on the domain name brokerage. From the Sedo headquarters in Cologne, Germany, he manages the company's global marketing and PR activities and promotes its international presence. His professional career began as a traffic planner and since 1999 he has been consultant and director of two online marketing and SEO agencies in Cologne. Christian Voss studied in Manchester and Göttingen, and has a Master's degree in geography from the Georg-August-Universität in Göttingen.

Rolf Larsen is a veteran of the Internet domain space and is currently the Chair and CEO of DNS Global. Rolf´s many startups are always timed to take advantage of a major technological and industrial shift. In 1998, he founded Active ISP, a pan European registrar and the first of its kind to fully automate domain name registration and web hosting. RiksNett, the second ISP he built in 1995, became the largest competitive ISP to the Norwegian Telco incumbent. The Registry behind the new domain extension .global was also founded by Rolf and a small experienced team. This new domain extension became one of the most successful new branding options online for businesses.
Please note: The opinions expressed in Industry Insights published by dotmagazine are the author's own and do not reflect the view of the publisher, eco – Association of the Internet Industry.