The Value of Domain Names
November 2020 -

Branding

|

Domains
The Value of Domain Names
Nadine Jäger and Marco Hoffmann from InterNetX discuss understanding domain names as company assets, how to calculate their value, and how to monetize them.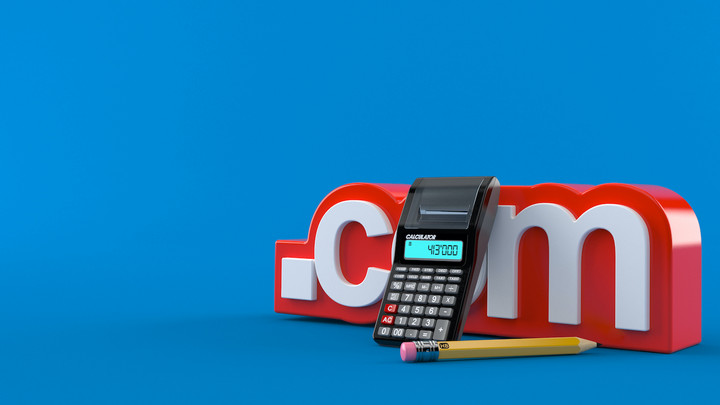 Domains are registered at a low price but are often sold for high amounts. Not only are generic terms of immense value, but brand names are as well. Nadine Jäger (PR and Communication Manager) asked domain expert Marco Hoffmann (Head of Domain Services & Product Management at InterNetX) how exactly these values can be assessed.
Nadine Jäger: A seemingly simple, but certainly not unimportant question: Why is it important to determine the value of a domain?
Marco Hoffmann: It is, naturally, always important to determine the value of a domain so that you can identify the assets in your portfolio. And to avoid deleting domains that are potentially important for the infrastructure or that could be sold at a good price on the secondary market.
Jäger: The value of a domain can play a role in the balance sheet of a company. For who else can the evaluation of a domain also be essential?
Hoffmann: Primarily of course, for domain buyers and sellers – so, for conventional domainers – to quickly recognize how much a domain is worth, where to buy it, and how to sell it. And it's important to companies. There are companies that include their domain names in their balance sheets, if they are really valuable. I also know of domainers who draw up a balance for the domains in their portfolio. The same is true for the personal domains of a registrar. But also, at least from the perspective of InterNetX, it's important that we inform our customers of the domain value when he or she starts a domain deletion so that, a) the customer recognizes that the domain is potentially valuable, and b) that it can be monetized.
Jäger: How can companies draw profit from their domains, aside from selling them directly on the aftermarket? From the company's perspective, can it pay off to own different domains?
Hoffmann: Yes. The tendency for generic domains to rank better on Google has ebbed away rapidly in recent years. Now the difference is just about negligible. But, of course, a generic domain or a cool term is certainly valuable for companies when it comes to the branding factor. The Corona crisis has demonstrated this: many companies, particularly small companies, have been forced to move online. In doing so, it's important to choose a domain that creates a recognition factor and allows users to find the company easily. Generic names are obviously better suited for this and therefore also lead to higher added value within the company.
Jäger: Trademark names often use creative terms and not generic ones. At which point does it make sense to monetize the entire or a portion of the company's portfolio?
Hoffmann: Actually, evaluating the domains is then definitely a sensible course of action. We also see this from the registrar perspective and hear from customers that when companies go bankrupt, they hold a domain portfolio of some sort or other. The insolvency administrator usually simply regards these domains as ballast, only sees the costs and subsequently releases the domains for deletion. Many of these domains then land on the free market or on the secondary market if drop catchers pick them up.
At this stage, it would make more sense to carry out a domain analysis to identify and select which assets could be valuable and to monetize them at a later stage. If I had to look through a portfolio of, let's say, 1,000 or more domains, it would be very difficult to identify the right terms. Professionals can do this more quickly, but when you're not familiar with the subject matter, it's hard to work out the value quickly. In this case, it's sensible to turn the task over to a professional tool that can carry out the evaluation en masse. It's just important to get an initial indication of the value.
Jäger: How do companies benefit from the value of their domains? In your opinion, how do domains pay off for companies?
Hoffmann: Valuable domains always pay off because you can assume that valuable domains are also relatively generic or contain common names. In this way, companies can present themselves on the Internet under a good branding and can be found more easily.
Jäger: If I want to assess the value of my domain as an entrepreneur: What do you think is the biggest challenge when calculating a domain value?
Hoffmann: The biggest challenge, of course, is always what you are willing to pay for a domain: What is it worth to you and what do you want to achieve with it? Do you just want to redirect the domain somewhere or build a branding? Perhaps you would like to use the domain in a television ad, therefore it should be a domain name that is easy to remember for people. You have to weigh all those factors up. This is also a matter of prestige.
Jäger: What is more important for domain evaluation: the top- or second-level domain? Or is it the combination of both?
Hoffmann: Both factors play a role. We all know the .com root zone is the largest and that the most sales also take place in this zone. But it is also the case that the lowest-price sales take place in this zone and that can distort the average value somewhat.
Jäger: InterNetX developed a tool that estimates the value of a domain within seconds. Can you explain how the Domain Price Check determines the value of a domain?
Hoffmann: We originally developed the tool to give our customers a hand when tackling the deletion process. From a registrar's perspective, we are actually not active in the secondary market and don't incorporate domain reviews there. But we realized that something like this was needed. It was also very important to us not to leave people alone with just the price, without any further explanation. The price is always in the eye of the beholder.
We proceed on the basis of various technical, less emotional parameters and try to evaluate the name objectively, so that the customer has a clue as to how the price came about. We do not only display the price alone, but also take a look at the keyword history or sales for similar keywords. What is the SEO data? What is Google Trends revealing? How many hits are there? How often is the term searched for on Wikipedia? What is the average price for this keyword? What has the average price of the TLD been in the past few years? This helps you to get a sense of what the value means. These are the indicators that we display in the Domain Price Check.
Jäger: The domain evaluation is done with the help of artificial intelligence. Can you tell us how it works?
Hoffmann: Explaining that in concrete terms is always difficult. In the end, it's artificial intelligence: It's a neural network that operates in the background. With the multitude of queries and sales prices that we get, we feed the system and it continues to train itself. That means we have a large database, several million sales data that we send in, and hold back some of the data. In the end, we compare the withheld sales value with what is spent or check if the deviation is very large. We keep training with it and while doing so, we adjust these 15-25 evaluation parameters slightly again and again. So, we try to train the system and then roll out the algorithm again. This is a constant learning process for the system.
Jäger: For which users has the Domain Price Check specifically been designed and what unique selling point would you say the tool offers?
Hoffmann: It has been designed for different groups of users: Firstly, for domain buyers and sellers to close the gap between the desired and offered price. Also, for the classic domainers who simply want to check their portfolio and see whether the prices that they always ask for match those that our tool displays. If they haven't sold a domain for 10 years, they would have to adjust accordingly. Then, Domain Price Check is also interesting for other registrars. We use it ourselves, as I described earlier, to show the customer during the deletion process which value the domain still has.
Marco Hoffmann, who has worked in the IT sector for more than 20 years, has been with InterNetX since 2005. As Head of Domain Services & Product Management, he is responsible for the introduction of all TLDs, their integration into the company structure, and the implementation of the domain support. His areas of responsibility also include the development of new products for domains and monitoring compliance with registration and ICANN guidelines at InterNetX. Marco represents InterNetX at conferences around the world and regularly shares his expertise as speaker.

Nadine Jäger has been working for InterNetX as a PR and Communications Manager for four years, with a background in internal and external communication as well as extensive knowledge of B2B marketing, media relations, and social media. In addition to creating and executing content marketing strategies, social marketing, and community management, she writes for the company blog and hosts the Snapshot podcast.

Please note: The opinions expressed in Industry Insights published by dotmagazine are the author's own and do not reflect the view of the publisher, eco – Association of the Internet Industry.