The Smart City: What Is the Role of the Public Sphere?
January 2023 -

Smart City

|

Digitalization

|

Internet Industry
The Smart City: What Is the Role of the Public Sphere?
Harald A. Summa, CEO of the eco Association, explores the role of cities and regional authorities in laying the foundation for the smart city.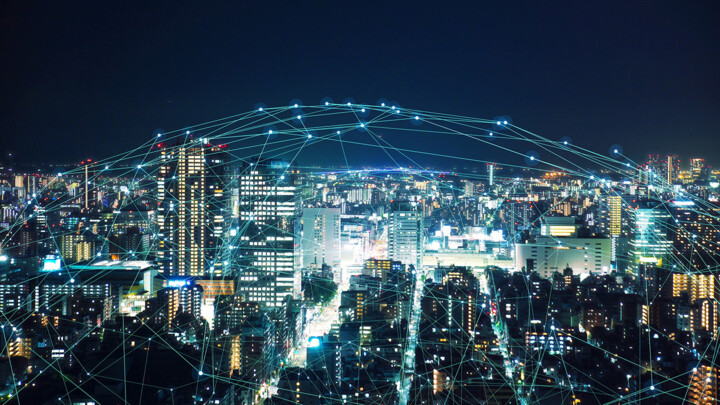 At a recent event in autumn 2022 on the smart city, a dozen speakers and around 50 participants debated over whether a smart city network already constitutes a smart city. Is the right foundation all that is needed? The big question in the room was the role of municipal and regional authorities. Multiple municipal companies can – and do – build and/or operate fixed and wireless networks – as they do for water, electricity, or even roads. But not all municipalities do so, and the approaches of those that take this on board are quite different. So why exactly do some do and others don't; where are the benefits, in the political as well as in the commercial spheres?
For many cities and regions, the question of whether they want to become active themselves in terms of digital infrastructure, and whether that means also providing attractive services and content, has not yet been fully answered – or it keeps arising anew. Looking at it from the other side: In this market, is more small-scale local competition a guarantee of innovation and customer proximity? Or are the economies of scale of the big network players so overwhelming here – in stark contrast to roads – that such efforts don't make much sense in terms of commercial results?
Despite controversial discussions, there was a unanimous agreement: the smart city is one of the cross-cutting issues that promises the population a better quality of life and enables both private and public players to prove what they are capable of.
Three good reasons for public engagement
From my private-sector background, I want to take the stand for public-sphere commitment. My subjective experience is strongly influenced by the foundation and growth of DE-CIX, the world's leading interconnection platform. My intuitive reaction is: Bureaucratically managed projects will hardly be able to compete with the ambitions of a company, which are driven by economic interests and spurred on by technological progress.
This is, of course, an attitude that is as complacent as it is short-sighted. For example, it completely ignores the fact that the supply of a functioning telecommunications infrastructure has long been a critical element of the overall system. When it comes to the supply of electricity, public transport, or even waste management, reliability is often more important to us than innovative strength, for example.
The fact that the public sector ensures security and availability here is not an idiosyncrasy but a core task. The smarter a city, the more its functioning depends on its digital infrastructure: Wouldn't it be downright negligent in leaving responsibility for this entirely to private companies?
Not only that: in terms of durability, a city has an unassailable lead over a company. The eco Association is based in Cologne, a city famous for its cathedral. This is an infrastructure project that began more than 750 years ago and took more than 600 years to complete. It will, without a doubt, remain Cologne's landmark for many more centuries to come. And yet it is significantly younger than the city of Cologne itself. What am I getting at? This goes hand in hand with a certain leap of faith when it comes to planning security. Companies that want to invest in the smart city can be much more certain about their investment if the city is at the negotiating table.
This leads me to what is probably the most important argument in favor of public involvement in the smart city – which ideally goes far beyond the operation of mere networks: cities do not have to play the role of one provider among many. They are not in competition with private companies and do not have to develop their own products that have to stand their ground or even prevail. Instead, they can concentrate on tasks that many companies still struggle with.
They can see beyond their own horizons and the next annual financial statement. They can create common foundations on which long-term, very long-lasting connections can be built. In other words, they can provide much of the intellectual, visionary and, why not, the technological foundation for what makes a city a smart city. Acting with courage and deliberation, they may be better equipped for this task than many companies.
How far have we come?
To look at things from another angle: While the 'smart city' label is new, the idea is not, because cities were smart before the arrival of the technological concept of the smart city. When the first humans gave up their nomadic lifestyle, which involved hunting wild animals, to become specialists in farming, animal husbandry, building houses, etc., the smart idea was to settle in cities in the first place. Division of labor and increased yields, efficiency and growth: what the city makes possible is what made humanity great.
Living together in a confined space has always required a smart infrastructure. Some things have become obsolete; city walls, for example, are hardly in demand today. Others will always remain central. These are primarily the services provided by municipal utilities, which we ideally don't give much thought to because they simply work. I don't expect the greatest success to come from ideas that completely change life in the city, but from those that make everyday life a little less complicated with the help of digital networking.
Do not require attention, but quietly remove obstacles
The ideal smart city application may be one that we don't even notice exists. It doesn't demand our precious attention, but quietly removes obstacles without a fuss. It helps to prevent trash cans from overflowing and the power supply from collapsing. It helps us move quickly and safely through the city, switching between modes of transport without fuss. It ensures that we don't have to go to the town hall to get help from our authorities, but just reach for our smartphone.
Singapore, Helsinki, and Seoul are often cited as being particularly well developed, while Zurich is often praised in German-speaking countries. Germany, although blessed with an enormous amount of technological expertise and a leader in the Industrial Internet of Things (IIot), is usually absent from the international smart city rankings. This should not detract from the fact that things are also moving in the right direction here in Germany.
Here are a few examples given at the September 2022 joint event of eco – Association of the Internet Industry and the German ict + medienakademie "Does a smart city network already constitute a smart city?":
Deutsche Bahn, the German rail service, which has a 22,000-kilometer fiber optic network connecting central urban points with train stations, can fill gaps and connect players such as municipal utilities, ICT companies, government agencies, and universities;
Germany is a leader in IIoT: Companies such as Vodafone can use their know-how to drive forward applications such as networked hospital beds or networked outdoor lighting and are also advancing the central topic of the smart grid;
In Bochum, the municipality is pressing ahead with the expansion of fiber optic cable via subsidiaries in cooperation with Deutsche Telekom and aims to fully cover the city area within the next ten years;
In Cologne, NetCologne has started to expand LoRaWAN, a narrowband method for the energy-efficient networking of objects, and has initiated projects for efficient power boxes, smart switch heating, and smart interacting trash cans.
The list could be extended to include a number of examples of cities on their path to the smart city. As different as the examples may be, they consistently evoke my same ambivalent feeling. On the one hand, I'm happy about what's technically possible and how many bright and hands-on people have arrived at important positions across the country. On the other hand, I ask myself: Isn't it too little, too late?
It is the basic dilemma of our time that no one who deals with technology, whether as a user or as a developer, can walk away. It is based on the essential characteristic of digitalization and digital transformation: increasing speed. Change has never been faster, and it will never be this slow again. We don't have time to rest on our laurels. There's always something to do, and no matter where we are on the curve, the next bit is sure to get steeper.
Is what we've already done enough?
Actually, all of the ingredients are there. The building blocks for the smart city have been invented and developed. None of it is rocket science. They are in use and have proven themselves, if not in the smart city, then elsewhere. The schemes are similar. In purely data-based projects, as is often the case with citizen services, they are classic digitalization tasks.
Projects where devices are to become smart and provide data are classic IoT or IIoT projects. I see no reason why what companies can do with their customers should not work with their citizens – or why what works in factories and on construction sites should not work in urban environments.
If German cities are not yet as smart as people like me would like them to be, it is not, or at least not primarily, due to the tools. There must be other reasons. Perhaps it's down to those who should be working with the tools? I get it: Germany is not a stock corporation, and we citizens are not its employees. As the capital city, could Berlin develop a central solution and roll it out overnight for all branches and users? Of course, that wouldn't work, particularly in a federal country like Germany. And that's probably just as well. I, for one, would rather be a thinking citizen than a recipient of instructions.
Successful smart city projects are usually associated with individual places
Despite the many advantages of the federal system, it shows weaknesses when it comes to exploiting economies of scale. When I hear about a successful smart city project, it is usually associated with a limited geographic area: Brandenburg, Velbert, Barcelona, Baden-Württemberg, Pforzheim – today, when you type "smart city" into Google, individual geographic locations reliably appear in the headlines. As much as I am happy about each individual project, there is a lack of progress on a broader scale. There is still a lot to be done. We have the right tools; now we need the right people and the right mindset to benefit whole regions and countries and not just individual innovative municipalities.
You can find out more about the smart city, including many facts and figures, in the eco study "The Smart City Market in Germany," which you can download free of charge. It forecasts annual growth of over 17 percent. This corresponds to an increase in sales of over 46 billion Euro within five years. The study outlines market drivers, trends and challenges in detail for a total of nine segments of the German smart city market.
Harald A. Summa is a member of the DE-CIX Group AG Supervisory Board. From 1996 to 2022, Summa was Chief Executive Officer (CEO) of DE-CIX, and from 2017 bis 2022 Chair of the Board of the DE-CIX Group AG. Harald A. Summa is also the founder and CEO of the eco Association – the largest Internet industry association in Europe.
As a co-initiator, Harald A. Summa was involved in the foundation of the European associations EURO-ISPA and Euro-IX, whose particular aim is to improve the European Internet infrastructure. Harald A. Summa was also until 2018 a core member of the Advisory Board for the "Young Digital Economy" of the German Federal Ministry for Economic Affairs and Energy, which seeks to provide stimulus for the future of Germany's digital economy and for the development of new digital technologies, as well as a member of the Advisory Board for the "Digital Economy" in North Rhine-Westphalia. He is currently Co-Chair of the Organization Member Advisory Council (OMAC) at the Internet Society.
Summa has been active in management and consulting in the Internet and IT industry for more than 30 years, during which time he has spent more than 20 years managing various companies. He was a lecturer at the University of Cologne in Applied Informatics for a period of 10 years. Summa has written many specialist articles and given lectures on the topics of communication, marketing, and sales. Summa's numerous publications, as well as TV and radio appearances, focus in particular on the topics of the Internet, security, and e-commerce.