Customer Expectations – Surprising Facts about the Reality in People's Inboxes
December 2020 -

Future of Email

|

Email Marketing
Customer Expectations – Surprising Facts about the Reality in People's Inboxes
How can ESPs make people fall back in love with email? Dr. Conny Junghans & Arne Allisat of 1&1 share learnings from their experience in handling millions of emails daily.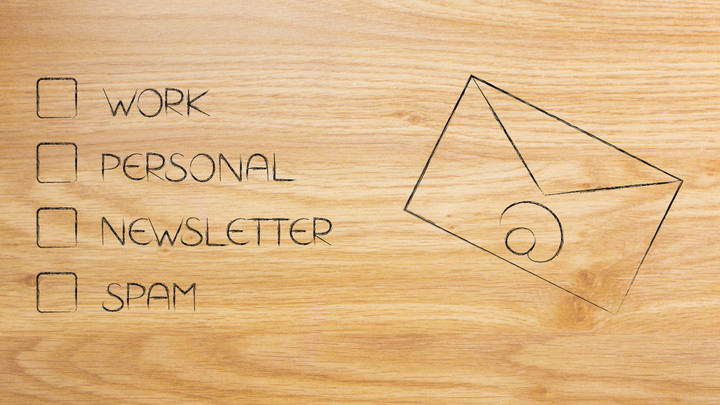 Every email is sent with a purpose. Whether an email is able to fulfill its purpose – good or bad – in the recipient's inbox is up to all of us. We work hard to keep our customers' inboxes free of harm and make them easy and quick to manage. After all, people usually don't relish the time they spend in their inbox. How can email service providers (ESPs) contribute to making people fall back in love with email? After all, many users have their email addresses a lot longer than their car (though put much less thought into choosing their email service provider than their car dealer). They don't want to think about email. It just needs to work. The whole ecosystem of senders, mailbox providers, and ESPs is supposed to just work in the background – and make email work for users.
There are, however, ways of taming the incoming stream of emails: i.e. some of 1&1's email users define personal folders and filters to sort out what is relevant to them. Others aim for the holy grail of Inbox Zero, while the average email user just lets everything go into their inboxes. These are very different ways of using email with very different expectations.
What kind of emails are actually wanted?
Almost half of a typical incoming stream of emails is made up of unwanted emails and spam. Around a quarter are wanted non-commercial emails, and wanted commercial emails make up the rest. When the wanted emails are broken down into categories, only a very small portion are actual conversations. A single purchase can involve up to five emails nowadays and thus makes up another share of wanted emails, which, however, are no longer relevant once the purchase has been completed. Another large proportion of wanted emails are promotional newsletters.
Quickly find what you need, when you need it
1&1 wanted to develop a mailbox that serves the user's needs by quickly retrieving relevant information, and lets users spot important new emails immediately. The 1&1 users, however, were split down the middle between wanting newsletters in their inbox and those who wanted them in a dedicated folder, with only a very small number wanting both. How to meet these opposing preferences?
Intelligent inbox and additional views
Supporting users in managing their newsletter subscriptions is one of the primary goals achieved by 1&1's intelligent inbox. By implementing a prominent 'Unsubscribe feature' with a dedicated button into any correctly identified newsletter, this means users are always in control of their subscriptions. Additionally, the intelligent inbox system moves all newsletters automatically to a dedicated folder.
From an email marketing standpoint, this might seem counterintuitive at first glance. Why stow away commercial newsletters, which potentially lead to higher sales rates? However, internal data shows that users are more likely to open and read wanted newsletters when neatly stored in a specific folder. Meanwhile, unsubscribe-rates are kept low: Users just do not want newsletters cluttering their inbox. When stored properly, newsletters are a welcome tool to explore the news of the day or special offers from favorite shops.
1&1 also provides an additional view of orders. All emails related to an order are grouped in a meta view and display the current status of the order (rather than the individual emails) (this is much enhanced if the sender provides the information using schema.org markup). A further view groups emails related to contracts and subscriptions, e.g., all of the emails from a utility company or a streaming service.
Help customers value their emails again by reducing spam
A lot of customers complain about the sheer number of spam and phishing emails they get and complain directly to their mailbox provider (MBP). From an MBP perspective, it takes a lot of effort and the latest email security technologies to filter out phishing emails and thus separate the wheat from the chaff; particularly if senders don't follow best practices to protect their brand by authenticating their emails with "Domain-based Message Authentication, Reporting & Conformance", or DMARC.
Considering the whole inbound email volume, 13% of incoming emails are not even DKIM authenticated at all. Whereas 87% of email volume are DKIM/DMARC authenticated – 52% DKIM only, plus 35% additional DMARC implemented. Looking at sending domains, only 3% implemented DMARC, which brings us to the conclusion that only big brands are already adapting DMARC to authenticate and protect their email volume.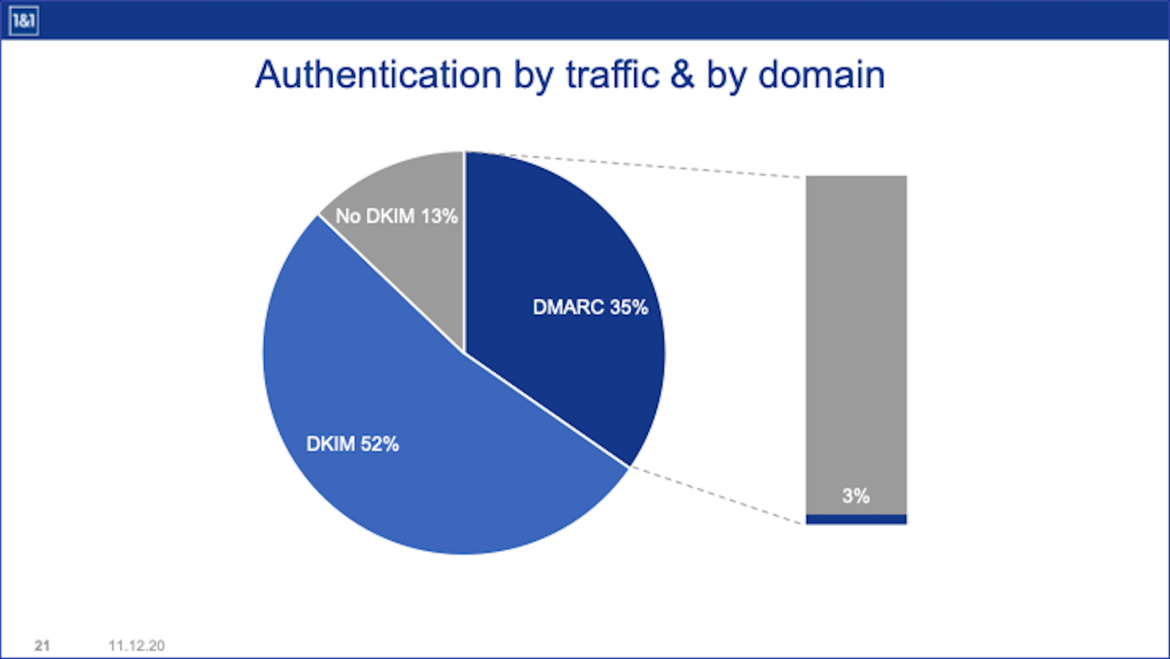 A large proportion of commercial emails that 1&1's customers receive may be unwanted, though they are not necessarily completely unsolicited. Signing up for sweepstakes and special deals online, etc., can result in opting in to receiving a lot of unwanted emails (instead of the voucher that the user had hoped to win). The Number One complaint from customers is that they have too much spam and advertising in their inboxes.
The one-click unsubscribe option, which is obligatory for CSA Senders, makes it really easy for the ESP to let people unsubscribe from unwanted email. If a user marks a newsletter as spam and that email has one-click unsubscribe functionality, then the user is asked whether they want to unsubscribe rather than sending the email to spam (which impacts the sender's reputation).
A cleaner inbox leads to more engagement
Offering customers these tools to easily clean up their inboxes led to customers receiving on average fewer emails a day in their inbox – and a lot fewer complaints about spam. Interestingly, people read more of their emails (a 10% increase), now that they are not overwhelmed by an overflowing inbox. They are also more engaged with the emails they receive. Less really is more here.
Meeting customers' expectations
Here, meeting customers' expectations means helping them get rid of unwanted email; mainly by listening to customers and filtering out low reputation emails. As an ISP, 1&1 also has expectations of senders. Help ISPs by doing the following:
Implement Schema.org
Offer one-click-unsubscribe
Measure and manage reputation & engagement
Implement DMARC and protect your sending domains
Access data (FBL, CSA-API, DMARC-reports)
Senders can get help in implementing schema.org into their emails. They can register their online shop with 1&1 if they already use schema.org in their emails: https://postmaster.gmx.net/de/smartinbox.
Senders certified by the CSA (Certified Senders Alliance) can subscribe to feedback loops (FBL) and access reputation data very easily through the CSA API. Of course, non-CSA senders can also receive FBL reports and just need to do a bit more configuration work. 1&1 will also start sending aggregated DMARC reports later in 2021. All of these measures will greatly improve the chances of senders' emails arriving in customers' inboxes and being actually read. They also ease the frustration felt by users at being inundated with emails, and ultimately help people fall back in love with email again.
Dr. Conny Junghans is striving to harness the power of data science to change how we accomplish everyday tasks. She's currently working on data-driven products at Germany's largest email provider, where she seeks to improve people's experience with machine-generated emails. Before joining 1&1 Mail & Media GmbH, she helped build analytics products for multichannel marketing and e-commerce controlling.
Arne Allisat is managing the mail security team at 1&1 Mail & Media Applications SE, keeping the bad guys out of WEB.DE, GMX, and mail.com. He is responsible for incoming and outgoing mail filtering, anti virus as well as account security analysis.
Please note: The opinions expressed in Industry Insights published by dotmagazine are the author's own and do not reflect the view of the publisher, eco – Association of the Internet Industry.