Four Steps on the Path to the Smart Factory
April 2021 -

Industrial IoT

|

Digital Transformation
Four Steps on the Path to the Smart Factory
Smart manufacturing offers companies many opportunities to expand or even completely reinvent their business model. Florian Weigmann from plusserver explains how to get started.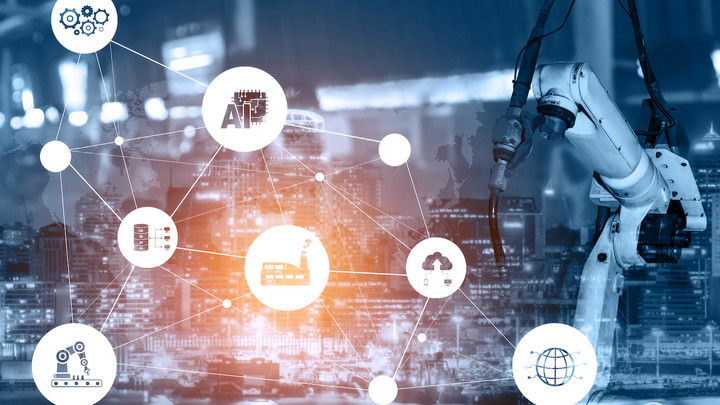 Digitalization is fundamentally changing the way we produce and work. In this context, the keyword "Industry 4.0." functions as a collective term for networked production and the modern, automated factory (smart factory). Machines, people, and products are networked in digitalized manufacturing and exchange information with each other. Self-controlled production, data-based business models, and batch size 1: smart manufacturing offers companies many opportunities to expand or even completely reinvent their business model. But smart manufacturing cannot be built overnight.
Practice shows: The introduction of smart production should take place in four evolutionary steps.
First: Connectivity and planning
Before actually getting started with smart manufacturing, the first step is to connect the existing systems and machines with the help of IoT technologies. This will help to collect essential data, which is indispensable for the further implementation steps. New equipment does not necessarily have to be purchased to connect the systems and machines. In many cases, these can be made IoT-capable with additional solutions.
The corresponding solutions provide machines with sensors for temperature measurement, current consumption, vibration analysis, and similar parameters. In addition, there are modules that collect data and forward it to the Internet of Things (IoT). For this purpose, they are either connected to the mobile network with a sim card, to a local WLAN, or a wired Industrial Ethernet. These send the data to an IoT platform in the cloud.
On factory floors or on a campus, there is often an edge device between the machines and the network. Its task is to aggregate the data from all connected devices. These are often edge servers that also preprocess data to save storage space and bandwidth.
The specific hardware installation on the place of production (shopfloor) can vary significantly. It depends on the number of machines, the desired data, and many other circumstances. For this reason, it is advisable for industrial companies to plan the connectivity thoroughly.
Second: Transparency and data analysis
The data is exchanged via a special communication protocol such as OPC-UA (Protocol for Communication Unified Architecture). It provides homogenous communication from the sensor via gateways all the way to the processing IT systems in the backend or in the cloud.
Companies thus record data on the current status of machines or systems, such as parameters like humidity, temperature, speed, pressure, torque, or utilization.
In addition to the machine data, other data also flows into the overall data set, for example, from industrial controls or an ERP (Enterprise Resource Planning) application. Like the machine data, this is also collected in a cloud platform. With this variety of data, it is important to select only the data that is appropriate for the respective use case.
A visualization in a dashboard creates the necessary transparency about one's own processes. It is the basis for any kind of optimization and automation. The goal here is to develop a digital twin. It maps the physical world of the factory 1:1 in a digital, virtual factory. Here, companies can see what is happening on the shopfloor in real time. They can also simulate changes to manufacturing processes and, if these changes are successful in the virtual factory, transfer them to the "real" factory.
Third: Automation and optimization
The data collected and analyzed in the cloud helps automate and optimize manufacturing and service processes.
Optimization and automation of manufacturing
By analyzing real-time data, processes and product quality can be significantly improved. The transparency provided by the data helps to identify even minor inaccuracies in the process and to increase productivity significantly by correcting them.
Manufacturing optimization is particularly effective when the IoT platform is connected to the MES (Manufacturing Execution System) or production control system. Machine data helps to compare planned and actual operations. A few examples:
In most industrial companies, the energy supplier measures the power consumption at short intervals. For reliable operation, the network should be loaded as evenly as possible. Therefore, load peaks are more expensive than base loads.
Industrial IoT allows industrial companies a detailed overview of energy consumption down to the level of individual machines or tools. This means that impending peak loads can be quickly identified and the company can react, for example by switching off consumers or power guzzlers. This can even be automated in a cloud platform.
A very well-known application scenario is predictive maintenance. Machine data is used to detect deviations or error patterns. These are often individual and depend on the age and degree of wear of the machines.
By analyzing data, it is possible to detect wear and developing faults at an early stage. This enables the service department to react in good time, install new spare parts, or bring forward maintenance work. The service life of the equipment can also be extended by replacing worn parts only when really necessary. Additionally, the qualification level of the required service technician can be reduced as issues and problems become more transparent. This helps to reduce internal service costs.
Individualized production with batch size 1
In manufacturing, the trend is moving towards the production of individual items (batch size 1). In the process, industrial companies combine flexible series production with customized production in order to manufacture products according to customer specifications.
Examples are personalized car models or sports shoes. In a smart factory, the delivery times for such customized products will be shorter in the future and the costs will not be higher than for conventional series production.
Fourth: Data-based business models
The supreme discipline of Industry 4.0 is the development of business models with smart services. These are data-based services that precisely match customer requirements. They represent a shift from selling machine performance to selling specific solutions that build lasting relationships with customers.
For example, additional services such as maintenance, real-time monitoring, or process optimization based on the collected data are possible – one variant is "Equipment as a Service". In this case, customers rent the machine with consumption-based billing (Pay Per Use). The provider takes over maintenance, repair, and the delivery of spare parts or consumables. This business model can be supplemented by staggered additional functions that are activated for a fee.
The establishment of digitalized production provides companies with monitored manufacturing processes that offer many advantages. Production costs are reduced, processes are lean and frictionless, malfunctions and failures become rare, and manufacturing can be quickly adapted to new or changed requirements. As a result, industrial companies are able to gain significant advantages over their competitors, which will be vital for future growth.
It turns out that the path to the smart factory is feasible and offers various advantages. The move to the smart factory is becoming increasingly important for competitiveness and personal customer relationships.
Florian Weigmann has been Chief Product Officer at plusserver since May 2019. His special focus is on the areas of data architecture and data security within scalable cloud infrastructures. Weigmann has extensive experience in B2B and B2C product management as well as product development – from mechanical engineering to business software.
Please note: The opinions expressed in Industry Insights published by dotmagazine are the author's own and do not reflect the view of the publisher, eco – Association of the Internet Industry.