How the Home Office Works in the Times of Corona
March 2020 -

New Work
How the Home Office Works in the Times of Corona
Jens Weller from toplink offers advice for companies on how to make the shift to the home office to keep operations running during the coronavirus crisis.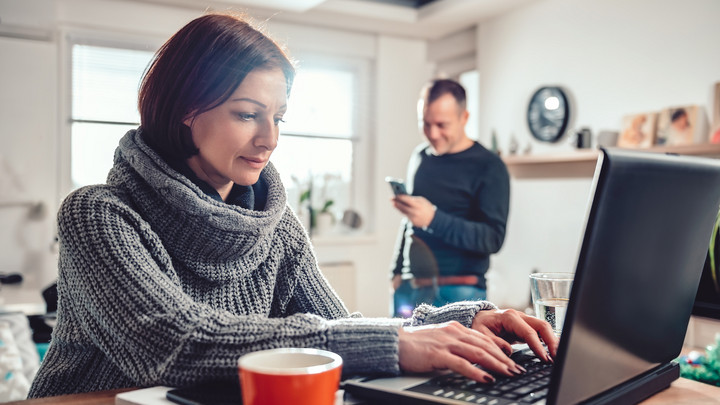 Many companies have already done it, many will – whether voluntarily or under duress – follow: We're speaking here of home office. The best formula for when the company chooses to – or receives an official order to – "evacuate" their staff and needs to or wishes to depends completely or partially on home office solutions. For companies that are placed under quarantine by the authorities, this is often the only possibility to ensure business continuity. It is also a welcome option for many parents, helping them to better organize childcare in a time where kindergartens and schools are being closed.
But as much as the home office (HO) is being promoted as the "way to work in a crisis," there are a range of both legal and technical requirements to consider, so that the work of teams and individuals can function seamlessly from the home-grown office space or from underway. There is certainly still room for greater uptake: In Germany, the home office only makes up five percent of workspaces; in Finland it is 13 percent, at a minimum (source: Statista).
The following set of guidelines compiled by toplink is designed as a support for companies that are setting up home offices in the next few days and weeks or that wish to optimize their HR solutions. The recommendations here concentrate on the questions of communication technology and supplement these with tips and tricks which we have learned through many years of experience with our customers – something which we are happy to pass on to the general public and interested parties.
Fundamentally, what counts in these challenging times is speed, consensus within the company, and practical, reliable, and stable solutions. This current crisis is hardly likely to give you time for long drawn-out strategic deliberations and discussions.
Here is what you, as the head of the company, need to consider in the introduction of home office solutions:
1. What is my objective?
Firstly, you need to be clear about what you are trying to achieve when you send your staff or teams into home office (HO). Only then will it be possible to initiate the right steps with regard to the communication technology and to communicate transparently within the company about what is intended with the home-office solutions.
What objective are you pursuing? Here are a few possible scenarios:

a. A temporary solution as a result of the coronavirus for the protection of staff and to maintain business operations. The implementation is undertaken voluntarily on the wish of the company and will be suspended at the end of the crisis.
Objective: Risk minimization/maintenance of working capacity.
b. Your staff/teams have been placed under quarantine by the authorities, because they themselves are infected or are deemed to be at risk as a result of a chain of contact.
Objective: Maintenance of health of staff / fulfillment of official instructions.
c. Responding to wishes of individual staff, who have expressed an interest in HO in order to ensure childcare, or who have applied for an HO solution as a preventative measure for their own safety.
Objective: Individual solution taking into consideration the interests of the workforce as a whole.
d. A long-term solution which is designed to enable staff to work from home or from underway on a permanent basis. The coronavirus crisis is the trigger driving forward such flexible models of work.
Objective: More flexible organization of work for teams/departments in the long term.
Many of the objectives are closely related. Thus, you can initially pursue HO as a temporary solution, but remain completely open to the possibility of continuing to use such models in your company beyond the crisis.
2. Achieve consensus in the company
Even before you start addressing further legal or technical questions, you need to achieve consensus with all participants, managers, employee representatives, staff council representatives, unions, etc. for the measures that you are planning. For this, open communication is necessary within the framework of (if necessary, virtual) staff and departmental meetings – arranged at short notice – and accompanying communication measures from the senior management (newsletter, company intranet, video message). Dialog is more important than instructions. Given that the home office is probably not anchored in most employment contracts, legally flawless solutions need to be (rapidly) developed. If your staff are placed under quarantine by the authorities, such arrangements need to be set down on paper retrospectively.

Always assume that staff have quite diverse interests. While one group is downright "frightened" of working from home, another group longs for nothing more fervently than a bit more "freedom" in the work arrangements in the domestic environment. As a result of this, it can be expected that conflicts may arise ("Why are they allowed to, and we're not?"). You will only be able to avoid these if you communicate the superordinate objective clearly and transparently, and always emphasize that the objective here is the health of all staff and business continuity – not the fulfillment of the "preferences" of individual departments.
3. Technological Requirements
Home office (HO) initially sounds simple: An Internet connection, a device (e.g. a laptop, with a smartphone or tablet as an extension), and one of the popular video-conferencing solutions (Skype, Zoom, Microsoft Teams, Facetime) – and it should just work. However, the requirements go well beyond this: Access to company data on the central server or in the cloud must be secure and password-protected, as well as satisfying the General Data Protection Regulation (GDPR). As a rule, you already have such IT systems at your disposal, and already store and manage your data in the cloud. Apart from this, you need solutions for team meetings and longer team chats, potentially also including your branches abroad. For customer presentations, you need live-streaming solutions which can replace a conference or a product presentation. It must also be decided whether telephony should take place via smartphone or via the landline (VoIP).
For all this, you need a long checklist. You need this anyway just to ascertain what services the communication system should offer. Don't bite off more than you can chew. Instead, start with the basic functionalities. Mind you, these should make use of a platform that enables consistent expansion and scalability of data volumes. Keep in mind that the introduction of complex IT solutions even in medium-sized companies often require around a year – but that you, in the current situation, only have a few days at your disposal. External providers that can guarantee installation within just a few days, without you needing to invest in hardware, are a good possibility to deal with the current situation.
Generally, what you will need is:
a. a stable Internet connection,
b. a telephone connection,
c. a mobile or fixed device,
d. software for telephone, video, and team conferencing,
e. security restrictions and GDPR compliance, and
f. a cloud solution for the company data.
4. Seminars & On-Site Training
Staff members that have never or only rarely worked in an HO environment must, as a matter of urgency, receive training in the most important functionalities. This includes instructions for dialing in, training on the software (Zoom, Skype, Microsoft Office 365), and rules for team meetings with moderators. Team and project leaders should also be chosen on the basis of whether they have previous moderation experience with these technologies.
Under no circumstances should you underestimate the importance of these training sessions – even if staff nowadays are able to find plenty of tutorials on all of their questions in the social media networks. Time and again it is surprising to see how much time is lost when staff are unable to get the microphone, the video camera, or the chat function to work properly. After three or four conferences at the latest, all team members should have developed a routine and be noticeably more skilled in handling this technology.
5. Working Times & Reachability
Make clear to your staff that working from home is based on trust. You do not have a constant eye on your staff, but instead need to depend on them dividing up their time sensibly and reasonably. Don't make too many rules, but leave it to teams to organize themselves optimally. You yourself need to offer your staff YOUR trust. It can be helpful to organize two fixed times each day for short online team meetings. This helps to structure the day for the HO staff and simplifies the organization of work. Secondly, come to an agreement about the reachability of staff (as well as for customers) which should come close to the normal hours of work. Thirdly, organize rules for substitutions for the case of a busy phone line, so that the customer can be served just as quickly as ever.
6. Feedback & Adjustments
Give your staff the possibility in the first few days to provide qualified feedback and to put forward suggestions for improvements. Especially if the HO system is new to the company, not all interfaces will necessarily function seamlessly from the outset. A constructive company culture that seeks solutions and that avoids making accusations can be very helpful here.
7. Show Your Presence as a Boss
In the coronavirus crisis, it is important as the head and supervisor not to withdraw, but more than ever to demonstrate leadership and commitment around which your staff can orientate themselves. This is particularly the case when your staff are more spatially distributed/decentralized than usual. A regular video message also gives the people working in the home office the feeling of "still belonging." Never assume that agile teams, for example, organize themselves spontaneously. The freedom from hierarchy, agility, and the self-organization of teams may well be helpful and modern in normal times. As part of a professional crisis management, however, they are hardly suitable. They collide with the expectation of the workforce and of customers that there will be clear leadership from senior management, as well as transparent and reliable communication, offering security and orientation during turbulent times.
Conclusion
Should you decide on a home office solution in your company (or if you have no other choice), what counts is speed, integrated and modern communication solutions, and a partner that can offer many years of experience in exactly this. Already in this current crisis, our teams at toplink have implemented solutions for companies with around 2,000 staff within 48 hours. Our goal is, especially in this worldwide pandemic, to offer a solution for a crisis-proof HO working environment. These guidelines are designed to offer you orientation as to which steps you need to consider regarding HO solutions and how we can support you in this – for the sake of your company and the health of your staff.

Jens Weller is the CEO of toplink GmbH and has developed the company to become one of the leading providers of telecommunications services based on next-generation networks (NGN).
After his studies in Engineering at the Darmstadt University of Technology, Jens Weller was, as Managing Partner at e.comp Engineering GmbH, responsible for the areas Business Development and Sales. Today, he is the sole shareholder of investment holding WSAC GmbH, which has a stake in a range of technology companies.
Please note: The opinions expressed in Industry Insights published by dotmagazine are the author's own and do not reflect the view of the publisher, eco – Association of the Internet Industry.