Time to Break the Mold: Boost the Tech World with Female Role Models
August 2020 -

Diversity
Time to Break the Mold: Boost the Tech World with Female Role Models
Deepa Gautam-Nigge, Global Lead SAP, on the importance of visible female role models for busting age-old gender stereotypes in the workplace.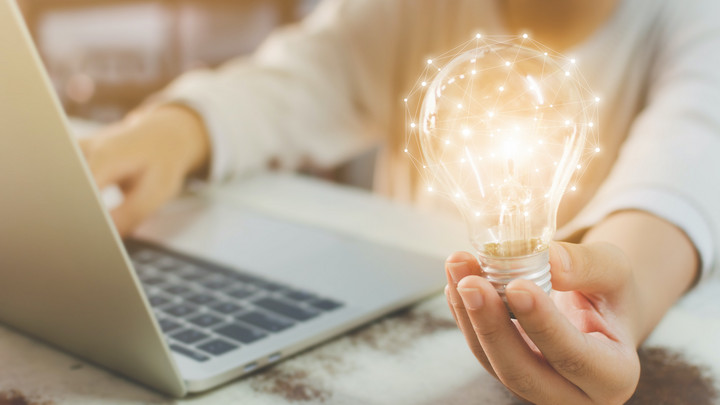 There are any number of good reasons as to why the Internet industry needs female reinforcement. Numerous fields in the branch are up against a shortage of skilled workers. What's more, homogeneous teams and uniform ways of thinking represent a clear obstacle to innovation. The digital industry is booming, new digital business models are being created each and every day, and lucrative jobs are being created – but all too often, women are still missing out. The eco Association wants to change that. In our interview series "Women in the Tech Industry," eco invites inspiring female specialists and executives from the Internet industry to take the floor. Here we deal with the really important topics: from development perspectives, through career tips and hopes for the future, to the challenges in a male-dominated working environment – and ultimately, to highlighting why working in the Internet industry is fun. This article with Deepa Gautam-Nigge, Global Lead SAP Next-Gen Ecosystem at SAP, was first published on eco.de in the German language on 23 July 2020.
What does a typical working day look like for you?
Deepa Gautam-Nigge: In my role as Global Lead SAP Next-Gen Ecosystem at SAP, no two days are the same. Part of my time is spent thinking through and weighing up how to further develop the work of partners and organizations and integrate them in terms of education for the next generation of users, decision-makers, young entrepreneurs, and employees. Another part of my time is spent in meeting with decision makers, board members, university professors, and start-ups, in order to implement these ideas together with them – in other words, the complete spectrum from very strategic topics to operational details. As I have been working for over 20 years to bring new, innovative business models to the market or to develop them further, I'm very familiar with this working mode.
What skills and traits are needed for your job?
Gautam-Nigge: A very important trait is a constructive curiosity and openness to new things. In my job, I connect very different worlds with each other. Every day I deal with very different types of companies as well as with decision-makers at varying career levels – this ranges from global corporations to start-ups – giving a 360-degree view of innovation. Working at this interface, I always have to put the right pieces of the puzzle together to achieve the desired results. This requires, on the one hand, an in-depth understanding of very different organizational structures and cultures and, on the other hand, a high degree of empathy.
The Coronavirus pandemic has given an enormous boost to digitalization. As an expert on innovation, what is your assessment: Will the crisis also strengthen innovation power?
Gautam-Nigge: I'm convinced that the Corona pandemic is a strong catalyst for advancing digitalization. Nevertheless, we must not forget that we are currently dealing with an exceptional situation. Once we've overcome it, we will be able to handle things in the same way as we did before Corona. Many changes that were initiated by the crisis will, however, become permanent fixtures. With regard to innovative business models, a lot is also happening at the moment. On the one hand, what is currently becoming apparent is which companies and business models are really resistant to the crisis. On the other hand, it is a good time to rethink, review, and adapt business models. However, it remains to be seen who has been able to adapt in the best possible way, and who has made a virtue out of necessity and perhaps even successfully developed their business model.
You're very closely connected to the start-up scene due to the initial years of your own career in a start-up, and to your involvement in the venture capital field. At SAP, you set up a start-up program that is aimed specifically at female founders. According to the Female Founders Monitor, women account for 15.7 percent of founders. Where do you think we currently stand in the field of female entrepreneurship?
Gautam-Nigge: As far as women and start-ups are concerned, there is a distinct lack of role models and their visibility. The start-up scene is currently still very male. Nevertheless, there are already some successful female tech founders, and we need to highlight them more.
I set up a women's mentoring program at SAP to increase participants' visibility, to provide them with targeted training on the topic, to give them access to first-class mentors, and to offer them a protected space in which they could exchange ideas and experiences.
Women represent 50 percent of society, so female views and perspectives should be reflected in every aspect of the start-up ecosystem, simply because these views are enriching. Apart from that, mixed teams are more successful and, in their business models, women also tend to found more sustainable companies.
You are also working as a venture advisor for an investor and a logistics company in the SME sector. Some women founders tend to say: I may be working out the investor pitch, but for the pitch date we'll send my male co-founder. Is it more difficult for women to raise capital?
Gautam-Nigge: In many areas we see an unconscious bias in decision-making situations, and that's human. This also brings me back to the pitch: here, the majority of investors are male. Tech expertise is per se associated with men, so it's also men that investors tend to have in the pitches. It's important to cut ourselves free from this as much as possible and maybe to get more female investors on investment committees so that their perspective is also taken into account in investment decisions. But what's also encouraging to see is that more and more investors have stepped up their efforts in recent months in this regard.
What did the program at SAP look like in concrete terms?
Gautam-Nigge: Within the program, founders were accompanied for over six months. There were two presence workshop days per month, rounded off by occasional lunch and after-work sessions, to which experts were also invited. The modules ranged from organization and HR, sales and product development, to venture capital financing and marketing. We covered all areas that are relevant for a young company – to home in in detail, we offered a workshop entitled "How to launch a product with zero budget?" There we gave tips and tricks on how start-ups can use free tools to market their product. We worked there together with various experts such as venture capital specialists and lawyers. Combined with the lively exchange between participants, this resulted in a very exciting dynamic that rounded off the entire program. While our principal focus in the program might have been on female founders, the program also benefited the start-ups as a whole.
Why is the topic of diversity important to you personally?
Gautam-Nigge: I'm engaged in the field of diversity because we simply have to break certain patterns of behavior. Making role models visible is at the heart of the matter. In my home, equal rights or the glass ceiling were never issues.
My mother and father both studied the same subject and also developed their careers in step with one another. It is therefore very important that we encourage women and make it clear to them: You can achieve anything that you set out to do. But also to make it quite explicit: Is this a walk in the park? Is it always easy? No, it's not. Of course there are childcare systems that make reconciliation between work and home life an eternal juggling act, and sometimes there are male colleagues who make life difficult. However, it helps to always remember that they are not doing this consciously, but to realize that they are in some way also just victims of their own socialization. We can only break through the societally damaging structures together. We must ensure that it is more the norm for us women to have a say and to want our piece of the cake.
That is why it is very important to get women on the front line. To put female colleagues on stages, to promote young female talent, to make women in general more visible and to recommend them for jobs. After all, men do the same among themselves.
You've already mentioned the importance of role models. Did you or do you still have role models yourself?
Gautam-Nigge: I think there are different role models for every stage and phase of life. My parents came to Germany from a developing country 40 years ago and built everything up by themselves, which of course influenced me a lot in terms of being able to achieve success by myself. It is mainly up to you to make use of the opportunities life offers you. In the course of my career there have always been people who have either provided me with important impetus or acted as mentors, and who have consciously or unconsciously shaped my career steps: for example, Simone Menne or Hendrik Brandis.
We've recently had Simone Menne as an interview partner for our Women in Tech series. Now we'd like to put a question to you that Simone Menne offered for our next interview partner: If you had to fill a management position in the IT department, how would you approach women and do this as creatively as possible?
Gautam-Nigge: First of all, it helps to look around in your own network. So I would approach women from within my network and suggest and recommend them. Another fact that many people underestimate is that job ads often address men because of the way they are phrased. I would therefore pay attention to formulations in the advertisement that specifically appeal to female applicants. It also helps to break away a little from the expectation that someone must have been doing this for 15 years, and really give someone the chance to prove themselves anew in a topic area outside of their comfort zone.
In the context of diversity, what question might you yourself put to an interview partner?
Gautam-Nigge: Companies have recognized the importance of diversity. We know we have to promote diversity in all its dimensions. The societal need for it is also more than evident in all areas. If we create the right structures, not only women will benefit, but as a result, so too will other disadvantaged groups. Despite this realization, unconscious bias is entrenching a break-off point when it comes to women rising up the hierarchy, particularly at middle-management level. How can we systematically establish an inclusive culture so that women can continue to assert themselves in the medium term and develop their potential in a targeted manner?
Thank you very much for your time and the interview!
Deepa Gautam-Nigge, Global Lead SAP Next-Gen Ecosystem at SAP SE, acts as a "mediator between the different worlds of innovation" to ensure that next-generation talents work together with established companies and the right start-ups on the solutions of tomorrow. As an expert for platform business models she is also active as an advisor for start-ups, but also for companies such as Earlybird VC and Schmitz Cargobull AG – and thus, as recently written in the Handelsblatt, is a role model for the new generation of innovation managers.
Please note: The opinions expressed in Industry Insights published by dotmagazine are the author's own and do not reflect the view of the publisher, eco – Association of the Internet Industry.