Making Interconnection Easy
November 2019 -

Digital Infrastructure
Making Interconnection Easy
Joanna Hahn, Public Relations Trainee at DE-CIX, shows how tailored digital infrastructure solutions and flawless interconnection can meet the constantly changing requirements of the market.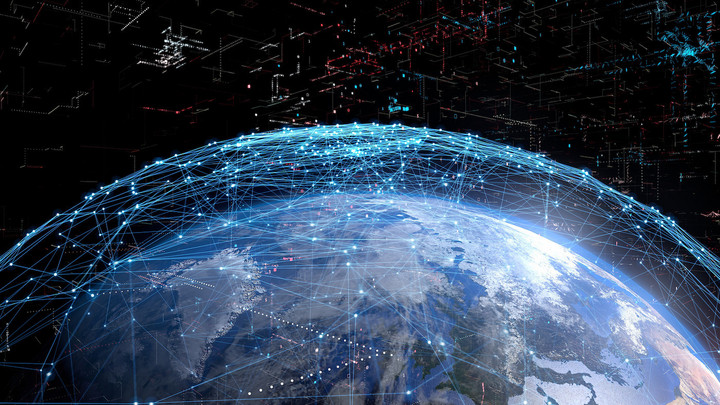 Interconnection everywhere
Nowadays, life without Internet and without a thoroughly connected society wouldn't be possible. Everything is available at anytime and everybody can reach anybody anywhere across the globe. To make this luxury possible, a digital interconnection system which is trustworthy under all circumstances is essential. In addition to the (digital) requirements of everyday life, companies can no longer operate without a reliable and secure digital infrastructure. The steady growth of data as well as the increasing demand for smarter, faster, and more efficient solutions in every market and sector results in dependency on flawless interconnection.
Markets requirements are changing
On a business level, digitalization is constantly reshaping how things in global economies are done. In contrast to the status quo 10 years ago, companies today require customized solutions. It can be seen in many different specialized sectors that customers expect their product to be tailored exactly to their concept. For example, the sports industry shows that buying regular sneakers in the store is not enough anymore – the demand for individual shoes and the possibility to design your very own shoes has increased enormously. These changed expectations can be applied to many sectors, such as the interconnection sector.
Interconnection is the foundation of the modern way of doing business. It is crucial to have access to high-speed interconnection in order to reach all the parties involved – with as little latency as possible. Different carriers and interconnection customers have different needs that cannot all be met with one single service anymore. As a result of the ongoing process of digitalization, even more flexibility and customizability are necessary.
How DE-CIX meets the market's requirements
When DE-CIX, operator of the largest interconnection ecosystem worldwide, started its business back in 1995, the intention was to connect people and companies via peering to exchange data. This was the first step towards connecting the world with a high-standard quality Internet connection at a low cost. At the time, that was what the economy needed. This has changed over the decades.
Due to digitalization and the consequently changing needs and requirements of the worldwide economy, peering alone is no longer enough. For this reason, DE-CIX started several years ago to offer services like DirectCLOUD, GlobePEER Remote, and VirtualPNI in order to meet the demands for contemporary best-in-class interconnection. Subsequently, the call for individualized services continued to increase. Perfectly tailored products are needed in order to complement existing services. Having both standard and individual solutions is the best way to make interconnection easy. The latest services which address the requirements of today's markets do just that.
InterconnectionFLEX is a service – as the name says – that is 100% flexible and therefore meets all of the specific growing needs that different enterprises have. It is an all-in-one easy solution package which offers a bundle of services in one single contract, allowing companies to select and adapt these services and, if necessary, to even avail of consulting support. Consulting by experts is the best way to make the most of this product; customers benefit from close to 25 years of experience in the interconnection industry. In the first step, the enterprise's interconnection needs are analyzed, and afterwards DE-CIX offers an initial peering workshop. Together with the ISPs and data centers that are already connected to DE-CIX, the growing interconnection needs and specific requirements of enterprises can be easily accommodated.
As the first of its kind, FlexPOP gives interconnection customers - in this case, carriers - the opportunity to flexibly and temporarily add virtual PoPs (points of presence) to their own backbone without needing to invest in expensive infrastructure. This works due to the possibility of using the DE-CIX infrastructure as if it were the customer's very own: Infrastructure-as-a-Service (IaaS). Therefore, without needing to build up a new PoP, and as a result saving an enormous amount of time and money, customers have full control of the infrastructure in the chosen metro area and can flexibly set up FlexPOP connections to meet their business needs.
In order for carriers to reach their own customers as close as possible to the edge, they need to maximize their geographical coverage and on-net presence, meaning the more PoPs, the better. Consequently, FlexPOP makes interconnection easy by providing infrastructure at a place where the carrier is not present but fast interconnection is needed.
A third example of the ways in which DE-CIX is broadening the scope of its services to make life easier for connected customers is the IX-API, developed jointly by three leading global Internet Exchanges, DE-CIX (Frankfurt), AMS-IX (Amsterdam), and LINX (London). An API (=application programming interface) is a standardized interface that helps to connect software from different users and offers the ability to easily communicate between two or more different software systems via a template.
Why is the IX-API so special and such big news? First of all, the technology used is the first of its kind. Never before has an API been used at an IX. It can be imagined as software that is based on the Internet Exchange. With this integrated software, the application provides fully end-to-end automated processes and enables networks to configure, change, and cancel key services. A user is now able to make changes - e.g. adding a parameter - on their own; submitting a request and waiting for it to be attended to is no longer necessary. This saves a lot of time – instead of days, the requested modifications can be done in minutes. The charm of the system is clearly the fact that computers are communicating with each other and humans do not have to be involved.
Making interconnection easy
The changing market conditions call for new, relevant digital infrastructure solutions. Interconnection is best when it is easy and well suited to each individual customer – so as to help them "build their own Internet." If we venture a look into the future, we can imagine tailor-made solutions for customers which are even more automated and intelligent. Self-thinking services might be able to identify individual customers' needs and adapt to them with automated technology. Whatever the always-changing requirements of the market will be, the latest technology will be able to handle it. And DE-CIX will continue to develop their interconnection services and customer service for the changing requirements in line with their maxim, "Easy Interconnection. Anywhere."
Joanna Hahn is a Public Relations Trainee at DE-CIX, the world's leading IX operator. Joanna has an educational background in media and information technology (BSc) as well as communications (MSc) from the University of Applied Sciences Offenburg (Germany).
Please note: The opinions expressed in Industry Insights published by dotmagazine are the author's own and do not reflect the view of the publisher, eco – Association of the Internet Industry.