Smart Campus – Merging Smart City and Smart Home in Education for Digital Natives
February 2018 -

Digital Education

|

Connectivity

|

IoT
Smart Campus – Merging Smart City and Smart Home in Education for Digital Natives
What makes a university or college fit for the digital millennium? Rich Nedwich from Ruckus explains to dotmagazine the concept of a Smart Campus.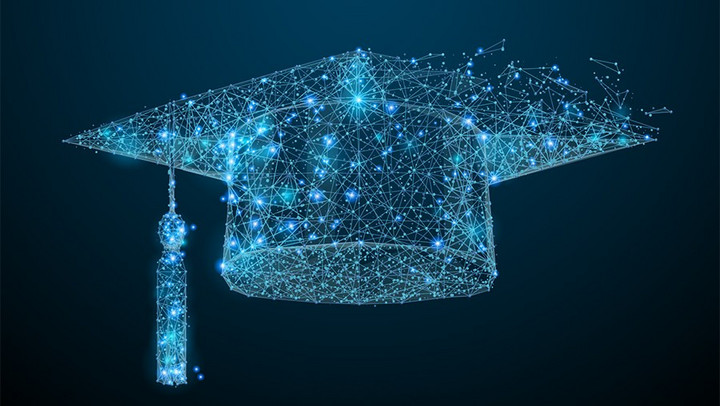 DOTMAGAZINE: What is a "Smart Campus" and how does it differ from a traditional learning environment?
RICH NEDWICH: Great question. Especially since 'traditional' learning environments are themselves changing to digital learning environments before making the jump to Smart Campus.
College life a generation ago might conjure up thoughts of a professor lecturing to a the class full of students in a grid array of desks, and an individual pursuit of knowledge in classrooms and labs, sleeping in small dorm rooms, studying from well-used books and turning in term papers. But today, Digital Natives care more about social networks, being mobile and staying connected – to their friends, family, professors, digital curriculum, recorded or remote live lectures, and more.

This shift has created what some of our customers are calling 'The Lifestyle Arms Race' – a rethinking of student experience, of how students study, how they learn and how they live – to attract and retain students.
Prospective freshmen seeking this kind of campus life expect a great college or university experience.
Enter the Smart Campus.
What, exactly, makes a campus "smart"? At the highest level, a Smart Campus links devices, applications, and people to enable new experiences or services and improve operational efficiency. 
These student services or experiences might include wayfinding, smart parking/transit, wait times for cafeteria food, or availability of fitness equipment, finding their belongings (bicycle, backpack, laptop), and more.
The is truly exciting, because we see the Smart Campus as the intersection between Smart Homes (new experiences for Digital Natives entering higher education) and Smart Cities (new operational efficiencies to save money and improved public safety).
A Smart Campus starts with ubiquitous, reliable wired and wireless connectivity – indoors and out. That's the foundation. However, while that kind of connectivity may once have been a goal in itself for many colleges or universities, it's just the beginning of a Smart Campus.

Now add Internet of Things (IoT) networks (sensors, access technologies, gateway) to put campus infrastructure on the IP network, such as outdoor lighting, building lighting/heating/cooling/power systems, security surveillance and physical access systems, parking facilities, and more. When all of the people, devices, and applications on campus share a common technology infrastructure, they can interact with each other to enable experiences and efficiencies that weren't possible before.
The campus becomes a platform for innovation, thanks to IoT data and how it is used to enhance or create new services and efficiencies.
The benefits of a Smart Campus are many, and in addition to the operational efficiencies, we are starting to see them fall into three major categories: Smart Living, Smart Learning, and Smart Safety & Security. All of which can help increase student engagement which is vital to help students transition to university life and help them obtain all the resources they need to succeed.

DOT: In what ways can digital learning enrich educational methodologies, and what kinds of educational institutions can apply it?
NEDWICH: There are so many ways our 21st-century world is being reshaped by rapid technological change, and innovative institutions are asking themselves how they can do more. How can we create more flexible learning environments to better suit the course material? How can we shift the balance between passive learning and active research and collaboration? How can we bring in new voices from top faculty and other thought leaders around the world? How can we deliver our most popular courses to more students? How can we empower students to study and learn at more times and in more places, in more personalized and effective ways?

Smart Campus technologies can change the way students learn. When colleges connect sensors, building systems, and other devices (once again, over the same common infrastructure that enables digital learning models and flexible workspaces), they can begin to collect data from a variety of sources across the campus. All of that data can be collected, stored, accessed, and used by campus operations teams to pursue the common goals of IoT implementations: reducing energy consumption and power costs, refining services on campus to make them more convenient and effective, and more.

However, those data and analytics can also be funneled directly to the classroom. Students in a variety of courses – public policy, statistics, environmental studies, psychology, mathematics, computer science – now have a wealth of real-world data, drawn from their own campus environment, to study and apply to their projects. For example, 'How to reduce energy usage on campus by 20%?' or 'How to reduce average parking time from 20min to 15min on a Tues morning?' All of a sudden, course work that used to be conducted largely in the abstract has become interesting and engaging – and that's the key to Digital Native learning.
In Germany, free university tuition has led to enrolment target success for international students, but free tuition has led to other challenges – such as lack of revenue to fund new research. A Smart Campus could help address this by reducing the operational costs on campus while offering a platform for innovation ripe for research – by faculty and students alike.
For institutions today, who have not begun migrating to a Smart Campus, there are still many advantages of using networked computing technology to advance or enhance learning:

By using networked computing technology, new learning models are emerging which fit the Digital Native lifestyle. When every student has nonstop access to audio and video conferencing tools, they can initiate or join a collaborative working session in seconds. With access to capabilities like screen casting and file- and application-sharing from their personal devices (such as with Google Docs, Office 365, Box, etc.), multiple students can work collaboratively on the same project without having to be in the same physical place.
Most colleges and universities are already embracing digital learning management systems (LMS) like Blackboard and Instructure. With campus mobile apps, or APIs for third party integration, students can easily access these portals anytime, from any personal device. Grades, assignments, submitting homework, even online assessments – everything is at students' fingertips, whether they are studying in their residence hall or enjoying the sunshine on a grassy lawn.

Students studying modern science, engineering, and computer science disciplines need access to heavyweight computational resources. In the past, that meant reserving dedicated time in a lab for a project. On a digital campus, that lab doesn't have to be a fixed location. Instead, colleges can virtually spin up cloud resources and deliver them to students wherever they're needed – and spin them back down again when they're no longer in use. And spaces currently reserved for dedicated computing resources can be repurposed for something else.
On a digital campus, students, faculty, and administrators no longer need to worry about space constraints, location, or weather. These institutions now use video and collaboration tools to open up classes and lectures to more students, without having to squeeze them all into a single lecture hall. When students are ill, when bad weather makes it difficult to get to campus, class can still go on. Students can log into live lectures from their computers, participate in discussions, download course materials, and submit assignments remotely.
DOT: How are topics like safety and cyber security handled in a Smart Campus?
NEDWICH: As innovative institutions embrace IoT technologies, they're finding that the same platform that supports digital learning and connected experiences can enable applications that make campus safer and more secure for everyone living, learning, or working there.
For example, by adopting smart lighting for improved energy efficiency, IT is connecting outdoor LED lighting to their networks. This likely requires ladder or lift access to pole tops to connect the lights. In so doing, many IT teams take the opportunity to add outdoor Wi-Fi and surveillance cameras which run off the Power-over-Ethernet (POE) provided by the Wi-Fi access point.
By integrating brighter lighting controlled by motion sensors or remote control, combined with CCTV cameras while extending connectivity with Wi-Fi, this is a highly efficient way of achieving a more secure Smart Campus. A few categories of secure access on campus would include:

Traditional closed-circuit security cameras require physical connections to a switch– making deployments expensive and, in some outdoor areas, almost impossible. On a Smart Campus, anywhere you have a power source, you can deploy a smart IP video camera and use wireless meshing to connect it. 
Smart locks and access control
Wi-Fi or wired locks make it easy to control who has access to hundreds of buildings on campus. Combine them with other Smart Campus systems – smart ID card readers, video surveillance, perimeter controls – and you can now closely monitor every individual coming and going at all times. 
Combine ubiquitous wireless coverage with location-based services to track anything moving across campus. Attach Bluetooth beacons to projectors, TV screens, lab equipment and vehicles, and pinpoint their location on campus. Use geofencing to receive alerts if an asset moves outside a given area.

As an example, how could a Smart Campus respond to someone trying to break into a residence hall at night? 
Motion detectors identify movement at a place and time where no one should be,
Wi-Fi locks recognize that someone is attempting entry without proper authorization,
Connected lights snap on, illuminating the entryway,
Smart surveillance cameras automatically pan/tilt/zoom and capture video,
If the intruder is a student or employee with a smart campus ID card, the system immediately recognizes who it is,
An alert is sent to campus security with all the relevant information and a real-time video feed so they can respond appropriately.

While physical safety is incredibly important on campus, IT teams must also concern themselves with cyber security as well. 
Overall, information security challenges to Higher Education include: malware, exploits in database systems and servers, phishing attacks, vulnerabilities in websites and servers, and device management. 

Why is Higher Education a target of hackers? 
Perception that it is easier to attack than other sectors (i.e., "Openness vs. Security")
Millions of records with lots of personally identifiable information stored
Valuable research and intellectual property store
Can provide sideways access into more secure organization
High-speed networks and massive computation ability make universities an excellent platform for attacking others
Most educational institutions operate highly decentralized IT environments

As IT teams investigate migration to a Smart Campus, it is important to consider the risks of IoT infrastructure. In the U.S. there have been very visible attacks on large commercial targets through IoT DDoS attacks. Most experts agree one way to reduce this risk is to change default passwords on each deployed device. A Smart Campus secures IoT with dynamic PSK keys, or better, uses a certificate management system to install certificates on IoT devices.
More broadly, to protect higher education institutions from cyber-attacks, IT should consider a dynamic VLAN per room or per student, which creates small secure domains. This has the benefit of making the campus extremely challenging to hack (which network to target?) as well as providing 'personal student networks' which manage sharing of student devices in a controlled fashion.

DOT: What are the greatest challenges for schools and universities when they transform into Smart Campuses?
NEDWICH: This is a particularly interesting and challenging question. In my view, based on dozens of CIO interviews, I would say 'vision' is the biggest challenge. In other words, determining what your Smart Campus should look like in perhaps five years, then working back to determine steps to achieve this, starting now. The building blocks are reliable and pervasive wired and wireless networks. Add to this an IoT access network to gather campus data for analysis of energy use, traffic, safety, and more. So, to get there requires some migration of legacy systems plus investment in new infrastructure.
The starting point is the next hurdle – how to get started?
I suggest step one is the security management platform (onboarding, access management, policy management) to deliver two things: a common student experience from legacy networks to new, as well as common IT tool for policy management and secure onboarding. Over time, as campus IT migrates their wired and wireless networks, students experience the same onboarding process and access rights, while IT uses the same policy management for wired/wireless access. The vendors or product families may change over time, but the disruption to students and IT is minimized.
Finally, how best to leverage your Smart Campus?  Will you simply see it as energy efficiency to reduce operational expenses, or seek a richer student experience which attracts and engages Digital Natives by providing new services and experiences, with Smart Living, Smart Learning, and Smart Security?

I am most excited to help colleges and universities begin their Smart Campus journey.
Richard Nedwish has worked in the wireless industry since 2000, including product and marketing management roles at Motorola, Meru Networks, Fortinet and Ruckus.  As a thought leader, Richard has been a public speaker and blogger on global K-20 education technology and Wi-Fi for the past 10 years.

Please note: The opinions expressed in Industry Insights published by dotmagazine are the author's own and do not reflect the view of the publisher, eco – Association of the Internet Industry.