June 2019 -

Data Center

|

Green IT
Data Centers and E-Waste
David McCall from QTS looks at how data centers can help improve the disposal of electronic components through an IT Asset Disposal program.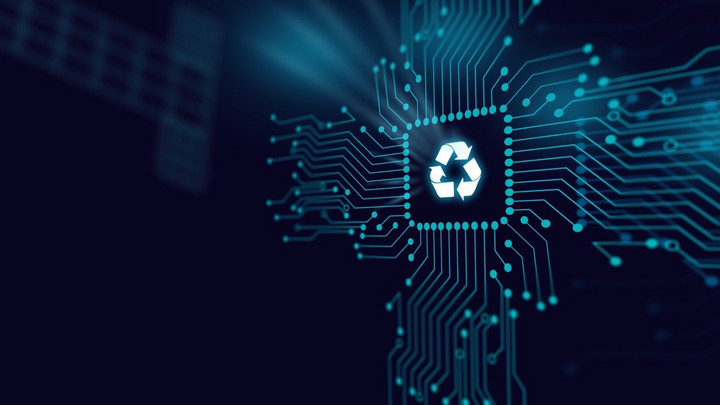 The rapid proliferation of electronic devices at the consumer level, along with the ongoing growth of enterprise-class computing and hyperscale, has made the issue of e-waste another one in a lengthy list of concerns for communities, regulators, and tech industry leaders. The responsibility for ensuring that electronic material is properly reduced, reused, or recycled must ultimately be shared in some capacity by consumers, manufacturers, enterprises, and governments. For its part, the data center industry has some basic and fundamental guidelines it can follow to lessen its impact on the e-waste crisis.
As there is some confusion among the experts, it's important to have a baseline definition of "e-waste." A recent Cisco report discussed "Waste Electrical and Electronic Equipment," also known as "WEEE" or "e-waste" as "regulations, typically passed at a country, state or provincial level, aimed at promoting the reuse and recycling of electrical and electronic equipment and thereby reducing resource consumption and the amount of e-waste going to landfill."
More specifically, in a 2017 global e-waste report, United Nations University (UNU) researchers defined e-waste as "almost any household or business item with circuitry or electrical components with power or battery supply…LCD desktop monitors, LCD televisions, Plasma Televisions, TVs and computers with Cathode Ray Tubes are the most common e-waste elements but really any piece of electronic equipment falls into this category."
How big of an issue is e-waste?
The scale of the e-waste issue is, inarguably, staggering. UNU reports estimate that all of the countries in the world combined to generate 44.7 million metric tons (Mt), or an equivalent of 6.1 kilograms per inhabitant (kg/inh), of e-waste in 2016, compared to 5.8 kg/inh generated in 2014. This is, according to the report, close to 4,500 Eiffel Towers each year.
As to the effectiveness of recycling, of the 44.7 Mt generated in 2016, higher-income countries saw just 1.7 Mt of e-waste thrown into the residual waste where it was likely to be incinerated or land-filled. Globally, however, only 8.9 Mt of e-waste were earmarked for collection and recycling, which corresponds to just 20 percent of all the e-waste generated.
Even in scenarios where recycling is taking place, the consumer goods market has exploded to the point that recycling can no longer keep pace with churn. When flat screen TVs became affordable to the masses, they replaced millions of workable fine box (CRT) TVs, many still yet to be recycled. That churn is now taking place across dozens of product categories, from laptop computers to smartphones and tablets, where consumers are purchasing replacements and tossing away the older devices far more often than they did in the previous decade.
The data center contribution
While no technology-based industry can claim to produce zero e-waste, the footprint made by the typical data center is relatively small. The critical infrastructure that makes up a data center site, such as generators, UPS, life safety, etc., have long primary lifecycles (5-10 years is not uncommon) and are frequently repurposed into non-24x7 roles before they have to be recycled. While a data center itself may be as large as millions of square feet, the actual amount of IT to operate the facility is disproportionately small and is usually maintained with pinpoint efficiency.
Regardless of its low proportional contribution to the issue, the data center industry has an obligation to lead by example with its e-waste best practices. First, the industry must adhere to the regulations that are already in place. In the U.S., for example the Environmental Protection Agency has created the Responsible Recycling Practices Standard (R2) to address the environmental, health, and sensitive material erasure/destruction practices. Internationally, ISO 14001 also speaks to these practices as well.
However, as the UNU report states, while 66 percent of the world's population is covered by e-waste legislation "more efforts must be made to enforce, implement, and encourage more countries to develop e-waste policies." For its part, the data center industry can continue to meet and exceed existing regulations, while helping to lead the conversation with customers and partners around responsible recycling.
Operations aside, a large enterprise or hyperscale data center can house hundreds of thousands of customers' systems, and data center providers frequently act as their customers' partner in arranging for systems to be recycled or refreshed. Data center providers should be trusted advisors on the topic of e-waste, who can be consulted for guidance when gear has reached its end-of-life.
Start with sustainability
To earn that trust, data center providers must first be good stewards of their own homes by having a sustainability program with actual transparent and published goals. The message from the data center industry – to one another and to customers & partners – is, if your house isn't in order: make it so. Recommendations for implementing or comparing sustainability programs include:
No sustainability program should be considered that does not call for the proper destruction of sensitive data, repurposing older gear first, and responsible recycling second.

Organizations should routinely reevaluate their existing vendors to see how they are performing against their goals and to see if other options have made themselves available in the marketplace. Cisco, for example, has an excellent program with clearly stated (and aggressive) goals that they report on and publish.

Seek out and partner with waste disposal organizations that have a sophisticated IT Asset Disposal program (ITAD) that is R2 certified (in the US) or ISO 14001 (outside of the U.S.) Ideally, organizations choose to work with waste disposal partners that do everything in their power to repurpose and recycle before a landfill is involved.
Keeping our planet healthy has to be the philosophy of the data center industry, not just a policy. The policy should merely be the framework we use to execute on a shared set of core values. As with all issues related to the global environment, an e-waste tipping point will soon be reached. With that sense of urgency in mind, the data center industry has an opportunity and an obligation to build awareness and lead by example.
The QTS Piscataway Data Center is an access site for DE-CIX New York, the fastest-growing Internet Exchange in the New York metro area.
In his role as VP of Innovation for QTS Data Centers, David McCall is responsible for building teams, setting strategic goals and serving as an evangelist for one of the largest and fastest growing data center service providers in the United States. He has more than 14 years of solutions engineering experience in the data center, telecommunications, and Internet technology industries.
Having held multiple roles at QTS, including Director of Solutions Engineering and Director of Training, David is an accomplished P/L owner who has developed an "inside out" approach in building teams that are ultra-focused on delivering value to clients while providing success back to the organization.
Please note: The opinions expressed in Industry Insights published by dotmagazine are the author's own and do not reflect the view of the publisher, eco – Association of the Internet Industry.