Closing the Gender Gap in the Digital World
August 2022 -

Women in Tech

|

Cloud Computing
Closing the Gender Gap in the Digital World
Exemplary insights are offered by Elisabeth Kurek, Vice-President of Cloud Marketing at IONOS, into how the gender imbalance in the digital world should be tackled.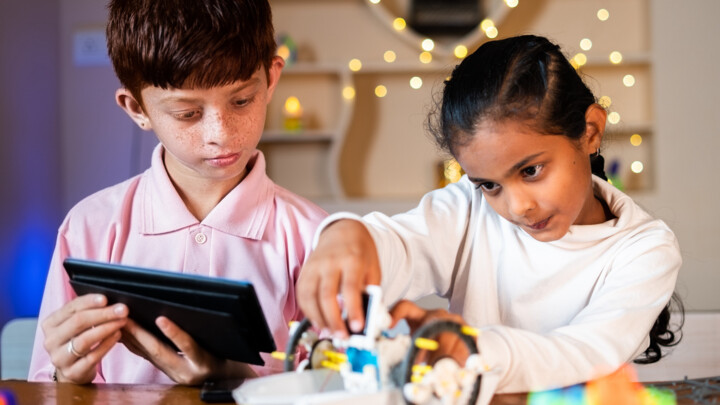 dotmagazine: Since May 2021, you've been the Vice-President of Cloud Marketing at IONOS. Could you give us a brief description of your role and responsibilities at the domains & hosting and cloud computing company?
Elisabeth Kurek: As the VP of Cloud Marketing at IONOS, I am responsible for all marketing of our cloud solutions – starting from the overall marketing strategy through to execution. IONOS is the European alternative to US hyperscalers like AWS, Azure, and GCP. We offer highly technical and innovative products, for mid-size enterprises, Public Sector and SMBs. My role is driving massive growth. This includes areas like online marketing, the cloud website, content, events, product marketing, partner marketing, and field marketing. If it involves cloud, it's my job. Internationally, I lead an amazing team of diverse marketeers.
dot: As you know, across the globe just 25 percent of professionals in the tech industry are women – with this being even lower in Europe, at 18.5 percent. What do you think needs to happen to encourage more women to enter tech professions in the future?
Kurek: Firstly, society needs to change. Girls do not start out with an aversion to STEM. A 2016 study of the American Educational Research Association peer journal revealed that the gender gap in math starts as early as kindergarten, with evidence of implicit bias from teachers shifting girls away from math-related fields. Outside of the classroom, change needs to start at home – with family and friends, at birthday parties and on the playground. Research from Kay and Shipman (2021) shows that girls' confidence drops by 30 percent between the ages of 8 and 14. We need to change our attitude towards girls at a young age. For example, stop telling little girls that they are "bossy." Think about it: have you ever heard this expression used to describe a boy? "Bossy" girls are basically demonstrating leadership. Also: focus on feedback for things besides physical appearance. Think of a baby – how often do we hear people call a baby boy "pretty" versus "big/strong?" It's OK to tell girls that they are pretty, but it's important to also use words like "strong," "brave," or "fearless."
Secondly, the environment for STEM needs to change. How many boys would attend a robotics workshop with a Barbie theme? Yet, how often do we see workshops around typical "boy" themes? Of course, gender is not a dichotomy, and there are also plenty of boys who like playing with Barbies. However, the point is that we need to offer workshops and classes that are inclusive of all genders. Secondly, what about the ratio in the classroom? Do girls feel comfortable entering a workshop where 95 percent of the participants are boys? There are fantastic organizations like Black Girls Code and Girls Who Code who are directly combatting this issue.
Thirdly, companies need to change. Companies must offer working conditions which are attractive to women, and they need to offer environments which are supportive of women. In the modern tech world, it is critical that companies offer flexible working hours and paid family leave. Some companies have taken it further, offering services such as complementary breast milk delivery services for nursing moms (IBM and GoDaddy), menstrual leave, (offered by companies such as Zomato and the Gesellschaft für Informatik e.V in Germany) and paid social freezing procedures (Google and Facebook). For the working environment, it is critical to have on-boarding and development for all genders. At IONOS we recently launched our "Women Explore" program, which focuses on developing female managers to higher level positions. Part of this program includes a role model workshop, where participants can ask questions and advice. I participated as a role model, and was pleased to see our VP of TechOps, Stefan Mink, also participating as a role model, together with our female leadership. It is essential to have support from all genders to succeed, especially from male allies in leadership positions. If the male leadership at the board and VP level is not there, the program will not succeed.
dot: What elements of your own job do you think might be particularly inspiring for girls or young women in considering a tech career down the line?
Kurek: What I would say to girls or women considering a career in tech: Tech offers you the ability to make your career your own. There are so many different roles in tech – everything from system administrators, dealing with the physical hardware, to developers, to product managers, and to marketing, which is my area. There really is something for everyone. You can get started in one area and shift to another. You are in the driver's seat. There is a demand for tech employees globally. Take advantage of this. In my role, I enjoy the creative element of working in tech. When I shared with my goddaughter my project at an SAP partner event, where we featured a virtual selfie station, leveraging AR technology, she immediately replied, "I want to do that." You wouldn't necessarily think of selfies with tech, right? Roles in tech enable you to do amazing things. Recently at IONOS, I have been working with the Haas F1 team to tell the story of our cloud partnership. While I don't get to do this every day, it is a part of my job that is fun!
dot: Your initial studies were not in the area of computer science, but rather in linguistics. From your own experience, are you of the opinion that there is no "typical" route into technology?
Kurek: 100 percent. If you studied computer science, of course you have an advantage with an understanding of the technology. However, people who have a background in other areas bring unique value to the team. With my background in educational linguistics and communicative competence, I apply this to our cloud marketing to achieve the target language and marketing messaging. In tech, everything is changing so quickly. You have to self-educate to stay on top of things. Anyone can do it!
dot: You're not only a senior professional in the tech industry, but are also a diversity advocate for a number of years now. Why is the topic of diversity so important to you?
Kurek: Diversity is important to me because I do not want any girls, women, LGBTQIA+, racial or ethnic minorities, or any other marginalized population to have to deal with this in the future. I want a better world for my 10-year old goddaughter, for the young women currently working in tech, and for the next generation to come. No one should hold you back. Girls and women can do anything. It is critical to drive change now to create the tech world of the future.
dot: You have not only campaigned for diversity in Europe, but also in the US: Could you name one or two lessons that you think each continent can gain from each other when it comes to closing the gender gap in the digital world?
Kurek: Europe has been setting the example for parental leave globally. Where I currently work in Germany, all genders are entitled to parental leave. In the US, there is no maternity leave or parental leave guaranteed by law. There are additional financial supports in Germany, like parental allowance (Elterngeld) and child benefits (Kindergeld), and a right to childcare services (Kita). On the other hand, where Europe could learn from the US is on the topic of paid leave for higher management positions, and of remote work. In the US, top tech companies offer paid parental leave at full salary for longer periods. This is where you receive your full salary during your parental leave period. US tech companies like HP are offering 6 months of paid parental leave, including for adoptive parents, and Netflix has been offering up to a year of parental leave at full pay, for birth parents and adoptive parents of any gender, since 2015. In Germany, paid parental leave is capped at 1,800 EUR per month, and board members are not eligible! And we wonder why there are not more female board members in Germany!
For remote work, the US tech world has long been ahead in this trend. Companies like Automattic, which runs WordPress.com, have offered "Work From Anywhere" policies since its inception. In my tech role in Seattle in 2015-2016, it was normal to work from a coffee shop. The question of, "May I work from home?" never came up, as it was a given. Some people may prefer a fully remote policy, some may prefer hybrid, or some may even like being in the office every day. It is about offering options to employees, enabling them to be flexible with their personal or family situations and with their work preferences, so that they are not limited by physical locations, and can do their best work.
Elisabeth Kurek is an American cloud leader and diversity advocate living in Germany, with 15+ years of experience in the cloud industry. Elisabeth is currently the VP of Cloud Marketing at IONOS, where she leads an amazing team of tech marketers, internationally. Prior to IONOS, Elisabeth led partner marketing for the DACH region at AWS, driving her region to the #1 partner marketing pipeline in EMEA. Elisabeth has served as the Vice President of Partner Growth at uberall, and held various marketing roles at Parallels (now Corel Corporation), NTT, and 1&1. Elisabeth holds a master's degree from the University of Pennsylvania. Elisabeth is a champion for diversity in the tech industry, with a long-standing track record of advocacy and initiatives.
Please note: The opinions expressed in Industry Insights published by dotmagazine are the author's own and do not reflect the view of the publisher, eco – Association of the Internet Industry.