The Key to an Effective Cloud Strategy
August 2020 -

Cloud Computing
The Key to an Effective Cloud Strategy
BSO's Continental Europe Sales Director, Thomas Lanaute, shares his insights on the main elements and pitfalls to consider when making the move to the cloud.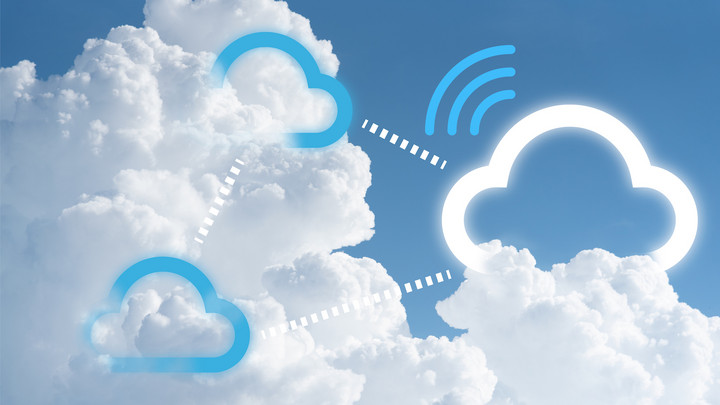 Where does the cloud-first imperative come from?
Thomas Lanaute: Lehman Brothers' collapse back in 2008 was a huge wake-up call for most businesses. Boards around the world started questioning their ability to remain functional and efficient when faced with a crisis of this magnitude.
The cloud provides flexibility at times when business conditions are unpredictable.
Businesses move applications to the cloud because of the risks inherent to having them on-premise – such as power outages, building shutdowns, and security breaches. Then, there is the human factor: companies need technicians to manage and maintain the infrastructure. When these people leave for whatever reason, so does their expertise. And let's not forget that hardware is expensive! The cloud allows you to cut capital expenditure and gain the flexibility to scale faster.
Is there a difference between multi-cloud and hybrid cloud and if so, how do you decide which one is suitable for your business?
Lanaute: The cloud must have as many complex definitions as there are people on the planet, but when it comes to multi-cloud versus hybrid cloud, it is rather simple. A hybrid cloud infrastructure, on the one hand, blends two or more different types of clouds: let's say an agnostic private cloud, such as our BSO Cloud product or an enterprise data center or colocation hosting center, with a public cloud such as Amazon Web Services (AWS). Typically, we recommend our BSO Cloud to customers who require full transparency of their cloud environment with known latency, uptime, and routine. With this model, you can keep some processes and data in a more controlled and private environment and still enjoy the many benefits of public cloud computing. This is often also a stage in the journey that businesses are undertaking when migrating completely to the public cloud.
In a multi-cloud infrastructure, on the other hand, several public cloud service providers are used in the same environment. In terms of use cases, it all depends on a company's specific needs. Different public clouds are good at different things. For example, Microsoft, with its combination of Azure, Office 365, and Teams is often seen as a safe choice for companies that are already familiar with the Microsoft suite. Google Cloud particularly stands out when it comes to machine learning, artificial intelligence, and its expertise around open-source technologies. AWS is remarkable for the breadth and depth of its storage, compute and database services.
Finding the right mix between these public clouds can be a daunting exercise. This is the kind of industry intelligence and analysis we are happy to provide to businesses that come to us and who want to take advantage of our partnerships with all these public clouds. Whether enterprises choose a hybrid or multi-cloud approach, we can provide the public cloud connectivity that will add value to their business.
Security and compliance: Is a third-party tool always necessary to have a comprehensive, holistic view of your cloud environment?
Lanaute: Absolutely! Your applications, data, and workloads are way too important to take security lightly. You want to be fully supported and start by having your infrastructure audited before anything else to see existing inadequacies.
Recently, we worked with a micropayment company that was in a very difficult situation: all their DevOps team and even their Chief Technology Officer had resigned at the same time. Management urgently needed a deep audit and full maintenance of their entire environment, so they used our BSO Managed Services solution.
The challenge for us was that we were facing an extremely complex environment with a very unique design. We developed specific probes that we put on every single element and device of this environment, from switches to chips, to get a 360-degree monitoring overview. Not for the faint-hearted! We were then able to provide our customer with added-value recommendations to ensure the security of their data. That was made possible thanks to our team of 20 DevOps experts based all around the world and providing 24/7 availability.
In a nutshell, what should businesses keep in mind for an effective cloud strategy?
Lanaute: Knowledge and awareness! Always keep an eye on what's available in the market.
In addition, compute and hosting should be at the heart of your company-wide strategy.
And finally, companies should get the right people backing them – people who have a deep understanding of cloud technology and can help you achieve your business and digital ambitions. Cloud adoption takes time, and digital transformation is a journey. An exciting one, but it still requires a lot of time and effort. Having a real partner like BSO by your side, one who is reliable, recognized as an industry innovator, and experienced, will determine your success on this journey.
Thomas Lanaute is BSO's Sales Director for Europe and is based in Paris. Thomas heads up the sales operations across France and the rest of Europe.
Thomas's role is to oversee a team of sales executives responsible for growing BSO's expanding client base and uncovering new opportunities in both established and undeveloped markets. Thomas has over 18 years' sales experience in the telecoms industry, having previously worked at TMX Atrium, Cable & Wireless and BT Radianz.
Please note: The opinions expressed in Industry Insights published by dotmagazine are the author's own and do not reflect the view of the publisher, eco – Association of the Internet Industry.