Edge Computing – Distributed processing for Growing Mountains of Data
June 2022 -

Edge Computing

|

Data Center
Edge Computing – Distributed processing for Growing Mountains of Data
Wolfgang Kaufmann from Datacenter One looks at the definition of "the edge" and the intelligent geographical distribution of data centers.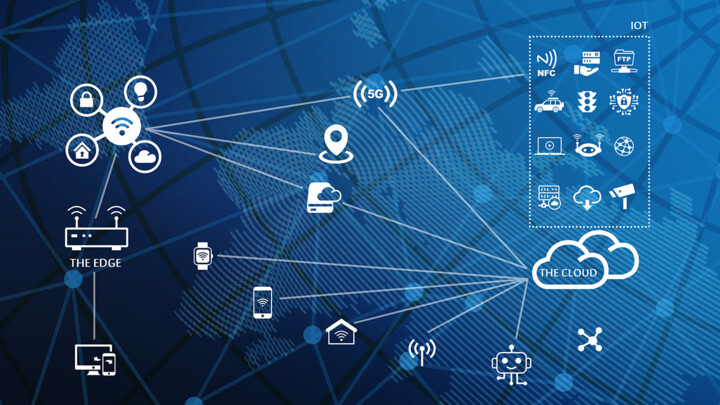 There is no stopping the advance of digitalization. The corporate sector is churning out ever more data and consumers, too, are following suit. Data centers are thus taking on an increasingly important role for the processing and storage of all data.
At the same time, innovative technologies such as the Internet of Things (IoT) and Smart Cities are on the rise – technologies that need data to be processed on location or at the edge. Self-driving cars, for example, communicate with each other in real time. To minimize latency and guarantee high availability during data transfer, the relevant data has to have distributed processing. This in turn requires a better decentralization of data centers, even away from metropolitan areas. But what are the benefits of distributed data processing? And what issues must companies bear in mind?
Processing data in real time
Demand for distributed data processing is strong – witness the global study performed in 2020 by Aruba. The study showed that 72 percent of IT managers already actively use edge computing technologies to tap new business opportunities. A further 16 percent were planning to do so in the year ahead. Distributed data processing shifts the focus onto the intelligent positioning of data centers.
The concentration of these facilities in metropolitan areas such as Frankfurt/Main must be eased so that they can be spread more widely throughout Germany. This will keep data closer to the end users, which improves availability and thus also reduces latency.
Distributed data processing leads to faster and more secure data transfer. But the fact that edge data centers are based on modern and innovative technologies means that they also guarantee reliability and high performance. Edge data centers are highly scalable, too: At a distributed data center, it is easier to respond to changes in capacity requirements.
What about security?
Edge data centers come in all shapes and sizes – from individual servers to racks, to whole data center sections. The different types can be split into three categories:
Legacy edge computing processes data locally, on the premises of the company concerned. Such data centers are small and may consist of only a handful of individual servers.
Geographic edge computing is the name given to content delivery networks and cloud services, most of which are hosted in colocation data centers.
Dynamic edge computing primarily covers IoT services, but also streaming delivery. Dynamic edge devices usually have only mobile internet connectivity and therefore depend on suitable data links.
Whichever variant companies and data center operators choose, the use of edge computing forces them to rethink their security measures. Why? Because hooking up to different distributed data centers adds to the danger of security loopholes. Cybercrime is not just about data theft: It can also involve manipulating infrastructure components such as cooling systems, which can then lead to outages and the loss of data. Moreover, as at every traditional data center, cyber security must be flanked by physical security. Depending on the size and form of the data center, requirements may differ, along with the measures that must be taken.
Above all, a constellation of distributed data centers creates the need to provide identical protection across all locations, not just in one place. More money has to be spent on security staff, for example, as no-gaps monitoring is essential. That is one reason why data center providers who have several data centers spread around spread around a region or a country are highly recommended. This constellation gives companies the chance to process data closer to their end customers.
A useful complement to traditional data centers
Many companies, aware of their need to keep pace with this development, are now responding. The technologies are advancing at a frantic pace: We are no longer talking about some time in the future. And while edge computing is no substitute for traditional data centers and the cloud, it is certainly a useful complement.
Every one of the many different data processing solutions has its own benefits and drawbacks. Each company therefore needs to weigh up these pros and cons and decide which approach is best suited to their specific requirements.
Wolfgang Kaufmann, CEO of Datacenter One, is a proven expert with almost 20 years of experience and outstanding management know-how.
Please note: The opinions expressed in Industry Insights published by dotmagazine are the author's own and do not reflect the view of the publisher, eco – Association of the Internet Industry.