Future of Connected Mobility
May 2019 -

Digital Infrastructure

|

Mobility

|

Connected Car
Future of Connected Mobility
The mobility of the future is connected, and offering the right vehicle, in the right place, and for every need is only possible and sustainable with the help of the Internet industry, says Alexander Rabe of the eco Association.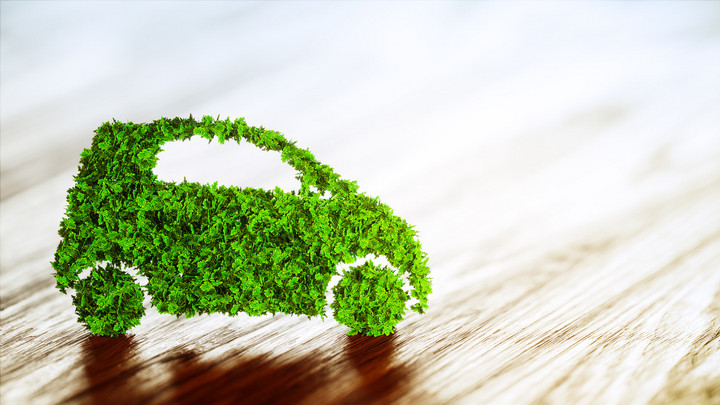 The mobility of the future is connected.
The mobility solutions currently in use – based on traditional concepts involving individual transport and largely fossil fuels – are problematic from an ecological perspective, and they by no means represent an efficient use of time or resources. Any time that we use our car for the commute to work, we are more than likely aware – this is generally not the most efficient choice.
And now, thanks to Internet technology, we are able to connect cars – or, to be more accurate, to connect individual mobility solutions. The car is one of these solutions, but so are the so-called micro-mobility solutions, like the currently hotly-debated e-scooters. This is the opportunity at hand.
Connected mobility offers a solution to a trend we can observe all over the world – namely, the fact that the majority of people now live in large cities or conurbations. This presents a quite different set of challenges, both in terms of the environment and in terms of getting people from point A to point B.
Generational differences in attitudes to connected mobility
The great thing we can see is that young people, in particular, intuitively recognize the potential of connected mobility and outwardly acknowledge their belief in these new technological solutions. At the eco Association, we recently launched a Civey survey on mobility, and most of the young respondents – the "Fridays for Future" generation – see the potential for connected mobility to result in increased efficiency. As a result, they are much more open to this technology.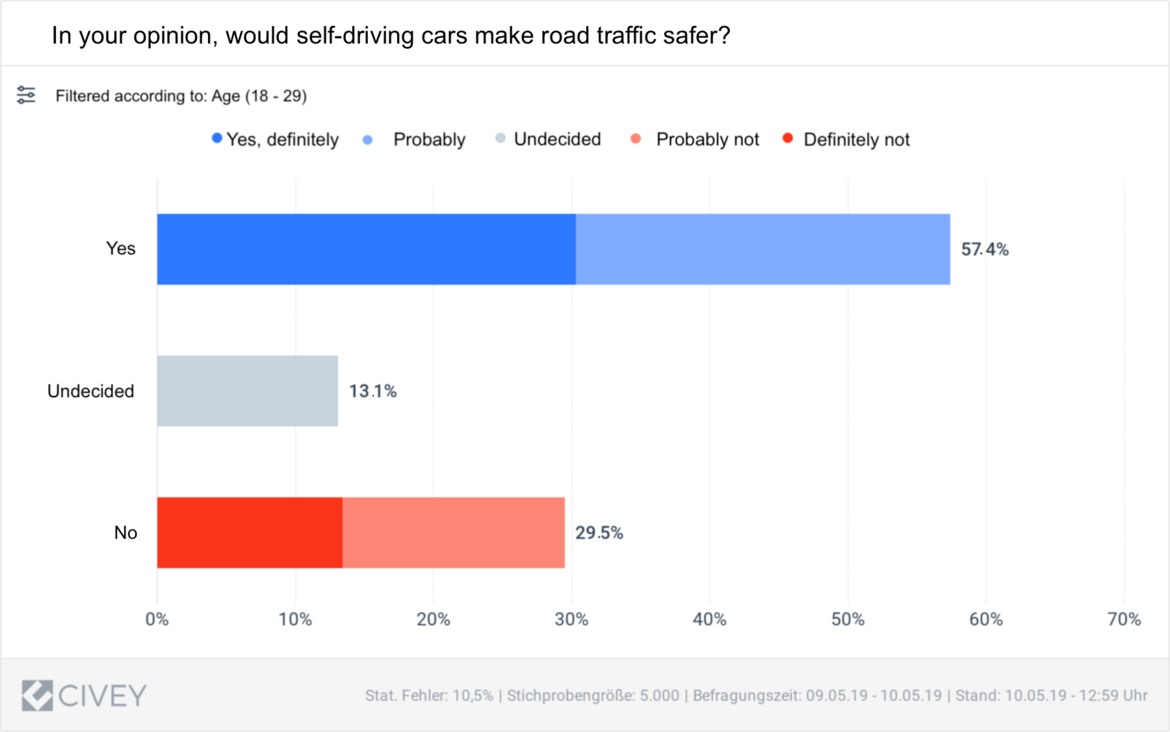 The case is completely different amongst the older generation, who predominantly reject these new technologies and associate considerable uncertainty with the possibilities of connected mobility, assistance systems, and partly-autonomous or autonomous driving.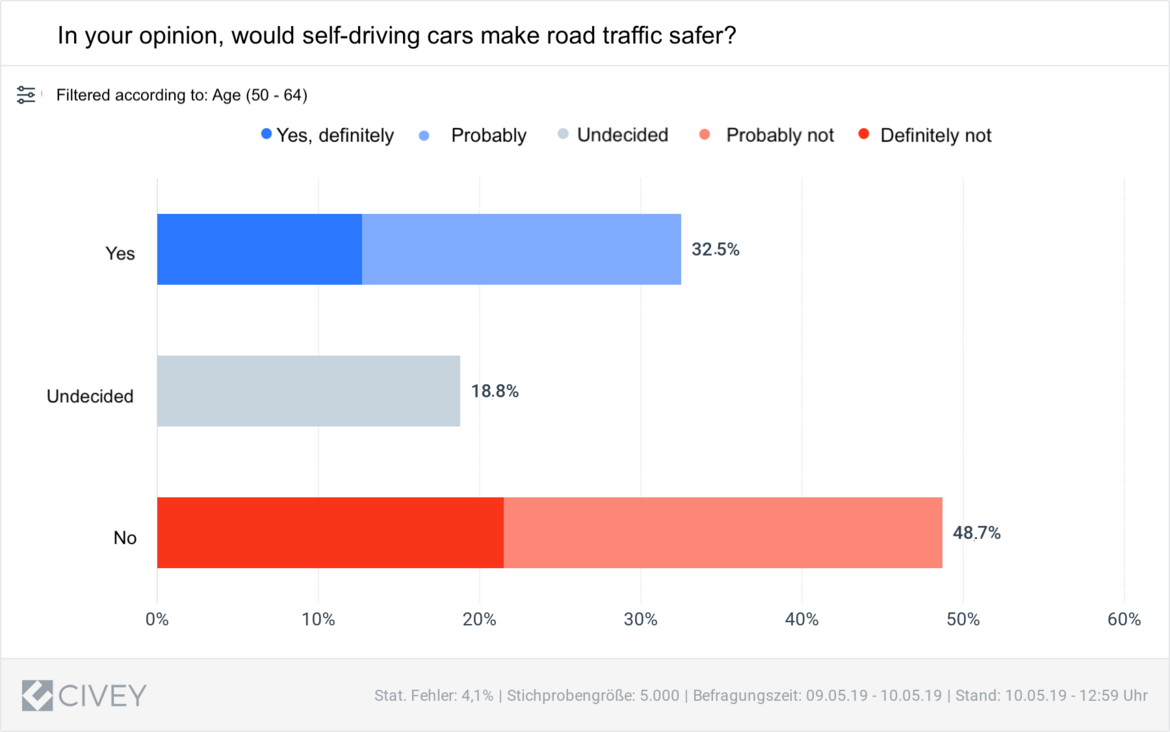 Allaying fears through exposure to mobility solutions
Just as the generational thinking is changing, mobility will also adapt to the needs of an increasingly urbanized world. We can already see the first developments in the direction of connected mobility – I think everyone has already experienced a parking assistance system in a car, and everyone uses a navigation system themselves on their phone, be it for running, cycling, or in the car. Navigation systems are a first step towards how connected mobility will increase efficiency. Car-2-Car communication is already widely available in new vehicles, and this trend is accelerating rapidly. A lot of cities already have examples of driverless underground trains, like the one in Nuremberg. Small driverless buses – such as the ones servicing the Charité hospital complex in Berlin – are another example of what's to come.
Now that such examples of connected mobility are becoming more prevalent, fear is starting to recede and trust is growing. The advantages that these technologies offer are becoming easier to experience and this creates acceptance for this potential for innovation. Now we need to make the most of this momentum.
Internet industry as bridge to connected future
As I said before, this development is thanks to Internet technology. Connected mobility is not possible without the Internet industry. Here two sectors which traditionally, at least in Germany, were very separate, now basically share a common destiny – one that the automotive sector must share with the very dynamically changing sector of the Internet industry.
Here at eco we offer a bridge which enables others access to the experience we have gained in the industry in the last 25 years, and allows them to take advantage of that experience. Because all of the topics that we deal with – be it digital infrastructure ranging from data centers to automation, or Car-2-Car mobility – are the elements that we now see as being the key differentiating features in such a traditional sector as the automotive industry. This will increasingly be the case down the line.
As is made clear in our new guidelines "Connected and Autonomous Mobility", the way industries cooperate and interact is changing dramatically, in order to make it possible to develop digitalized products and services. "We are getting closer and closer to the end of the silo economy, and the automotive industry is in the process of transformation. Until now, there has been a clearly-structured supply chain, in which OEMs, suppliers, software producers, and others led a silo-based existence and executed the wishes of their contracting partners in isolation. Cooperation with IT and Internet players will soon be unavoidable, in order to realize not only the seamless, secure, and low-latency interconnection of the vehicle and its components, but also the continuously increasing level of autonomy." (See: eco Association Guidelines "Connected and Autonomous Mobility")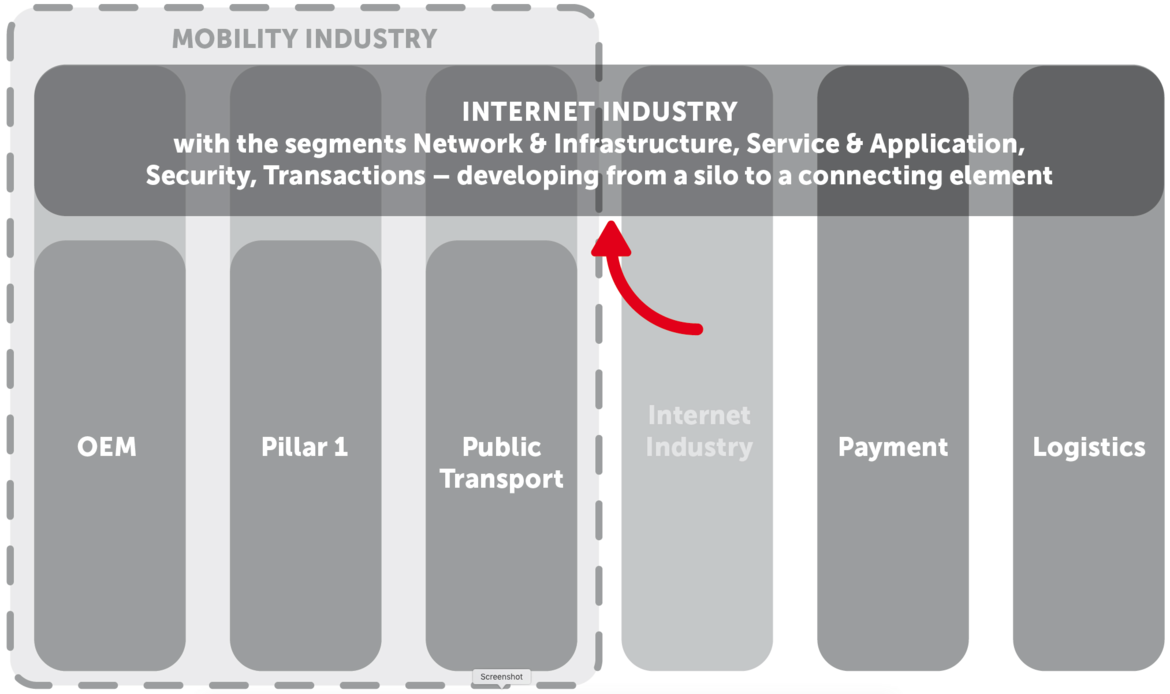 Digital infrastructures, such as data centers – which ultimately means edge computing, especially in the area of automobility – are the foundation for connected mobility. Edge computing has enormous research potential and enormous export potential if we are the first to combine and innovate with connected mobility, edge computing, and 5G. And I hope that any framework conditions that are created politically at the European level will also give us the opportunity to have this edge.
Drivers for acceptance of connected and autonomous mobility
In the context of our guidelines "Connected and Autonomous Mobility", another important finding that was elicited with the experts we interviewed from both eco and our ecosystem was that the main driver for the acceptance and future of connected mobility at the end of the day will be data protection and how to deal with it. However, this should not be seen as a hindrance, but rather as an opportunity. IT security will logically be a second elementary pillar. And after that comes the question of liability. This calls for politicians to establish a liability regime for the market that can be balanced and functional.
From our point of view, the Digital Single Market in Europe must result in us agreeing on a Europe-wide security level – in the area of data protection this has already been done with the GDPR, but this also needs to be the case with liability. This is the only way to keep the market competitive between the strong poles of Asia and America: There needs to be harmonization of liability law at the European level, in order to offer industry and consumers legal certainty and a level playing field.
The competition for future mobility solutions is fierce. Especially in the Americas, but also in Asian countries, I think people understood much earlier that the kind of individual mobility as we know it in Europe – I buy myself a brand-name car and, preferably, end up bequeathing it to my children – is now a thing of the past. It will never exist again in this form. And I'd say that's a good thing.
Now the automotive industry needs to work quickly to integrate the potential we currently have into its production processes, into its return processes, and into the mobility concept in general. There are a few nice examples. At our eco://kongress last year, we learned a lot from Mini about how mobility is perceived – namely, the commute from house to office is a lifestyle choice, whether it is in a car or another form of transport. It's about trying to understand our own mobility preferences as an integral part of mobility services.
5G essential for Car-2-Car Communication
As I said, the Internet industry is the driver. A standardization specification for Car-2-Car communication is being introduced in Europe in mid-June, unfortunately based exclusively on WiFi technologies, which is really only part of the story. We are currently in the process of granting 5G licenses in Germany. Other countries have even started using them already, such as Switzerland. The latency times over 5G are fantastic, and the potential of new business models within connected automobility is enormous.
And these technologies offer unbelievable potential for connected driving if they also have the possibility to be integrated as standard. The draft to be discussed in the European Parliament in mid-June does not provide for this. We, as the Association of the Internet Industry, would strongly urge the Parliament to at least agree upon a technology-neutral version, and not to stipulate a technology that will not meet the requirements for mobility even in the very foreseeable future; requirements that we have now identified in our guidelines "Connected and Autonomous Mobility".
* On behalf of eco Service GmbH, the market research institute Civey surveyed 5,000 people on the 9th and 10th May 2019. The results are representative for the German population 18 years and over. The statistical margin of error for the overall result is 2.5 percent.
Since January 2018, Alexander Rabe is Managing Director of eco – Association of the Internet Industry, the largest Internet industry association in Europe. He took over the management of eco's Capital Office, including the division of Policy, Law and Regulations, in 2016. Prior to that, Rabe was CEO of the Gesellschaft für Informatik (GI) and CEO of German Informatik Akademie GmbH in Bonn.