Alleviating the Shortage of Skilled Workers With the Help of Artificial Intelligence
October 2022 -

IoT

|

Artificial Intelligence

|

Autonomous Driving
Alleviating the Shortage of Skilled Workers With the Help of Artificial Intelligence
Hauke Timmermann, Digital Business Models Consultant at eco, on how AI can help train up staff to take on more specialist roles in Industry 4.0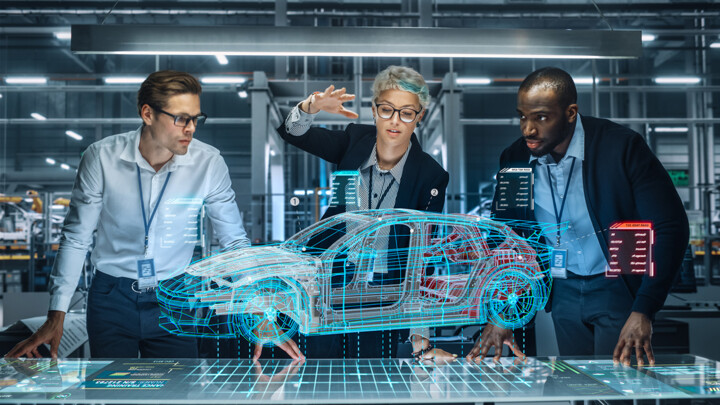 Hauke Timmermann, Digital Business Models Consultant at eco, talked to eco's Hanna Sissmann about how AI can help train up staff to take on more specialist roles in Industry 4.0.
Which tasks can already be automated by digital systems today? How can we support skilled workers in Germany with technical solutions?
Automation through digital systems helps to relieve people of repetitive tasks in everyday life. With the help of approaches such as robotic process automation, machines can take over simple tasks. Artificial intelligence has found its way into process automation. For example, there are systems in the HR sector that can automatically process sick notes. The system automatically opens emails, extracts the attached data and stores it in the system. Afterwards, the supervisor is automatically notified so that sick leaves only have to be processed by individual employees in special cases.
In which sectors do you see the greatest potential for the use of automated solutions?
There is great potential in all sectors that have digital data. That is the telecommunications industry, for example. We've all had experiences with a chatbot or a voice AI on the phone. Artificial intelligence is also finding its way into industry. When industrial machines are defective, intelligent systems can help to detect these anomalies better and faster. Service staff can react more quickly when machines break down and, by analysing the algorithm, can concentrate completely on the repair or even maintain machines remotely.
It sounds like these technologies are primarily suitable for large companies with corresponding manufacturing volumes and a large amount of data. What are the possible applications for SMEs and small businesses (SMEs)?
SMEs also generate a lot of data that can be made usable for machine learning processes. For example, many companies work with a ticket system or have different service processes. Here, AI helps considerably in making this data usable. The corresponding calculations are also possible and useful on the basis of smaller amounts of data. In the Service-Meister funding project, we are developing the first practical use cases together with industrial companies. We are identifying the service processes and procedures in which AI can be used. AI systems are then implemented there to optimise the companies' processes.
What insights have you already gained in the project?
In many companies, we see that the level of digitalisation should increase even more. Companies still have a lot of work ahead of them, for example when it comes to equipping machines with sensors or developing a data culture. The attitude towards AI also needs to change in companies and among professionals. It is important that professionals accept the support of chatbots and intelligent systems and use them in their everyday work. The better they understand the systems, the higher their acceptance.
What are the benefits of automated solutions for companies?
With the help of machine-readable reports that qualified experts create, they can make their insights available to other colleagues. A chatbot can retrieve this expert knowledge again and again and pass it on to new professionals. In this way, the knowledge and experience of professionals who retire, for example, are not lost. With the support of intelligent systems, even less qualified skilled workers can perform difficult and complex tasks. This, in turn, can relieve the workload of more highly qualified employees. Artificial intelligence thus helps to alleviate the shortage of skilled workers in industry and avoid service failures. For industrial operations, these systems bring more efficiency.
Life-long learning: How much prior knowledge do skilled workers need to use applications based on machine learning?
Professionals can very easily acquire such knowledge nowadays. The AI Campus offers an introduction to the topics of Industry 4.0 and machine learning for every level. People with no prior knowledge can join and learn the basics. Together with AI Campus, we have developed a low-threshold e-learning programme for technical service professionals. It is also suitable for decision-makers who want to implement AI systems in their company. There is even a curriculum on our website for self-study.
AI cannot replace humans, especially in social areas such as care. To what extent do intelligent solutions nevertheless make sense as support?
There are also useful use cases in the care sector. For example, blind people can use automatic voice input on their smartphones to make their own doctor's appointments. For this, they are no longer dependent on the help of care staff these days, except for the set-up, of course. Some digital applications, some of which are based on artificial intelligence, already are all around us today. But other digital assistance systems are also conceivable that relieve people in care. With all these solutions, we want to support people, not replace them.
Hauke Timmermann is Consultant for Digital Business Models and is the Project Lead for the Service-Meister project at the eco Association.
Hanna Sissmann is a Junior PR Manager in the Communications Team at eco – Association of the Internet Industry. She has a focus on Social Media, video and audio content and makes complex tech topics comprehensible. She is also responsible for the German podcast "Das Ohr am Netz", bringing together a line-up of interesting guests, and highlighting Internet industry topics and stories.