Working with AI - Guidelines for Ethical Conduct in a Digitalized Working World
April 2019 -

Digital Ethics

|

New Work
Working with AI - Guidelines for Ethical Conduct in a Digitalized Working World
Lucia Falkenberg, CPO of the eco Association, on working with AI & Corporate Social Responsibility, valuing the work of humans, and the need for lifelong learning in a changing working world.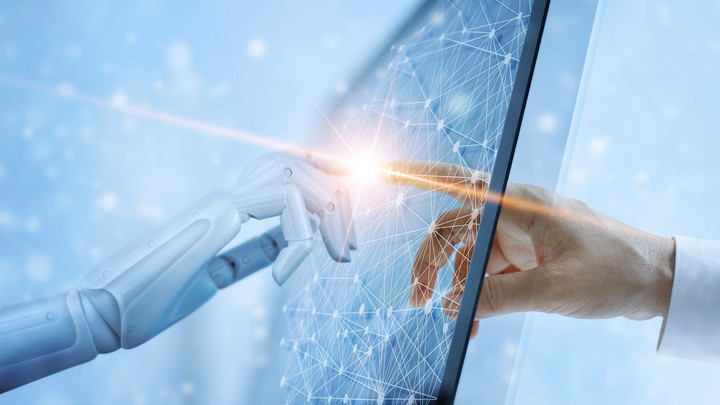 As with virtually all areas of life, the working world has been fundamentally transformed by digital technologies in recent years.
We are witnessing how the Internet and related digital applications, as well as the use of technologies based on artificial intelligence, are changing work processes, further developing activities, creating new job profiles, shaking up communication routines, and impacting social structures in organizations.
Employees in Germany currently still have very mixed feelings in encountering these trends. In a recent representative survey conducted by the opinion research institute Civey on behalf of eco, around half (49.5%) of those surveyed stated that they believe that digitalization will improve the reconciliation of family and career.
At the same time, however, many still fear negative consequences for their workplace: in particular, the prospect of artificial intelligence and self-learning machines still incites fear among many employees.
Without a doubt, many of these assessments are not founded on prior personal experience, but rather on speculation and a lack of knowledge about the new technologies. An essential point in the context of the digitalization of our working world is therefore the topic of education and training. As a representative of the Internet industry, eco is convinced that lifelong learning is one of the – if not the – most decisive success factors for the digital transformation of companies and our entire society.
This view is incidentally shared by the majority of Germans. For example, 85.4 percent of all the Civey survey respondents believe that employees in an increasingly digitalized working world need to undergo significantly more (46%) or more (39.4%) further training than they do today. However, a large proportion (41%) of those surveyed rate the corresponding further training opportunities as poor.
Together, all of these issues pose a series of challenges, for employers and employees on the one hand, and on the other hand for policy-makers, who need to ensure the right framework conditions at the level of employment law.
On the employer side, the human resources departments are called upon in particular to act as seismographs and catalysts: They must monitor developments in the context of digital transformation with reference to the new working world, categorize them for their company, evaluate them and, if necessary, facilitate the respective change processes in the company. This is far from an easy task, especially since numerous ethical questions arise in this context, which certainly often require fundamental and top management decisions.
As a standard, eco – Association of the Internet Industry has developed six guidelines for ethical conduct in a digitalized working world for its member companies, which can also be used by all other organizations.
This guide is neither a directive nor a checklist to be ticked off. Rather, we see it as an initial orientation aid in the search for pointers to answer the relevant questions that responsible companies should ask themselves in the course of the digital transformation of the working world.
1. Companies must develop a code of conduct for the use of digital technologies, especially in the area of human resources
In the coming years and decades, digitalization will lead to profound changes in our working world. Every company, whether it be a local plumber service or a global corporation, has to deal with what digital transformation means for its business and its employees and think about how it intends to use digital technologies in future to profit from the enormous growth potential of digitalization. Inextricably linked with this are always fundamental decisions which need to be based on an ethical stance. An analysis of the question of what a digital working world looks like, that places people – instead of technology – in the center, and that involves as many participants as possible, is also necessary. A first step here is a cool-headed consideration of the question of what constitutes AI, and recognition that we need to focus more on how to determine the value of human work, instead of either suspiciously observing our robot colleagues as competitors, or attributing human traits and characteristics to them.
The starting point for ethical considerations is the question of what the (working) world should look like that we want to live and work in using AI and other digital technologies – and how we can succeed in making the human mind irreplaceable despite (or precisely because of) its assumed susceptibility to error. According to most experts, basic human qualities such as creativity, communication skills, and empathy will continue to be irreplaceable in the future and often go hand-in-hand with non-linear thought structures – as such, it is time to put the focus on these skills. Those who understand the transformation of the working world as representing an opportunity will inevitably need to clarify the fundamental issues in the form of a company-wide Code of Conduct, and to maintain this code as a decision-making basis for all questions in connection with digitalization in the human resources sector.
2. Employ digital technologies for the benefit of employees
Digitalization is not an end in itself, but should ensure quality of life and work as well as economic growth. Companies should therefore examine whether and how they can make use of digital technologies to improve their employees' working conditions. On the one hand, this involves the reduction of physically stressful, heavy, and monotonous activities, for example through the support of AI and automation in favor of "healthier work", and more freedom for creative, communicative tasks.
On the other hand, companies should review their regulations regarding the time and place of work delivery to see how more flexible solutions and the use of digital technologies, e.g. in the area of mobile communication, can result in advantages for all employees in terms of better reconciliation of work and private life. Ideally, this will not only lead to greater diversity in the company and open up new career paths for the large number of highly qualified women, but will also pave the way to greater gender equality for future generations. Companies should also pay particular attention to better integrating those groups of applicants who have had a difficult time on the labor market to date. Thanks to digital technologies, it will be easier to integrate colleagues with physical disabilities or to facilitate employees over the age of 50 to participate in working life on a long-term and fulfilling basis. This potential must be exploited not only because of the shortage of skilled workers, but also in order to enable as many people as possible to enjoy a fulfilled working life.
3. Make the use of artificial intelligence transparent
Technologies and applications based on artificial intelligence offer major opportunities for the accurate analysis of large amounts of data and the recognition of patterns. They are suited to supporting and assisting us in decision-making processes, for example by pre-sorting and classifying large data sets. This can help to gain an overview of relevant applicants in the early stages of the recruitment process, for example. More and more companies are using these technologies in their recruitment processes. AI can help here to identify interesting candidates – an option that is relevant for many companies in times of persistent shortages of skilled workers (according to figures from the German Economic Institute, the specialist gap in the IT industry alone more than doubled between 2014 and 2018 from 16,000 to 39,600).
In the interests of transparency, and in order to keep the possibility of appeals open to applicants, companies must make the use of artificial intelligence in the application processes visible.
The algorithms on which the applied AI technologies are based should be non-discriminatory and guarantee fairness and equal opportunities.
Data protection and privacy should always have top priority when artificial intelligence methods are used in application procedures. Ultimately, the customer, in this case the applicant, will decide on the success of the use of AI. Because automated business and decision-making processes are still often met with mistrust, trust must first be developed. Transparency about the use of AI is an essential step in this direction, and reflects the position that AI should support and complement human work.
4. Decision-making sovereignty must always remain with people
Digital technologies and AI applications can support us in many activities, accelerate and simplify work processes, and make work results more reliable. Both companies and their employees can benefit from this. All decisions about the use of these technologies should, however, be based on the premise that digital technologies are only tools that people consciously use. In the discussion about assistive or decision-making AI, the person remains the final and decisive authority.
5. Develop lifelong learning and digital education concepts
The imparting of digital competencies and the participation of everyone in digitalization should be regarded as an opportunity for society as a whole and understood as a continual and lifelong task. Ultimately, participation in the digital future requires education, training, and continuing education at every stage of life.
Digital transformation is an ongoing process that will shape our working processes and conditions in the coming decades and bring about constant change. With regard to employees, this means that the half-life of training will be shorter. Lifelong learning must become the standard in all areas of work and industries, whether trades, administration, or commerce. Companies must develop concepts for the continuous further education of their employees with regard to digital skills and the use of new technologies if they want to count on the availability of effective teams and satisfied employees in the long-term.
6. Corporate Social Responsibility rounds off corporate behavior
Continuing economic success, but also the concern about a present marked by global threats and climate change, are paving the way for a paradigm shift in favor of a value-oriented working world. Questions about sustainable, meaningful work, which can make a clear contribution to our society, will become more important in view of the increasing automation of well-known work processes. In addition to striving for purely economic success, more and more employers are also positioning themselves in terms of the extent to which they are committed to their employees, their health and development, and how seriously they take their social responsibility. For example, the education and qualification concept presented here is a valuable contribution which companies that acknowledge their social responsibility can offer. A credible corporate social responsibility strategy not only plays a key role for employer marketing in the competition for the best specialists, but also complements business growth targets.
Lucia Falkenberg is Chief People Officer with eco – Association of the Internet Industry and DE-CIX Management GmbH. Having joined eco in 2012, Lucia became Head of the eco Competence Group New Work in 2014. Prior to her role at eco, the Business Studies graduate managed her own human resources firm, where she successfully supported numerous clients in finding and retaining talented personnel. Lucia also previously worked as an international HR representative for an American IT company. Her extensive experience and know-how across the entire human resources spectrum is of particular benefit when it comes to advising executives and developing and implementing targeted personnel marketing and recruitment strategies. As a professional mother and woman working in the digital sector, Lucia benefits directly from the opportunities offered by the digital world of work.