Electronic Invoices Streamline Processes and Save Paper
June 2017 -

E-Commerce

|

E-Payment
Electronic Invoices Streamline Processes and Save Paper
The slow adoption of electronic invoicing among SMEs belies the financial and environmental advantages of e-invoicing. The eco Association and Aschaffenburg University of Applied Sciences explore the acceptance factors of e-invoicing.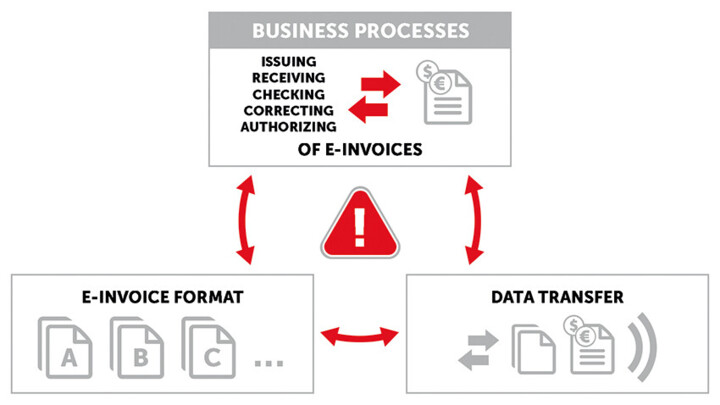 e- Invoicing: Successful interplay between an accepted invoice format, correct data transfer, and the realization of business processes is necessary for electronic invoices to be accepted. 

According to estimates by the Federal Government, of the around 32 billion invoices that are exchanged annually in Germany, more than 90 percent are in paper form [1]. Even only calculating for one-page invoices, this would account for roughly 144,000 tons of writing paper, which corresponds to about 48 fully-loaded freight trains [2].
The saving potential for printing, sending, postage, and the respective receiving process is worth billions per year alone in Germany. The electronic invoice is establishing itself as a central element of the further move towards digital transformation in industry and retailing in Germany and Europe. Associated processes like electronic payments (e-payments) are also increasing in economic significance [3]. Nevertheless, the share of electronic invoices is currently still within single-digits.
A survey among small and medium-sized enterprises (SMEs) carried out by the Junior Chamber International Germany (Wirtschaftsjunioren Deutschland e. V.) shows how much still needs to be done: only 9 percent of the companies surveyed issue electronic invoices, 37 percent use only the paper form, and 48 percent send invoices partly by e-mail and partly on paper. 
Emerging European standards for e-invoicing
PDF-based solutions are mostly used for paperless invoices. Larger companies are using the international EDIFACT standard. Industry solutions such as the VDA 4938 standard by the German Association of the Automotive Industry (Verband der Automobilindustrie e.V.) are well-established. An approach for hybrid invoices is the format ZUGFeRD in which the data is stored separately in two components, one in structured form as XML data and the other one as directly readable iconic PDF data.

In order for the digital transformation in e-invoicing to be successful, it is necessary to define official and thus reliable standards at the European level. On this basis, open systems can be designed in such a fashion that electronic invoices can be universally created, transmitted, received, processed, and archived. In this sense, a unified European system should replace stand-alone solutions of individual sectors and companies as soon as possible.

Acceptance of electronic invoicing
To understand why invoices are still mainly sent in paper form, the Information Management Institute (IMI) at the Aschaffenburg University of Applied Sciences started to explore the acceptance of electronic invoicing. Acceptance factors such as trust, liability, and reliability were identified as being crucial for electronic invoices.  

The current contexts in which electronic invoices are actively accepted can be broken down into three different scenarios: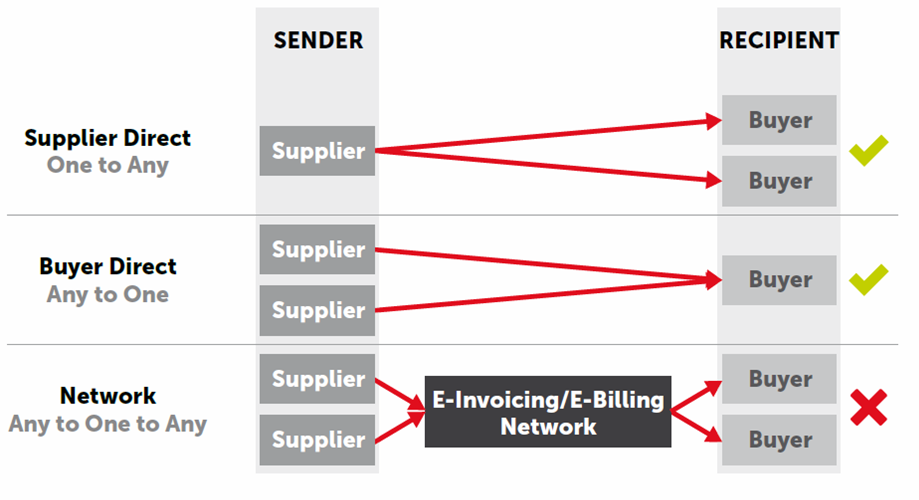 E-invoicing: recommendations and uncertainties
From the point of view of the Internet industry, using systems to create, send, or receive, process, and archive electronic invoices is essential for the further development of the digital economy and digital transformation as a whole. The further development of electronic invoices in Europe is uncertain. What is certain is that electronic invoices are a significant and central component of the digital transformation of industry and administration.
Benefits of using electronic invoices:
Expenses: electronic invoices reduce the cost of printing, paper, enveloping, and postage compared to paper invoices.

Process advantages: with paperless invoices, factoring is more secure and faster. Hybrid invoice forms like ZUGFeRD, which combine PDF and XML data, are tailored for SMEs. 
Future security: currently, the CEN TC 434 is being created as an official European format. According to the EU Directive 2015/55 / EU, public EU administrations must be able to accept and process e-invoices from November 2018 onwards.

Environmental contribution: up to 250,000 tons of writing paper can be saved in the EU, equivalent to the load of more than 80 complete freight trains

Prof. Georg Rainer Hofmann and Meike Schumacher explore how and when digital invoices are implemented and accepted in a study for eco – Association of the Internet Industry. Download the abridged version of the study "Acceptance Factors of E-Invoicing".  
References:
See draft legislation from the German Federal Government, 12 October 201
For one A4 page per invoice, at a weight of approx. 5
About the authors:
Prof. Dr. Georg Rainer Hofmann is a professor and director of the Information Management Institute (IMI) at the University of Applied Sciences in Aschaffenburg. His academic work and publications comprise political and strategic issues of Information Technology, Professional Service Firm Management, as well as Digital Markets and E-Commerce. Among other mandates, he serves as the speaker of the eco Competence Group "E-Commerce and Digital Markets".

Dipl.-Bw. Meike Schumacher has a degree in Economics and researches expertise and knowledge transfer within the European Social Fonds (ESF) at the Information Management Institute (IMI), University of Applied Sciences in Aschaffenburg. Her work focuses on methods concerning the improvement of acceptance of technical systems, and related communication issues.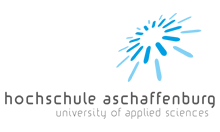 Please note: The opinions expressed in Industry Insights published by dotmagazine are the authors' own and do not reflect the view of the publisher, eco – Association of the Internet Industry.