Interconnection Demand Surges as the Pandemic Accelerates Digital Transformation
November 2021 -

Digitalization

|

Connectivity
Interconnection Demand Surges as the Pandemic Accelerates Digital Transformation
A new market study shows how private interconnection is surpassing the public Internet as a key means of data exchange, explains Dietmar Kessler from Equinix.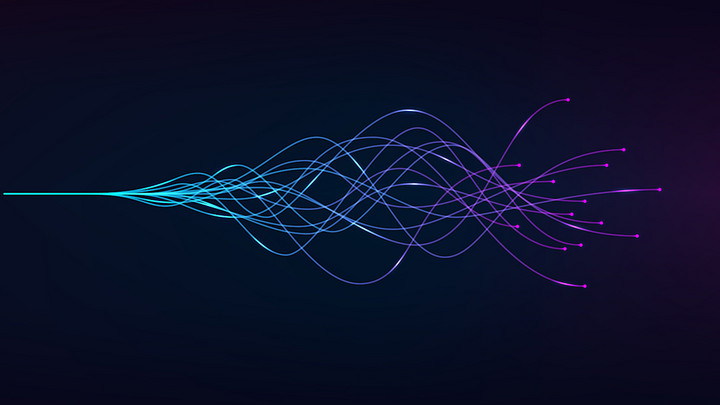 The Covid-19 pandemic has forced businesses into digital overdrive: The current rise of Industry 4.0, e-health, or e-commerce, which notably accelerated during the lockdown, shows that digital transformation is impacting every sector.
While rapid growth start-ups and large companies were initially seen as the main driving force behind digitalization, due to their expertise and IT resources, Germany's small and medium-sized enterprises (SMEs) have been catching up, investing more in modernizing their IT.
In order to stay competitive, enterprises require a powerful IT infrastructure that is highly secure while providing the necessary flexibility to connect and exchange data with partners and external service providers such as cloud providers. A key component of this infrastructure is private interconnection: the direct and secure exchange of information between companies and locations, which mainly takes place within large colocation data centers while bypassing the public Internet.
Interconnection is driving digital transformation
As the Global Interconnection Index Volume 5 (GXI), an annual market study published by Equinix, shows, interconnection is rapidly growing on a global scale. Until 2024, interconnection bandwidth is even forecast to be 15 times larger than the public Internet, underlining the key role private interconnection plays in the digital economy.
In the EMEA region, this digital transformation of enterprises is also advancing at a fast pace, thanks to the symbiotic relationship between enterprises and service providers. EMEA business leaders are increasingly powering their digital strategies through interconnecting with service provider[1] digital infrastructure at both digital core and edge locations. The interconnection bandwidth[2] for these interactions is projected to make up 64% of the region's overall estimated interconnection capacity between 2020–2024. The EMEA region is expected to grow at an overall 46% CAGR by 2024, contributing 5,327 terabits per second (Tbps) to account for 25% of global interconnection bandwidth.
During the pandemic, EMEA service providers had to "step up" to meet the unprecedented demand from enterprises. As a result, service providers deployed 20% more digital infrastructure in EMEA than other regions worldwide. The high volume of digital infrastructure deployments by service providers in EMEA provides the foundation for enterprises to accelerate interconnection bandwidth growth and fast-track their digital-first strategies.
Digital infrastructure is growing both at the core and edge locations
According to the report, both core and edge locations in EMEA are growing quickly, spanning multiple markets and industry ecosystems. Digital core locations are where organizations establish the foundation for their digital platform, and digital edge locations are where an organization enables local proximity to customers, employees, endpoints and intelligent operations. Conceptually, the core includes corporate network, multicloud and regional back-end data infrastructure locations, and the edge includes locations close to specific ecosystem concentrations – driving gravity, density and value. However, given a business's employee, partner and customer location requirements, enterprises will define their core and edge locations as they see fit, along with the interconnection requirements with specific ecosystem partners in all markets.
Core locations are forecast to grow at a 45% CAGR to 3,994 Tbps, representing 75% of the regional forecast.
Edge locations are expected to expand interconnection bandwidth capacity 10% faster than core markets to support the growing need for local participation and maintain regional compliance.
Frankfurt is among the largest markets for private connectivity in EMEA
The GXI report forecasts that the FLAP (Frankfurt, London, Amsterdam and Paris) markets will make up the largest in overall EMEA interconnection bandwidth capacity by 2024 with 75% of the regional mix. Paris is the fastest growing core market in EMEA at a 47% CAGR, and the top three growing edge locations are Dubai (60% CAGR), Dublin (58% CAGR) and Madrid (56% CAGR). As the second-largest market in EMEA after London, Frankfurt is forecast to grow at a CAGR of 44%, reaching an installed interconnection bandwidth of 878 Tbps by 2024.
EMEA industry ecosystems that are leading in digital transformation
Enterprise industry ecosystems are driving 36% of the EMEA region's interconnection bandwidth mix. Service providers are enabling enterprise growth by deploying in multiple core and edge locations in the region, with an average of two core and four edge locations.
The following industry service providers and enterprises are examples of those leading the way in deploying digital infrastructures:
Telecommunications providers alone make up 32% of the EMEA interconnection bandwidth global mix, with 1,737 Tbps and a 45% CAGR by 2024.
EMEA's Financial Services sector leads in enterprise interconnection bandwidth capacity (18% of the regional mix), with London and Frankfurt as the top EMEA markets in the Banking & Insurance and Securities & Trading sectors.
EMEA's Public Sector was behind the digital transformation curve but is catching up fast as it is forecast to be the fastest-growing industry with an annual interconnection bandwidth growth rate of 54% by 2024.
While Covid has forced businesses to innovate in many ways, by both expanding existing and introducing new digital services, the infrastructure underpinning these services must keep pace. As the new data indicates, the expansion of digital infrastructure is unlikely to slow down any time soon.
Footnotes
[1] Service providers include: Telecommunications, Cloud & IT Service, Hyperscaler Providers, and Content & Digital Media.
[2] Interconnection bandwidth is a measure, calculated in bits/sec, of the capacity provisioned to privately and directly exchange traffic between two parties, inside carrier-neutral colocation data centers.
Dietmar Keßler is Marketing Director for Equinix in Germany and is based in Frankfurt. He joined Equinix when the company first entered the German market in 2007. Dietmar Keßler knows about current industry trends and can provide insights on a multitude of IT developments across different industries from the perspective of a global interconnection and data center company.

Please note: The opinions expressed in Industry Insights published by dotmagazine are the author's own and do not reflect the view of the publisher, eco – Association of the Internet Industry.