Building Trust for Women in Tech
November 2022 -

Women in Tech
Building Trust for Women in Tech
To raise women's enthusiasm for the tech industry, key actions are required, as highlighted by Christine Serrette from ITZBund.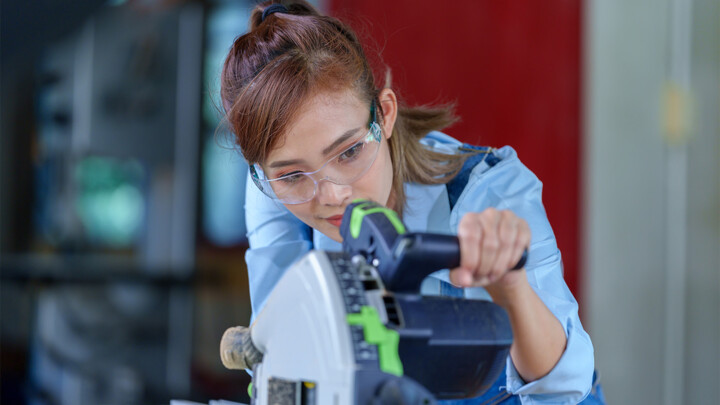 dotmagazine: What is your day-to-day work like as Technical Vice Director at the ITZBund (i.e., the German Federal Information Technology Center)?
Christine Serrette: Working for the ITZBund is very exciting and, above all, multifaceted. Our job as the federal IT service provider is to drive forward the digitalization of the entire federal administration.
Cloud computing in all its facets is what I find particularly fascinating, and digitalization shows what a high demand there is for scalable IT applications, such as those made possible by the cloud. With the federal cloud we have set up, we are also making an important contribution to shaping digital sovereignty with modern technology and innovative methods. In addition, the topic of sustainability and green IT will be of major importance to us in the coming years. As you can see, we have important topics with a strong political impact on our agenda.
dot: You once mentioned in an interview that there was a common greeting in your professional career: "Good morning, Ms Serrette. Good morning, gentlemen". What are your experiences from working in a male-dominated environment? And where do you see us today in the field of women in tech?
Serrette: Yes, I know very well the feeling of being the only woman in the room. Fortunately, that has improved in the meantime. The proportion of women at ITZBund is currently around 33 per cent, and the average age of female employees is 43. Internal programmes such as "Part-time Managers" enable women, but also men, to reconcile family and career. So I see us on a good path.
dot: Nonetheless, there are still only too few girls who choose STEM subjects and too few women who choose a tech career. This can be largely due to traditional clichés and assumptions. What do you believe the industry, politics, and society should do to stimulate a greater interest among girls and women in IT and tech?
Serrette: We have to start by dismantling old role models and getting girls enthused about digitalization. This starts with children's upbringing and continues from primary school. We have to empower girls and young women to believe that they can do anything and that technology is also something for girls. To make this happen, we also need more role models in our society. For example, why not see being a programmer as a typical female profession? It's also about motivating girls and not belittling them if they have a good understanding of mathematics and technology.
To this end, the ITZBund works closely with universities and aims to generate young women's interest in IT at an early stage through internships or initiatives on Girl's Day.
dot: What is your career tip for women?
Serrette: Focus on networking! In a strong network, you benefit from the experience and know-how of others who are already where you'd like to be. A good network can also open doors that would otherwise remain closed to you. Above all, stay curious – in a positive sense – and open to current developments and innovations. What proved to be successful in the past does not necessarily have to be crowned with success in the future.
dot: In your opinion, what are the main arguments as to why women should opt for a career in tech?
Serrette: Digitalization offers a multitude of versatile fields of work with a great deal of creative freedom and enormous opportunities for advancement – with the development of artificial intelligence or the topic of cybersecurity being just some of these facets. Nevertheless, only 19% of employees in the German IT industry are women. That is why we want to motivate women in particular to actively participate in shaping the digital transformation.
dot: The pandemic has unsparingly exposed the deficits in the field of digital education. As a tech leader and as a mother, what would you like to see for children's digital education?
Serrette: Anyone who wants to help shape the digital transformation and act independently in the digital world must have digital sovereignty. Digital sovereignty is an essential prerequisite for societal participation, current and future competitiveness – and thus also for our prosperity. Digital education is the key to participation in the digital world.
As such, the education system in Germany – from schools right through to further professional training – must become more agile and flexible. Covid was certainly a driver and accelerator here, and a lot has already moved forward in the last two years. Digital learning opportunities must become the standard. The prerequisite for this is further investment in the digitalization of schools. Children are often more advanced than their teachers, and teacher training urgently needs to be adapted.
Christine Serrette has been Technical Vice Director of the ITZBund since November 2021 and works to equip public authorities with modern IT and lead them into the digital future. The business graduate previously worked for companies in the food, insurance, and IT industries in Europe and the USA. From 2009 to 2018, she held leading positions at BWI in Bonn, including Senior Vice President, Business Consulting & Applications. Before joining ITZBund, Christine Serrette was Vice President Consulting Services Bundeswehr at CGI GROUP, where she was primarily responsible for IT and business processes.
This interview with Christine Serrette has also been published as a core part of the eco Association white paper "Girls in Tech: A Call to Action," which was launched on the occasion of Girls' Day, 28 April 2022. The white paper is founded not just on top-notch research studies, but also on insights from 15 role models from IT & tech companies and associations in Europe, the US and Africa. The far-reaching paper not only sets out lessons and recommendations for companies, but also key guidelines for policymakers & educators.
Please note: The opinions expressed in Industry Insights published by dotmagazine are the author's own and do not reflect the view of the publisher, eco – Association of the Internet Industry.