Why Healthcare can Benefit from AI
April 2021 -

E-Health

|

IoT

|

Artificial Intelligence
Why Healthcare can Benefit from AI
Machine learning and voice assistants are essential to digitalizing care, as is digital infrastructure, explains Dr. Bettina Horster from the eco Association and VIVAI AG.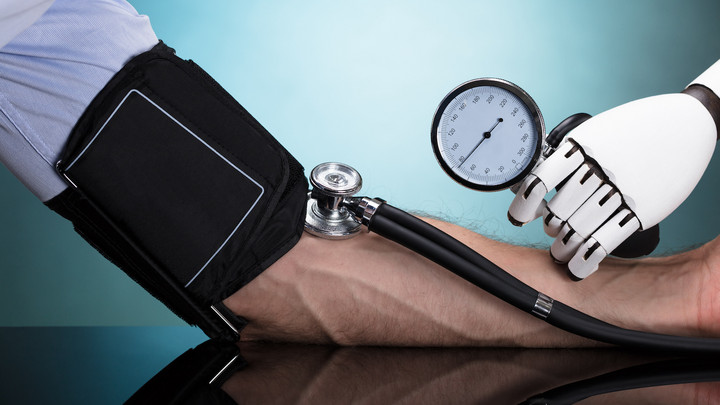 According to a representative survey commissioned by the opinion research institute Civey by eco – Association of the Internet Industry in April, the pandemic made it clear that a large proportion of Germans feel there is some catching up to do in terms of digitalization in the healthcare sector. In particular, the electronic patient file and the digital vaccination card are increasingly being discussed.
But within healthcare, there is one area that has so far eluded virtually any type of digitalization from an operational perspective: Nursing – and more specifically, care of the elderly. In many cases, caregivers and care consultants have a fear-based attitude toward technologization, and there is a lack of products that actually support people with limited mobility and their caregivers. At the same time, there is a great deal of untapped potential from which we can benefit enormously, both socially and in terms of our own future.
Despite demographic change and shortages in the care industry, there has been virtually no advancement in operational care. To be honest, if a nurse had been locked in a time capsule for 50 years and re-emerged now, they could seamlessly resume work in today's environment without any problem. Within the healthcare sector, the use of digital solutions and support systems in geriatric care is trailing even further behind.
But why is this? What are the systemic problems in geriatric care? Why is this area so out of touch technologically? In particular, elderly people in need of support can benefit disproportionately from technologies such as machine learning, language processing, and cognitive services. This is because they simplify and facilitate access to and interaction with technology.
IT and IoT can make a significant contribution to the safety and wellbeing of the individual patients, and thus to their self-determination and ability to remain in their own home for longer. Digital assistance systems make a major contribution to simplifying everyday life. In addition, the digitalization of care facilities for the elderly offers opportunities to significantly reduce staff workloads and provide real added value for residents in terms of both care and digital communication, especially during the pandemic.
Digital infrastructure as a central prerequisite
Digital infrastructure is a major problem in care facilities, in particular. To give an example, despite the legal obligation – effective since 2019 – for nursing homes in the German state of North-Rhine Westphalia to offer Internet access for their residents, there has been thus far very little movement in this regard. Most residents of nursing homes still do not have access to Wi-Fi. Through the move into a nursing or retirement home without appropriate Internet access, this group will be digitally disconnected.
A functioning digital infrastructure is a key prerequisite for driving digitalization in the care sector. In addition to providing access to digital communication options for residents, nursing staff could also be supported considerably through the use of new digital technologies and appropriate software, for example for monitoring the health of residents.
Particularly in the current Covid-19 crisis situation, the use of digital assistance systems can contribute to ensuring social distancing or physical distancing. This is because the vital signs and physical condition of residents can be closely monitored by the nursing staff, regardless of where they are and without direct physical contact. For example, the video call function can be used to establish an audio-visual connection with the nursing staff, relatives, or other residents. Checking patients visually using a video system is an additional safety feature.
These monitoring functions should be given greater importance in the event of any resurgence of the Sars-Cov-2 virus or in dealing with other infectious diseases.
In addition, undertaking monitoring without the need for physical contact increases the privacy of the residents. At the same time, social contact with relatives and professionals can be maintained through a video call function. A sense of isolation or loneliness can thus be counteracted.
Such systems offer relief on the side of the care professionals, especially with the stricter hygiene measures currently required and the resulting reduction in time available for those in need of care. Unfortunately, due to new additional requirements and the associated time pressure, it is no longer possible to ensure that the condition of the residents can be monitored appropriately. As a result, falls, dehydration, changes in blood pressure, and weight gains and losses can go undetected.
Still, the financing for such an infrastructure cannot be covered by the majority of elderly people. Therefore, the potentials of digitalization for much of the health care system are not being realized. The pandemic has shown how important being digitally connected and the use of new technologies is. It is now time to ensure that these benefits are made available to the healthcare sector as a whole.
Quality of sensors – who decides whether a sensor is fit for purpose?
In addition to financing difficulties, testing the quality of smart assistive devices is also a problem. Increasingly, a wide range of IoT devices are entering the market, e.g., for incontinence management, fall detection, and the measurement of blood pressure. Basically, these tools all have their raison d'être, however, upon closer inspection, there are no guarantees that these devices all work as promised.
As a rule, a CE certificate has been sufficient for these devices so far. However, this does not guarantee that these medical aids are actually of an appropriate quality and will react as promised in the product description and moreover will function reliably in an emergency.
A test of fall sensors in 2018 by VIVAIcare and Fraunhofer IMS was sobering: It showed that the expectations for fall sensors were not being met. Out of six sensors tested, only one of the devices could be relied on to respond effectively to falls and offer a level of safety.
In order to be able to eliminate such quality problems and to guarantee the users the secure functionality of the devices, the introduction of reliable tests is needed, with associated certifications and quality seals.
Legal hurdles of the GDPR
When people needing support use a monitoring system, they are entitled to require that this data be well protected and that they are able to decide who has access to it.
Now, data from an assistance system, such as that of an implanted diabetes pump, is considered health data and is thus worthy of protection. However, it also follows that a risk impact assessment and an extensive bundle of consent and data protection declarations must be concluded with care recipients.
It is also required by law that users are informed of their rights. Since the legal requirements are complex, explaining the intricacies of the General Data Protection Regulation (GDPR) to the very elderly is a considerable challenge. In my own experience, even sometimes much younger relatives are quickly overwhelmed.
On the other hand, the discussions and legal complexities unsettle older people, who are therefore concerned about the security of their data.
In addition to these hurdles, which must be overcome and should be made more practicable, it must also be ensured that data storage takes place in Europe. However, this also poses a new set of challenges.
Digital assistants and politics
The Eighth Report on Aging (Older People and Digitalization) from 2020, including a statement by the German federal government, clearly states: Digital assistance systems are the solution, especially in home care, so that people with disabilities can live autonomously, self-determinedly, and safely for longer.
"When it comes to equipping apartments with smart home technologies and assistance systems, the housing industry (especially companies and cooperatives) has a central role to play. It is the most important player in the provision of digitally equipped housing. Much better than individuals, the housing industry can demand high standards of safety, quality and service from technology providers and thus shape consumer protection in the interests of tenants."
– Older People and Digitization. Findings and recommendations of the Eighth Report on Aging
However, the housing industry argues that they are already being charged for providing filling stations for electric cars and for energy renovations and that rents for senior citizens must also remain affordable. Since it would also be up to the housing companies to equip homes with smart systems, they are rather reluctant to do so.
With an average net income for pensioners in Germany of around €1,100, most cannot afford a digital assistance system for their own home (acquisition costs around €1,800 - €3,000 and monthly costs of up to €100), as it is not yet covered by the care insurance funds. In contrast, the financing of a place in a care home (at least €3,000 per month) is enshrined in German law. Here, too, as already mentioned, there is a lack of appropriate measures for promoting digitalization.
In view of demographic change and the shortages in the care industry, there is an urgent need for action. Digital assistance systems for home care are one solution and give elderly people a sense of security and safety. However, complicated and complex bureaucratic procedures stand in the way of promoting the rapid and efficient further rollout of such smart solutions and projects. As a result, I would like to see greater openness and willingness to experiment from those responsible, and a greater societal engagement for the older generation.
Dr. Bettina Horster is Head of Business Development at VIVAI Software AG and is responsible for the area IoT (Internet of Things, Industry 4.0, M2M). She is also Director of IoT with eco – Association of the Internet Industry. In her role at eco, she is committed to the expansion of IoT solutions across all industries and digitalization in the healthcare sector. Since 2009 she has been involved with the Internet of Things and is a pioneer in the field.
Please note: The opinions expressed in Industry Insights published by dotmagazine are the author's own and do not reflect the view of the publisher, eco – Association of the Internet Industry.