Consulting vs. Digital Platform - Which Solution Is Better?
April 2021 -

Artificial Intelligence

|

Digital Transformation
Consulting vs. Digital Platform - Which Solution Is Better?
Can modern, AI-supported digital platforms provide a viable alternative for external business consulting? Sabrina Kaindl from SalsUp takes a look at the pros and cons of each.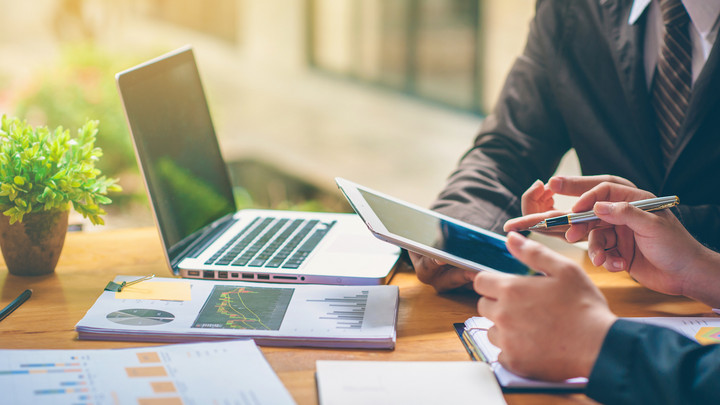 Medium-sized companies in particular are often skeptical when dealing with consultants and the associated investments. But what are the advantages and disadvantages of consulting? And can modern, AI-supported digital platforms provide a viable alternative? We want to get to the bottom of these questions in more detail.
What are the advantages of consulting?
If you entrust yourself to a consulting firm, you as a company receive a personal contact. This person often has good knowledge of the company's own industry or the areas to be improved and ideally accompanies the entire consulting process.
Many consulting firms specialize in certain areas and therefore have a large pool of expertise. As a company, you can therefore not only benefit from expert knowledge in one subject, but often also tackle other areas within the company with the same consulting firm. Furthermore, large consulting firms have many employees and clients and can thus draw on a wealth of experience.
In contrast to an internal approach – a review or something similar – consulting has the advantage of an external perspective. On the one hand, in-house employees and managers probably have the best professional insight, but on the other hand they are often "blind to the business". A neutral perspective helps to disentangle processes that have developed over the years, to question things that are taken for granted, and thus to identify potential for optimization.
What are the disadvantages of consulting?
High cost
Time-consuming
Ties & dependencies
A "foreign body"
An external consultant is expensive. In addition to the expenses for the consulting itself, there are usually surcharges for travel, accommodation, familiarization with the subject matter, and workshops, as well as follow-up or accompanying offers. This can quickly cost a large amount and either break budgets or make savings necessary in other areas.
If a consultant is brought in, other employees must also free up resources. Sometimes such a consultation – if it is good and comprehensive – can be very time-consuming and involve many people in different areas and positions in the process of fact-finding.
Depending on the agreement and contract, longer-term relationships are often established with the consulting firm. As a company, you should always be aware of this and choose your partner carefully and with foresight.
Once you have decided on a consulting firm, you also become dependent on it. Results, recommendations for action, know-how, tools and solutions are thus in external hands. Even potential service providers that are recommended in the context of consulting are often in partnerships with the consulting firms and are not necessarily the best option for the individual company.
In addition, contracts should always be checked for special clauses regarding termination, collaboration with other consultants, etc., to avoid creating too much dependency.
Many companies have problems or reservations about bringing a "foreign body" into their own company. Understandably, one must give detailed insights into one's figures, plans, strategy as well as other internal information. Responsibilities and data protection, which were previously in one's own hands, are handed over. Thus, one must (be able to) place great trust in the consultant. In addition, the company's own employees must be clearly briefed to hand over all relevant information to an external person – here there are often inner blockades or the fear of "saying something wrong".
Are there alternatives to consulting?
For many areas, there are now digital alternatives that support process optimization and remove manual work: whether it's tools for managing applicants for HR management or accounting software for bookkeeping. The possibilities here seem endless – and new, innovative ideas are constantly hitting the market to simplify our working lives.
Many of these programs and platforms have automated processes, recommended actions and user support, which thus take on a kind of consultancy function. Furthermore, the systems are often based on the latest technologies such as AI, make use of Big Data, and thus spit out valuable data and figures about your own processes. This makes it easy to uncover areas in need of action and optimize them on the basis of specific KPIs. But can such digital platforms replace a consultant?
What are the advantages of digital platforms?
Constant availability
Data currency
Cost-effectiveness
Storable knowledge
Possibility of co-working
Unlike a consultant, a digital platform is always available. Data and solutions can be accessed at any time – and often via an app. Annoying appointments and idle waiting times therefore do not exist here.
The existence of such platforms online, as well as databases with regular updates in the background, mean that the systems are kept up to date. Artificial intelligence perceives changes and trends automatically and adjusts the recommendations for action accordingly.
Once the licenses have been acquired or the program has been purchased, it is permanently available and does not incur any new costs. Only the introduction or purchase of additional licenses may require a budget.
Digital platforms also have two decisive advantages: All kinds of acquired "knowledge" are automatically stored in the form of data, reports, evaluations, and histories. If employees or responsibilities change, past decisions and developments can be easily traced.
In addition, digital solutions usually offer opportunities for co-working through multiple access possibilities or the chance for users to, for example, assign tasks to each other, link them with usernames, or create shared lists/folders. Thus, differences in location and time between colleagues and teams no longer play a role. Everyone can continue working on the current status without loss of information or delays.
What are the disadvantages of digital platforms?
Familiarization with the system is always necessary to take the initial steps in the use and acceptance of a digital tool. This means that sometimes a certain amount of time is needed before the employee(s) can use the system well, correctly and quickly.
The best tool is of no use if it is not used. So, success depends on usage. Only when management promotes or enforces usage can results occur. An adequate kick-off, plan, and reviews are therefore advisable in order to have the system used optimally and integrated into the daily work routine and its processes.
SalsUp combines the advantages of both approaches
SalsUp is the first Europe-wide marketplace for innovation, bringing together startups, SMEs and Sals Angels. Companies can search for suitable partners and products from over 92,000 StartUps as well as post requests themselves. Our concept combines the advantages of both approaches: Consulting and digital methods.
Consultants and a personal SalsUp Scout support SMEs in their first steps towards the platform. They are the first point of contact and advise on the possibilities and conditions of the platform. If required, additional appointments can also be booked, during which, for example, a specific search request with certain requirements can be discussed and supported in a follow-up.
Conclusion: Digitalization does not stop at consulting either
We have seen that many new developments are conquering the market. Innovative tools can take the place of consultants and build sustainable knowledge in the company. As always, the decisive factors here are strategy and active use of the systems in order to generate maximum added value.
We can remain curious about which other areas will be conquered by trend technologies next.
Sabrina Kaindl already got a taste of startup air during her studies in media studies. After gaining experience in scaling non-profit organizations and holding various content positions, she now heads the marketing department at SalsUp.
Please note: The opinions expressed in Industry Insights published by dotmagazine are the author's own and do not reflect the view of the publisher, eco – Association of the Internet Industry.