December 2021 -

FinTech

|

Women in Tech

|

Diversity
Women in FinTech
In an interview with Dr Katja Michel and Kirsten Ammon from the Fieldfisher law firm, they discuss how women are still underrepresented – both in leadership positions and in start-ups.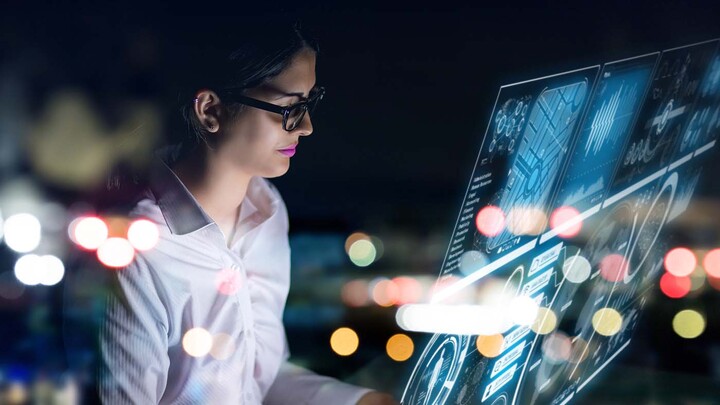 As noted by Dr Katja Michel and Kirsten Ammon, women are still underrepresented, both in leadership positions and in the founding of start-ups in the FinTech sector. In this interview, the two experts on legal issues in the dynamic FinTech field talk about possible strategies for changing this situation. Both of them answered questions live at the event "Ladies in (Fin-)Tech: Succeeding in the FinTech Industry with Visibility and Networking", which eco hosted in cooperation with Fieldfisher on 28 October.
Hanna von der Au: Katja, as a lawyer, you work in the interface between finance and tech at Fieldfisher and you are the Co-Head of Fieldfisher Germany's "Tech Meets Finance" group. What does your day-to-day work look like and what is the most exciting element of your job?
Dr Katja Michel: My day-to-day work is very varied: We advise a wide spectrum of clients such as FinTechs, established banks, and technology companies on future-oriented topics of digitalisation. Our clients approach us with a broad range of different matters. For example, it can be a matter of assessing the feasibility of an innovative business idea from a legal point of view, such as the offering of a new mobile payment solution or integration of an AI application into a bank's investment advisory process. Often, however, we also comprehensively support clients from the point of the business idea right through to its implementation, market entry and beyond.
My job often allows me to gain a deep insight into the development of new FinTech products and services at an early stage. This is very inspiring, especially when you see, for example, that the client has successfully entered the market with its banking app or completed the first round of financing. That often also fills you with pride. Further, I particularly enjoy advising clients on FinTech projects across legal fields with my colleagues in the TMF Group.
Von der Au: Kirsten, your areas of focus as a tech lawyer are e-commerce, IT law, and data protection. In your spare time, you are expanding your programming skills. What do you find exciting about a career in tech?
Kirsten Ammon: The exciting thing about tech is that so much is changing in this field, and you constantly have to keep learning in order to be up to date. Whether it is blockchain technology, the Internet of Things (IoT), FinTechs, or the cloud, you cannot fully legally analyze a solution until you first understand the technical background.
Of course, it is very helpful if you enjoy developing technical solutions or if you spend a lot of your spare time working on legal and FinTech issues. In my opinion, jurisprudents can learn a lot from IT and should always listen carefully to understand why a certain approach has been chosen. It is best to get us involved right at the beginning of a project – then we can help shape how, for example, a data protection-compliant solution can be implemented in an international environment. After all, we want to legally enable technical innovation, not prevent it. It is great when you can be part of such creative strategies that provide an answer to existing problems and you can legally safeguard new business models in Europe.
Von der Au: On 28 October, in cooperation with Fieldfisher, the eco Association held a joint online meet-up on the topic of women in FinTech. As the co-hosts of this meeting, could you tell us how you perceive the FinTech industry?
Open, dynamic, innovative, and in constant motion: in our view, this is the best way to describe the FinTech sector. It is precisely these characteristics that make this sector so varied for us and our work. There is room for new ideas and progressive solutions and you can really feel how something is happening in the FinTech sector. This sense of a fresh breeze is inspiring and sets future-oriented impetus, regardless of whether it is for creative founders or established banking institutions.
At the same time, it is all the more regrettable that women are still underrepresented in leadership positions as well as in founding of start-ups in the FinTech sector, and that they tend to be reluctant to take the initiative and start up their own businesses. However, it is precisely the open spirit in the FinTech sector that should also encourage women to start or further advance their careers in the FinTech sector. Initiatives like our event from 28 October support this by showing success stories of women in the sector on the one hand, and creating valuable networks on the other.
Von der Au: What needs to happen so that more women take up the diverse career options in FinTech?
Above all, we need more visibility for women in FinTech. At the same time, and associated with this, we need more female role models with whom women can identify and from whose experiences and advice other women can learn and gain inspiration. In order to achieve these goals, we believe that women also need to be represented far more on expert panels, in industry talks and specialist discussions. Women should also position themselves more confidently and proactively as know-how owners, even if it takes courage to do so. Of course, good networks are also essential, for which the events just mentioned can offer a solid platform. In addition, funding, founding, and other support services tailored to the needs of women should be expanded and communicated more strongly to them.
Von der Au: Legislators also use instruments to promote diversity and equal opportunities. Both as lawyers and from a personal perspective, how do you rate measures taken by the German legislator: for example, in the form of the federal Remuneration Transparency Act or the federal Leadership Positions Act II?
Where we agree on this question and welcome this development is that the legislator is using these measures to create more equal opportunities in working life. On the one hand, the federal Leadership Positions Act II contributes to this as it introduces measures such as the female quota or so-called "stay-on-board" regulations – i.e. the possibility for members of the management body to take "time out" due to statutory maternity leave, parental leave, or caring for a relative.
On the other hand, the Remuneration Transparency Act strengthens transparency in the salary structure and is intended to eliminate the existing gap between men's and women's pay. When it comes to female quotas per se, we have different views which are also reflected in public discourse. Irrespective of this, we both believe that a holistic approach needs to be taken in order to facilitate women's access to leadership positions or to make the step easier for them for founding a company in the FinTech sector. Law-based measures to promote certain groups in the world of work should also be regularly reviewed to see whether they still fit in when it comes to shifting realities. In our opinion, it is also important to solicit feedback from the relevant target groups to ensure that many people really do identify with and support these measures.
Von der Au: What is your career advice for women?
In addition to strengthening a person's own visibility, self-confidence, and courage, we believe that networking is elementary. A good network helps to review your own ideas for feasibility in a safe environment or makes it possible to get good advice when you are unsure what to do.
It can also help to open doors and even create win-win situations, especially among women. Men have long been aware of the importance of supportive value-generating networks; women can learn something from men in this regard. And when it comes to talking about a person's own successes, men are still ahead. Women often still tend to avoid being the centre of attention or don't feel completely comfortable talking confidently about their professional successes. As women, we need to change this. In line with the motto "Do good and talk about it", women should more often venture to stand in the spotlight and talk about their abilities and career path. After all, this in turn supports and motivates other women!
Von der Au: We'll now give you both another interesting job and make you editors-in-chief of leading media publication –whether it's Der Spiegel, Die Zeit, FAZ, the Financial Times or the international Guardian. Which headline would you like to see in a lead article concerning "Diversity/Women in the Tech Industry"? And what should the article say?
In the near future, we would like to see on business media's front pages a headline such as "Share of female founders in the tech sector now at 50% – a woman also founded the latest unicorn". In terms of content, there would be a portrayal of the success story which reports on how women have succeeded in transforming an industry branch within a few years.
Von der Au: In your opinion, which aspect of the diversity debate is getting the short end of the stick?
It is important to take a holistic perspective in which all people have and receive the same opportunities, irrespective of their social or ethnic background or other characteristics. The acceptance and promotion of different life paths and biographies should be seen as an opportunity. After all, both theory and practice clearly show that diverse teams make more balanced decisions. This insight alone should be a strong incentive for FinTechs and, of course, for all other companies to focus on diversity and also use it for their own benefit. In addition, we believe: Diversity should offer real equality of opportunity, but should not impose an obligation to avail of this opportunity.
Von der Au: What question would you like to share with us for our next interview partner?
What are the most important skills and characteristics that women need to have in order to be successful in the FinTech sector, either as a founder or in a leadership position?
Dear Katja, dear Kirsten, thank you very much for the interview!
Dr Katja Michel is a FinTech and financial regulatory lawyer (Counsel) in Fieldfisher's Frankfurt office. She is Co-Head of Fieldfisher Germany's Tech Meets Finance (TMF) Group.
Kirsten Ammon is an IT, (Fin-)Tech and data protection lawyer (Associate) in Fieldfisher's Hamburg office and a member of Fieldfisher Germany's Tech Meets Finance (TMF) Group.

Please note: The opinions expressed in Industry Insights published by dotmagazine are the author's own and do not reflect the view of the publisher, eco – Association of the Internet Industry.