Building an InsurTech Startup Ecosystem in Germany
June 2017 -

Doing Business in Germany
Building an InsurTech Startup Ecosystem in Germany
The new InsurLab Germany initiative intends to support innovation in the insurance industry and facilitate startup growth. It will connect insurers directly with startups of different maturity levels, Torsten Oletzky, Member of the InsurLab Germany Task Force, explains.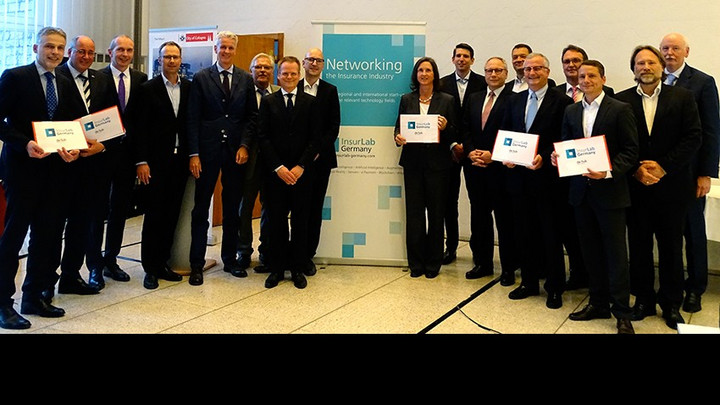 "Revolution or Evolution": This question is at the heart of the digitalization discussion in the insurance industry. Unquestionably, digitalization offers great potential, but also poses threats to the insurance industry. While media attention is on big revolutionary ideas changing entire industries, most real-life InsurTech startups are developing solutions for specific challenges within the business model of insurance companies. Hence, an early connection of startups and the insurance industry is key to enable sustainable growth and value creation for the majority of startups in this sector.
InsurLab Germany – part of the German de:hub network
The German economy – unlike the French or British – is highly decentralized with certain regions specializing in core competencies. The Digital Hub Initiative "de:hub" by the German Federal Ministry for Economic Affairs and Energy therefore aims to establish digital hubs for specific industries in different cities across Germany. In the first round, four de:hubs (Internet of Things, Mobility, FinTech, and Logistics) were successfully established in five cities. In the second round, another seven industries were selected, including the InsurTech de:hub in Cologne in the state of North-Rhine Westphalia, a region where several German insurers have their headquarters. InsurLab Germany has the mandate to establish the InsurTech hub in Cologne. It will be connected with the hubs from other industries, which helps to foster growth through joint problem solving.
Strong support from the insurance industry
A core question at a recent major insurance conference was: Should the insurance industry set up new entities separate from the current business or should new solutions be developed by teams within the company. The conclusion was that new solutions should ultimately be an integral part of the insurers' business model itself. But how do we get there? Insurers need to work closely with startups who can provide them with new perspectives on their business models and offer new solutions to old problems. Most insurance executives do obviously understand this, and therefore it came as no surprise that InsurLab Germany enjoyed strong support from the German insurance industry from day one. At the founding ceremony of InsurLab Germany, eight insurers joined as founding members, with about a dozen more committed to joining in the coming weeks. Having this strong backing from the insurance industry, InsurLab Germany should be able to establish the planned InsurTech startup eco-system.

InsurLab Germany inauguration ceremony on 22 May 2017 in Cologne
Excellent conditions for startups
InsurLab Germany will enable both national and international startups to work in close collaboration with the German insurance industry and universities. An important aspect for InsurLab Germany is the strong involvement of the insurance top management. Interested startups will find a broad customer base – insurance companies, as well as other clients – to support their product development. In addition, insurance companies will have the opportunity to introduce their day-to-day challenges in areas like blockchain or e-commerce and collaborate with startups at InsurLab in finding solutions. With two universities from Cologne as founding members and further universities joining in due course, there are multiple possibilities for students to pick up ideas and elaborate innovative solutions. The development process is facilitated by a living environment with smart mentors & peers, guiding seminars & workshops, as well as essential tools & hardware at everyone's disposal. InsurLab Germany therefore provides a firm basis to establish and grow a startup. 
More than just another accelerator
In a globally ever more saturated market of specialized startup accelerators, incubators, pre-seed venture capitalists, and business angels, the need for another hub can reasonably be questioned. Startups do already have a wide variety of choices to get excellent mentorship and financial support.

Most established accelerators/incubators have experience in the B2C sector and can provide advice in setting up a growth plan, successfully conquering a niche or even competing head-to-head with established industry players. InsurLab wants to do more: it aims to enable startups to establish B2C as well as B2B relationships, seeing insurance companies as partners or customers. In order to crack long-standing business processes/relationships and convince the sometimes conservative insurance industry managers to change established processes, the open environment of InsurLab, where trust and confidence can be built up, is essential.

An interesting platform for venture capital
InsurTech is an attractive area for venture capital funds, but so far it has been difficult for them to find suitable investment opportunities in Germany. An ecosystem where they can meet with both startups and with insurers will benefit these players as well. Venture capitalists have the chance to find and invest in startups with entrepreneurial spirit and at the same time deep industry/customer expertise provided by the InsurLab. For the startups themselves, the possibility for an early proof-of-concept enables them to increase their business perspective significantly – giving them the chance to speed up growth and acquire further funds from venture capitalists, while keeping overall business independence. 
Reshaping the insurance industry 
Startups will play a major role in the reshaping of the insurance industry. Both providing evolutionary improvements as well as revolutionary new operating principles. The InsurLab initiative supports startups to find the right solutions, get the best feedback and ensure rapid and sustainable growth with a solid customer base. 
Torsten Oletzky started his career in 1993 at McKinsey & Company and joined ERGO Insurance Group seven years later. He was appointed CEO of ERGO in 2008, a position he held until 2015. Since then, Torsten Oletzky has been working as a freelance consultant and business angel and is currently a member of the InsurLab Germany Task Force.

Please note: The opinions expressed in Industry Insights published by dotmagazine are the author's own and do not reflect the view of the publisher, eco – Association of the Internet Industry.