Surfing the Digital Wave to Success
October 2018 -

Digital Transformation
Surfing the Digital Wave to Success
B2B businesses are also developing new business models. But successfully surfing the second digital wave requires sustainable and responsible information management, writes Jos Bischoff from BCT.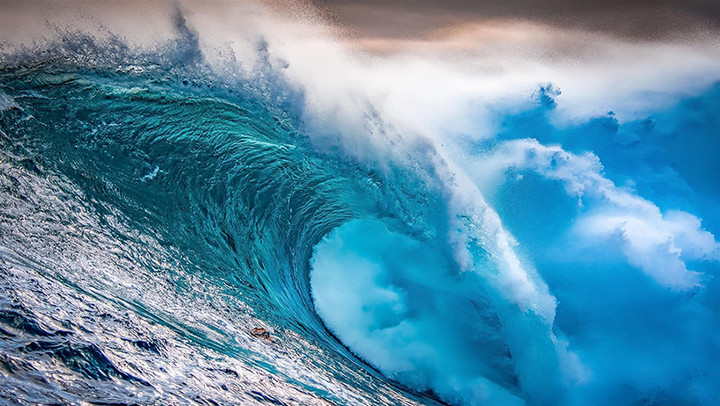 We are currently going through the second digital wave. It may not be crashing over our heads like a tsunami, but harnessing its energy requires preparation. That is because today, digitalization means much more than improving and automating processes. Instead, businesses must take a critical look at their own basic structures, visions, and business models.
Digitalization is therefore not just about using new IT solutions, as processes have already evolved from paper-based to IT-supported work. The second digital wave refers to the revolution within the B2B sector, as companies develop new digital business models and online services. After all, why should we deny the advantages of digital technology to customers when we already benefit from them in our own professional and personal lives?
The first wave brought new business models in the B2C sector through digital platforms. The most successful examples measured by revenue are the likes of Apple, Google, Amazon, and Facebook. Now, the second digital wave is opening up opportunities for the B2B sector. The sale of physical products is being replaced by the provision of digital services, as customers look to use rather than own. Newly founded start-ups naturally find it much easier than established businesses to fill gaps in the market with special and disruptive services. 

Existing players often have to deal with legacy issues, both in terms of infrastructure and corporate philosophy. In order to therefore successfully surf the digital wave, companies need to have the right technology. They must reorganize internally and create the basis for developing new business models.
The answer is modern, scalable information management technology. Employees (or "professionals") increasingly want tailored solutions instead of standard products. These changing requirements also mean that users only want to access specific information that is relevant in the respective context. An enterprise information management platform (EIM) combines the various information sources within the business in a way that gives professionals full control over their own processes. This allows them to work independently, sustainably, and responsibly with all necessary information in the right context. The platform ensures the authenticity of the information at all times. The information must be provided according to the task to be performed or the decision to be taken. This can happen via an app or web portal with specific access data. As a professional often occupies multiple roles within the business, accessing and displaying information is often linked to the respective role and its information needs. But the structure, diversity, and subjectivity of the various information sources mean that the context in which information is provided is often complex.
Structure: Transparent facts and actions
An EIM platform can be used to display structured information. This includes digitized documents and processes, along with information about an object's static properties. This all represents typical background information about a building, machine, or person, for example. In addition, professionals can use the platform to access unstructured information that is generally used for decision making.
Example: Geographical coordinates, along with information about architecture, floor plans, and usage are factual properties of a building and therefore represent structured information. A process description of how to best paint the building is unstructured information. The decision often requires an agreement between the parties involved and the process is not particularly predictable. Generally, only the final conclusions are set out in a document. An EIM platform makes it possible to record the decision-making process too. It therefore provides transparent information at all times about an object, as well as the dynamic actions and decisions.
Diversity: Integration in the application environment
The sheer diversity of information sources within a business allows an EIM platform to simply integrate complementary applications. This bundles the variety of sources into an integrated information network. Specific systems that are designed for a single application, such as a CRM database for managing customer data, become obsolete over time. By connecting with components of other software providers, companies eliminate their dependence on a single supplier and an all-in-one solution. Instead, the platform can be expanded or modified with new applications and services. An EIM platform, that like Docker Containers and Kubernetes is based on state-of-the-art technology, can either be installed on site or used via a public cloud, private cloud, or hybrid solution.
Subjectivity: Predictability and recognizing patterns
The third factor that complicates modern information management is subjectivity in the form of content analyses. These can be used to recognize patterns of behavior in order to form the basis of future reactions. The EIM platform uses previous experiences to recognize patterns via machine learning and deep learning, in order to take the right decisions for the company. This makes it quicker to analyze what can be done within a certain period of time, so that resources can be allocated differently in advance to achieve certain goals.
Changes in society mean that companies have to act with greater speed. Those who want to surf the second digital wave cannot afford to wait for someone to give them a ride. They must become active and take their employees with them. Digital processes can only become successfully established if employees recognize how they improve usability and transparency. Giving them control over their own activities and satisfying their individual information needs make it easier for them to be open to new developments.
An EIM platform can be a suitable way to achieve this, as it allows professionals to act independently, sustainably, and responsibly with all of the information they need in its dynamic context. The content relevant for each professional is filtered from a range of different sources according to their role. Connecting applications avoids data silos, while focusing on central activities accelerates the speed of work within the business. Rigid and limited IT products will therefore make way for specific technology aimed at individual information needs. Once the benefit of tailored and continuously optimized services is recognized internally, new business models can be developed that allow customers to use rather than own.
Since co-founding of the Dutch IT company BCT in 1985, Jos Bischoff supports companies and organizations with component-based, cross-industry EIM technology in their digital transition. As in the Netherlands, he is also responsible for the strategic and operative coordination, planning and management of BCT Germany, founded in 2010. Jos Bischoff is married, has three children and is a member of the Rotary Club.

Please note: The opinions expressed in Industry Insights published by dotmagazine are the author's own and do not reflect the view of the publisher, eco – Association of the Internet Industry.